The Many Worlds of Janelle Monáe
Despite her stellar performance in Glass Onion: A Knives Out Mystery, the musician still doesn't consider herself a serious actor.
Interview by Lynn Hirschberg
Photographs by Jamie Hawkesworth
---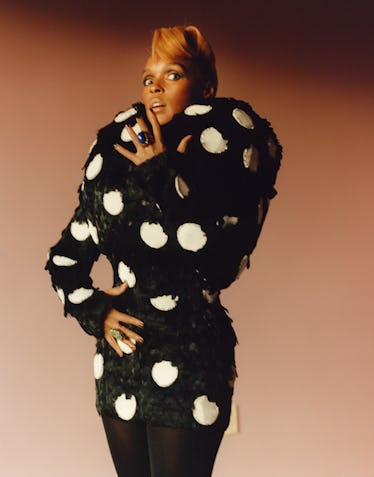 Janelle Monáe wears a Richard Quinn dress; Lisa Eisner Jewelry rings from Broken English Jewelry; stylist's own tights.
There is no one quite like Janelle Monáe. Since arriving on the scene, the eight-time Grammy nominee's inability to be anything but her authentic self has made her a powerhouse player in both the music and the film industries. Even with these accolades, her latest foray into acting, in Rian Johnson's Glass Onion: A Knives Out Mystery, is one she considers among her most challenging, and a dream come true. As both Helen and Andi Brand, Monáe's knack for world building was streamlined into two distinct characters with a shared goal: retributive justice. The result? A performance that perfectly balances comedy, drama, and, well…mystery, leading her to be a tour de force in a stacked cast.
You have a beautiful name—are you named after someone?
I was named after me—a little pumpkin-headed kid that came out of my mom. My nickname is Pumpkin. Not a lot of people know that, so, shhh.
As a musician, what is it like to enter the world of acting?
I'm still not a serious actor. It's all about playing, being silly. When you see me in a film, I don't want you to see Janelle Monáe. But my albums are all concept albums, so they center around characters like the Dirty Computer, the Electric Lady, the ArchAndroid. It's in my blood to play characters and to do world building.
How did Glass Onion: A Knives Out Mystery come to you?
I have always wanted to work with Rian Johnson. I saw Rian's movie Looper and I was blown away. I was like, "This is something innovative in the sci-fi genre. Who is this person?" And so I went down a whole rabbit hole. I watched Brick; I watched everything he'd done. And obviously, up into, you know, the Knives Out original. I saw that, and I was like, "If he ever calls me, it's a yes."
Growing up, who was your celebrity crush?
I was obsessed with Nia Long. She was just so attractive. She got me hot and bothered. And I was always attracted to David Bowie. But I didn't know if I wanted to be Bowie or be with Bowie. It was one of those things. And I loved Tupac! I swore he was going to be my boyfriend.
What is your go-to karaoke song?
I don't love karaoke, because I feel like I'm working. But the last time I did karaoke, I sang "Let's Go Crazy" by Prince. I get to have fun, roll around on the ground, and also honor somebody who I love dearly.
What film makes you cry?
When I read Moonlight's script, I definitely cried. I remember being in economy, on Delta, reading the script with a blanket over my head, like, in tears.
What was your best birthday?
I consider myself to be timeless. If you're timeless, you shouldn't celebrate birthdays. But two things I always do is call my mom and thank her.
Hair for portfolio by Anthony Turner at Streeters; makeup for portfolio by Lucia Pica for Byredo at Art Partner. Senior style editor Allia Alliata di Montereale; senior fashion market editor Jenna Wojciechowski. Manicure for portfolio by Michelle Saunders. Set Design by Gille Mills at 11th House.
Produced by Connect the Dots; executive producer: Wes Olson; producer: Zack Higginbottom; production manager: Nicole Morra; photo assistants: Cecilia Byrne, Jack Buster, David Gurzhiev; retouching: Simon Thistle; fashion assistants: Julia McClatchy, Tori López, Jacqueline Chen, India Reed, Nycole Sariol, Derek Ezra Brown, Karla Garcia, Rosa Schorr; production assistants: Khari Cousins, Tchad Cousins, Kelsey Swope Romero, Mateo Calvo, Juan Calvo, Rayon Pollard, Gina York, Peter Ditzler, Nico Robledo; hair assistants: John Allan, Dylan Michael, Ramdasha Bikceem, Malika Palmer; makeup assistants: Kate O'Reilly, Lilly Pollan, Bailee Wolfson; manicure assistants: Pilar Lafargue and Victoria Valenzuela, Jolene Brodeur; set assistants: Cory Bailey, Dirk Knibbe, Joel Garcia, Matt Day; tailors: Irina Tshartaryan, Ripsime Vartanyan at Susie's Custom Designs, Inc.