Jayme Lawson Leads the Way
The How to Blow Up a Pipeline star discusses navigating Hollywood, and the problem with how people talk about Black women's strength.
---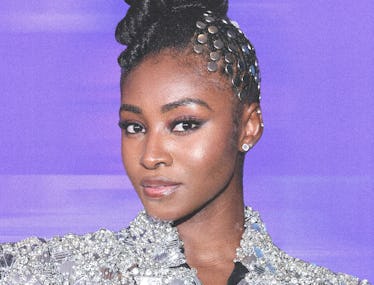 Photograph by Getty; image treatment by Ashley Peña.
The first two films that Jayme Lawson booked after graduating from Juilliard proved the sky was the limit. First, she made her debut in the aching indie family drama Farewell Amor—which she followed with The Batman, playing a Gotham mayoral candidate. In the next three short years, Lawson commanded the screen in her roles like few young actors have, from political figures (Myrlie Evers-Williams, Michelle Obama), to Viola Davis's daunting rival in The Woman King, Shante.
In her latest, How to Blow Up a Pipeline, she plays Alisha, a woman who warily joins a sabotage mission led by environmental activists. She persists out of love for her girlfriend (played by Sasha Lane), who has her own reasons for joining the risky project. The film opens on April 7, just a couple of weeks after Lawson wrapped another project, as Dr. Betty Shabazz in the Genius series on NatGeo. "I'm a little bit like... 'I need a break.' Ya know?" she told me with a laugh. Below, the actress discusses personal milestones in her career, the principles that guide her in the industry, and the problem with how people talk about strength.
Is it true that you once had to choose between taking roles in two studio films or joining the Public Theater production of For Colored Girls Who Have Considered Suicide...?
Yes, and I'm going to be honest, it wasn't a difficult choice. I think on paper, you'd go, "What is she thinking?" But that's just how I'm made up. Although it was hard to tell my mother the choice I was gonna make [laughs]. When I graduated and was teaching down in Florida, I found out within the same week that I booked Farewell Amor, For Colored Girls, and two other major films. Each [major film] would have paid me more money than I'd ever seen in my life—I'm a fresh college student, and I have no mo-n-ey, right? But I go back to the material. For Colored Girls is one of the first plays I'd ever read, first of all. And I didn't know when I would have another opportunity to be onstage with six other Black and brown women. I couldn't pass that up! And getting those offers for the other film projects so early in my career, I took as a sign that more would come.
Looking back at Farewell Amor, what did that first film mean to you?
It set a standard for me, coming into this industry and having the opportunity for my very first film to be with a Black woman [director Ekwa Msangi] and a story that gave voice to Angolan immigrants. I understood how special it was. I wouldn't have booked Batman if I hadn't had the Farewell Amor experience, because that allowed me to feel comfortable and make mistakes and ask questions without feeling like I was at risk of losing anything.
The Batman must have felt like another kind of movie entirely.
[Chuckles] Talk about imposter syndrome! I was in awe to see all that goes into making it, because I've never seen a production that large.
What's different about developing a character in an episodic format, when you played Michelle Obama in the series First Lady?
With episodic, things can change rather quickly, very last-minute. You have be on your toes—you know, rewrites, or completely changing locations. And because you're a character over the course of eight to 10 hours, there's more room for the actor to bring more input. It's also just the pacing [snapping fingers].
In Till you play Myrlie Evers-Williams, the civil rights activist and widow of Medgar Evers. I feel like there's a thread of playing leaders on the rise in your movies. Does that sound right?
I love how that sounds, but it definitely wasn't intentional. For me, it's important to tap into these characters' agency—making space for characters to have their own agency. As a young Black woman, I crave that in the material I watch and that I'm looking to attach myself to. If it seems to do the opposite, I completely stay away. If it maybe isn't there yet, but there's room for that conversation with a director or showrunner, I have that conversation early on and let them know that's the only way I would want to be a part of it. It doesn't always have to be dramatic, and it doesn't always have to be the favored role, as we see with Shante [in The Woman King]. But I gotta find me some women that are trying to fight for something!
Alisha in How to Blow Up a Pipeline isn't totally on board with the sabotage plan right away. Was part of the appeal playing a character who feels conflicted?
One thousand percent. I'm not too far removed from Alisha's standpoint. What drew me to her is what she was willing to sacrifice because of who was at risk. That's a complexity in us humans that we don't often talk about, especially in today's culture. We all feel so adamant about our politics and our morals, as if they will never be changed or never sway or never falter. And that's not real—that's social media.
How did it feel to see it all come together on that film? It really moves along.
The way in which it was written, it has the pacing of a heist thriller [snaps fingers]. You see these young individuals coming together, all fighting for something. Your heart is racing as you're reading it!
Thinking about what you said earlier about agency, who are the people in your life who have felt like models or inspiration for you?
My entire upbringing is completely made up of Black women who have sacrificed or fought so hard for themselves and their family. I grew up watching these women in their individual fight, but I also see how society completely pushes them in the background, or chalks it up to them being just made like that. Like, you're just naturally this strong individual who is capable. And it's like... no! In my development, I'm experiencing that as well, where people label me as this strong Black woman who naturally can take on all that life brings. And that's not the truth—there are certain circumstances which push me in that direction.
It can come out in the language people use too.
It's also the mindset. I know people mean well when they describe me or my mother or my sister as strong Black women. But there is a kind of neglect or lack of thought as to what it costs. It completely eradicates any notion of the cost to have to be that—or what necessitates that. It also eliminates the idea that there's complexity in that—that there is softness in strength or space for softness. So I'm interested in showing, depicting, and telling those kinds of stories.