Jean Pigozzi Shares His Life in Parties
The photographer, art collector, and author of The 213 Most Important Men in My Life comments on snaps from poolside gatherings and nights out with rock royalty.
---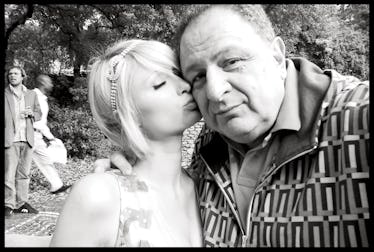 "I have been friends on and off with Paris, but I really love her," Pigozzi says of Paris Hilton, here in a selfie from a pre-Oscars lunch at Barry Diller and Diane von Furstenberg's home in Beverly Hills, in 2009. "She's always polite and very well put together. People look at her like she's crazy, but she's far from crazy." © Jean Pigozzi
Jean "Johnny" Pigozzi received his first camera as a gift from his parents, at the age of 9. "If you're a painter, you can sit alone in front of your canvas, but with photography, you always need a subject," says the artist and art collector, who has had as many exhibitions for his own work as for his trove of African art, among the largest in the world. His latest book, The 213 Most Important Men in My Life, pays tribute to the array of eccentric characters who have inspired him over the past six decades, including the Italian architect Ettore Sottsass, Andy Warhol, Mick Jagger, Michael Douglas, and Gianni Agnelli. The project, Pigozzi says, is his way of thanking all the mentors he has had over his lifetime, after his colorful father, Henri, who founded Simca, one of France's largest automakers, died when Pigozzi was still a boy. "I don't like posed pictures, so the trick is to have a small camera that fits in your pocket and doesn't scare anybody," Pigozzi says of the way he shoots. "Because the moment doesn't happen again." In these images, compiled over many years, he gives us ample proof of what he means.