Jennifer Coolidge Will Destroy You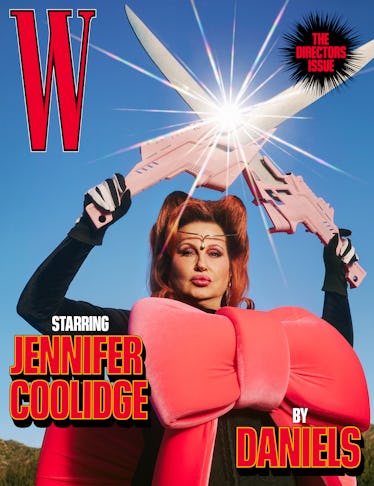 Coolidge wears a Bad Binch TongTong by Terrence Zhou custom bow dress; MAM headpiece; Amina Muaddi earrings; Dollybaby ring; Proenza Schouler shoes; stylist's own gloves. Directed by Daniel Kwan & Daniel Scheinert. Photographed by Lenne Chai. Production design by Calder Greenwood. Costume designs by Shirley Kurata and Written by Alex Hawgood.
On a recent afternoon in Corriganville Park, an old movie-set ranch in the rocky foothills of the Santa Susana Mountains in Southern California's Simi Valley, with her blonde bouffant teased to previously uncharted dimensions, a spiked headdress in the shape of a bursting nebula, Wonder Woman–esque wrist cuffs, and bulbous Proenza Schouler open-toe shoes, Jennifer Coolidge looked very much the part of a sci-fi superheroine. She brought to mind such greats as Jane Fonda in Barbarella, Zsa Zsa Gabor in Queen of Outer Space, and First Mate Piggy in "Pigs in Space," the cult Muppets space opera.
Coolidge, who this year swept the Emmys, Golden Globes, and Critics Choice Awards for her portrayal of a heedless hotel habitué on The White Lotus, was engaged in a winner-takes-all slugfest with Daniel Kwan and Daniel Scheinert, the directing duo known as Daniels, whose multiverse epic, Everything Everywhere All at Once, was the most nominated film at this year's Academy Awards. It was a surreal scene. Coolidge was protecting Earth from a giant extraterrestrial fashion lobster with monstrous claws, played by Scheinert, but instead of "Pow!" and "Whack!" their interaction was more like "Pow" and…"Whack?"
Jennifer Coolidge wears a Valentino Haute Couture coat and gloves; Uncommon Matters earrings; Thom Browne shoes; her own slipdress. Scott Zillner robot costume.
"I think the best thing to do is to take this," said Kwan, handing Coolidge a rhinestone-encrusted metal scepter before ducking back behind the camera. "Act like you're going to stab him." Coolidge squinted her eyes, seemingly confused about the nature of her superpowers. "Oh, you mean I'm supposed to be annihilating him? That's cool, I guess," she said. She proceeded to gently prod Scheinert, who appeared to barely feel the might of her wrath under the spiked sleeves of his crustacean-couture ensemble. Glancing back and forth between his camera's viewfinder and the low-stakes combat unfolding before him, Kwan furrowed his brow. "You're being shocked by the scepter," he explained to Scheinert. Trying not to laugh, he added, "And maybe, kind of, enjoying it." Scheinert put his claws on his hips, nodding his head in agreement, his whiskerlike antennae flopping in the air. As if on cue, Coolidge prodded him once again, this time more forcefully, sending Scheinert into an exaggerated Looney Tunes–like convulsion, followed by suggestive gyrations reminiscent of a K-Pop boy-bander.
Coolidge let out a loud cackle. "I can't kill him now," she said, her face awash with childlike amusement. When the camera clicks paused, Scheinert peeled off his Robyn Lynch balaclava. Shirley Kurata, Daniels' costume designer, began removing his arthropod exterior. "What is it about lobster claws that I'm so attracted to?" Coolidge wondered. She then turned her attention to surveying the clothing racks filled with tubular disc dresses, new-wave hats shaped like lampshades, and metallic-hued space cowboy boots. "Oh, so this is what we're going to be doing today," she said, her voice tinged with bewildered excitement. "I look pretty evil. They seem to like me in villain outfits a lot."
Kwan and Scheinert planned the shoot as a tribute to tokusatsu, a genre of campy Japanese cinema that birthed such legendary creatures as Godzilla, Mothra, and Giant Robo. "Tokusatsu is so well done, but the special effects are always kind of handmade. If you look at the stuff from the '60s, you can feel the fingerprint. You can tell there's somebody inside the costume," said Kwan, referring to the motley crew of stunt doubles, friends, and colleagues cosplaying as Ultramans and Power Rangers on set. "There's something very charming about that, especially nowadays, when you can create anything digitally and nothing impresses you anymore."
Paying homage to different cinematic genres and aesthetics has clearly worked for Daniels. In Everything Everywhere All at Once, the directors leapfrog from Dadaist dildo kung fu to Pixar's Ratatouille slash Marvel's talking Rocket Raccoon to David Attenborough on acid (complete with anthropomorphic talking rocks) to Wong Kar-wai's In the Mood for Love to the twisted psychosis brought on by multiple browser tabs to the profundity (and uselessness) of existentialism to the metaphysics of after-school specials. It's the most, and it's mostly transcendent.
While the directors are thrilled by the film's success, the sheer number of accolades has been almost overwhelming. The New York Times called their opus "an exuberant swirl of genre anarchy"; it has been honored more than 200 times and counting, with nearly twice as many nominations; and it is now the highest-grossing release for A24, the entertainment company behind the film. Penciling in some "morphin' time" for this W project was an opportunity for cathartic escapism. "There is so much pressure around Everything Everywhere All at Once, so our impulse for this shoot was to do the opposite," Scheinert said. "Not only do I really just want to dress up as a monster—I want to get our friends together, play with cardboard props, and go out to the desert."
Scheinert is something of a theater-kid lifer, so he was in charge of liaising with Calder Greenwood, the puppeteer and set designer behind the scaled-down cityscape, cardboard robotic samurai swords, and bludgeon-shaped gloves. Kwan, a former hobbyist photographer, worked closely with Kurata on the outfits. "She's now an Oscar-nominated costume designer," Scheinert said proudly. Kwan and Scheinert have been dividing duties since they met in 2008 as film students in Boston. (An early 55-second short made during their salad days shows a baby-faced Kwan breaking the space-time continuum by pushing Scheinert on a playground swing.) After graduation, they honed their mind-bending craft by directing music videos for Chromeo's "When the Night Falls" and DJ Snake and Lil Jon's "Turn Down for What," which features Kwan smashing potted plants against his erection and was nominated for a Grammy in 2015. (The video now has over one billion views on YouTube.) The directors said that they started plotting out Everything Everywhere All at Once as far back as 2010, but their first full-length odyssey ended up being Swiss Army Man, a buddy caper starring Paul Dano as a suicidal castaway on a desert island who rides a flatulating corpse (played by Daniel Radcliffe) like a gas-powered water scooter. It was released in 2016 and took the directing prize at that year's Sundance Film Festival.
For their latest romp, the directors said there was no question that Coolidge had to be the A-list star of this B-movie shoot, though they had never worked with the actor and their only in-person interaction with her was a brief hello at the Critics Choice Awards in January. "But of all the people who are having a moment right now, she felt like someone exciting to put on the cover of a magazine," Kwan said. Thanks to her Rubenesque figure, flowing blonde locks, bee-stung pout, and million-dollar smize, Coolidge certainly stands out in everything she's in, whether she's playing a dim-witted nail tech in Legally Blonde, a desperate housewife having a lesbian affair with her poodle's trainer in Best in Show, a sultry suburban MILF in American Pie, a trigger-happy mother-in-law to Jennifer Lopez's bride-to-be in Shotgun Wedding, or, most recently, a psychic TV medium in Netflix's We Have a Ghost.
More than anything, Scheinert explained, the directors appreciate a stacked résumé. "I'm prejudiced against young people," he said. "I have problems with our youth-obsessed culture and beauty standards, so anytime we can shake things up a little, I'm all for it." Kwan and Scheinert, who are both 35, said working with Michelle Yeoh, 60, Jamie Lee Curtis, 64, and now Coolidge, 61, allows them to pick up "different strategies for existing in this industry," almost as if by osmosis. "We still feel like just babies," Kwan said.
On that point, Coolidge was in firm agreement. "The film business tires people out. But I swear to god, I felt like I was getting together with little kids," she said of her day with the directors. "They were like these sort of child prodigies who are super, super smart and just super creative. I've never been asked to do a shoot like this: I have weapons, take down small cities, pick up cars and throw them. I don't know if I will ever be this surprised again. It was one of the best things I have ever been involved in."
Like the rest of the world, Kwan and Scheinert swooned over Coolidge's performance as Tanya in The White Lotus. They were mesmerized as she blasted her way to a clumsy demise on a megayacht chartered by the fearsome Fab Five of Sicily in the final episode of the show's second season. One of Tanya's lines is now the stuff of meme legend: "These gays, they're trying to murder me!"
Speaking about Tanya, but also possibly referring to her own trajectory, Coolidge said: "I feel bad for her, because she didn't know what she was made of. She didn't have that kind of faith in herself. Sometimes these scary things happen in life. And then you find out, in like two seconds, that you are a survivor and that you can really pull through for yourself, sometimes in a way that you never believed you could." Then, with inimitable comic timing, she pitched her raspy voice ever so slightly so it sounded like her scatterbrained character on The White Lotus: "But then, of course, it didn't quite end up going my way in the end, did it?"
Hair by Anissa Salazar for Tecuane; makeup by Francesca Tolot at Cloutier Remix; manicure by Vanessa Sanchez McCullough at Forward Artists. Miniature construction by Calder Greenwood.
Produced by Prettybird; executive producer: Ali Brown; producer: Geoffrey Walker; production manager: Scott Fenton; production coordinator: Dakotah Rae; coordinators to Daniels: Rachel Goldfinger, DaManuel Richardson; photo assistant: Devy JS; digital technician: Brooke Vandever; gaffer: Anders Asbjørnsen; grips: Ara Bevacqua, Bryan Tran; art director: David Duarte; art swing: Anthony Defeo; fashion assistants: Minne Garcia, Kelly Page, Jenny Lee, India Reed, Kori Hulse; additional props: Scott Zillner; location manager: Barry Norwood; production assistants: Kya Koplin, Parker Emeigh, Divit Jozef; retouching: 80s Production; hair assistant: Nina Adado; tailor: Elma Click at Susie's Custom Designs, Inc.