Jennifer Lawrence's Fresh Perspective
The Oscar winner returns to her dramatic roots in the psychological drama Causeway.
Interview by Lynn Hirschberg
Photographs by Jamie Hawkesworth
---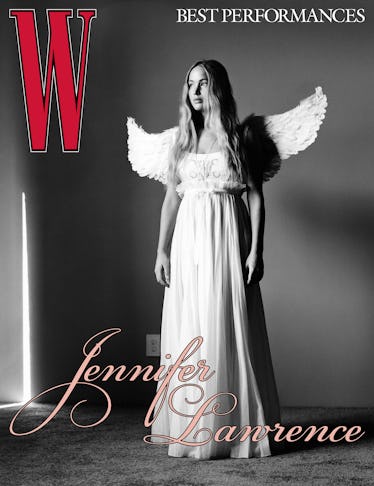 Lawrence wears a Dior dress; Boucheron necklace.
In the twelve years since Jennifer Lawrence starred in the stark indie Winter's Bone, she's gone on to star in some of Hollywood's biggest blockbuster films films (The Hunger Games and X-Men). With her most recent film, Causeway, the four-time Oscar nominee and best-actress winner returns to the type of quiet, emotional performance that first made her a household name. As an American soldier who must return home after suffering a traumatic brain injury in Afghanistan, Lawrence's character, Lynsey, struggles to navigate familial and romantic relationships in a profound portrait of grief and human connection. In conversation with W's Editor at Large Lynn Hirschberg, the 32-year-old discusses the long process of making the film and who she considers the world's biggest stars.
How did you get involved with Causeway?
Causeway came into my life via my producing partner. I read it, and loved it, and we proceeded to make it as quickly as possible in the next two months. But then it ended up being the longest process of three and a half years.
Was it difficult to go back to something you had started years earlier?
No. It was pretty incredible to have a completely different perspective on part two. We changed the movie drastically. It was a pretty amazing gift to be able to have hindsight while making a film.
Did you spend any time in a VA hospital?
We did. We met with many service members. I spoke to a lot of ex-service members who suffered from TBIs and physician assistants, physical therapists, and occupational therapists to learn how to move and to make sure we were telling the story as accurately as possible. The whole process came with a lot of gratitude and humbling. So much of acting is almost an exploitation of your own empathy.
Which film makes you cry?
Father of the Bride always makes me cry. Not when they get married, but when he sees her as a little girl and she's like, "Mommy, Daddy, I met a man in Rome and we're getting married." But I'm so sensitive now that I can barely watch anything with children or animals.
When you were a kid, what posters did you have up in your room?
Avril Lavigne. And a poster of dogs. I wasn't cool.
Have you ever been starstruck?
To me, the biggest celebrities in the world are, like, Pete Davidson. Or when Ariana Grande was in my last film, Don't Look Up, I was photographed with her and I fully look like a radio contest winner. I would be starstruck if I saw Jessica Simpson. That would knock me over.
Do you have any secret skills?
I don't think I have any skills whatsoever. But I can parallel park.
What is your sign of the zodiac?
I'm obviously a Leo. Leos are cocky, but generous. We love attention. We're not shy.
Hair by Jenny Cho at A-Frame Agency; makeup by Fulvia Farolfi at Bryan Bantry Agency. Senior style editor Allia Alliata di Montereale; senior fashion market editor Jenna Wojciechowski.
Produced by Connect the Dots; executive producer: Wes Olson; producer: Zack Higginbottom; production manager: Nicole Morra; photo assistants: Cecilia Byrne, Jack Buster, David Gurzhiev; retouching: Simon Thistle; fashion assistants: Julia McClatchy, Tori López, Jacqueline Chen, India Reed, Nycole Sariol, Derek Ezra Brown, Karla Garcia, Rosa Schorr; production assistants: Khari Cousins, Tchad Cousins, Kelsey Swope Romero, Mateo Calvo, Juan Calvo, Rayon Pollard, Gina York, Peter Ditzler, Nico Robledo; hair assistants: John Allan, Dylan Michael, Ramdasha Bikceem, Malika Palmer; makeup assistants: Kate O'Reilly, Lilly Pollan, Bailee Wolfson; manicure assistants: Pilar Lafargue and Victoria Valenzuela, Jolene Brodeur; set assistants: Cory Bailey, Dirk Knibbe, Joel Garcia, Matt Day; tailors: Irina Tshartaryan, Ripsime Vartanyan at Susie's Custom Designs, Inc.