With The Inspection, Jeremy Pope Stakes His Claim on Big Screen Stardom
Interview by Lynn Hirschberg
Photographs by Jamie Hawkesworth
---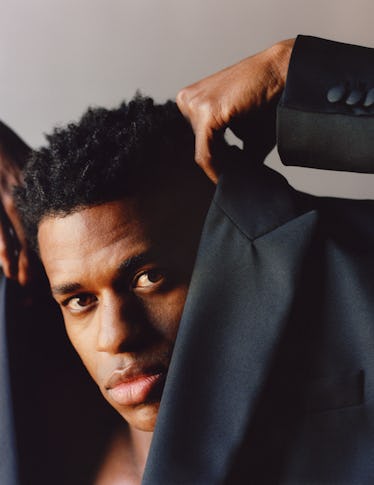 Jeremy Pope wears a Valentino coat, shorts, and socks; Rolex watch.
In Elegance Bratton's semi-autobiographical The Inspection, Jeremy Pope portrays Ellis French, a version of the director at an extremely critical time in his life. Having been rejected by his own mother (played by Gabrielle Union), French enlists in the Marines, where, despite the odds stacked against him as a Black queer man, he somehow manages to find a sense of community. The film marks Pope's first leading role in a feature-length film and has earned him a Golden Globe nomination for his raw, emotional performance. But that's just the latest accolade for the Tony-, Grammy-, and Emmy-nominated star who's best known for his roles on Broadway in Choir Boy and Ain't Too Proud: The Life and Times of the Temptations and on television in Ryan Murphy's Hollywood and Pose. Here, the multitalented 30-year-old actor, singer, dancer, and photographer discusses his journey to this moment.
Most of The Inspection takes place during boot camp. Did you have to go through any particular training?
I wanted to act my way through boot camp, but you can't act your way through push-ups; you have to do them. Doing Broadway theater is like the boot camp of acting, because you're doing eight shows a week. But for The Inspection, I had to do the formations and work with a gun—just all the things I don't do in my normal life.
Do you think you learned anything from boot camp?
Boot camp proved to me that I can do a lot more than I thought I could. Especially in Jackson, Mississippi, in the middle of the summer, when it's 117 degrees. We got shut down. It was so hot. But the environment helped us get into character.
There are some lovely scenes in which you help people. It's a grueling movie, but there's something really magical about the parts when you win.
Yeah. It is a special piece about this guy who goes into the Marines, trying to fit into this institution as an out queer man. But in this space, he realizes he's always had the strength. Once he identifies that self-worth and self-love and he leans into that, you see him able to help people who are struggling on their own journey of just trying to make it through.
When you read the script, what was it you found the most compelling?
I knew that Elegance, being a Black queer creator, was going to put himself on the front line by telling his story. And once you give a piece of yourself away like this, you can't get it back. I knew that would be very vulnerable, so I immediately wanted to protect him and thought, Well, let me be the person they have to meet before they get to you, and I will do my damnedest to put everything I have into it so that your story can lift off the page and be meaningful and impactful.
Do you see any similarities between this project and Choir Boy?
They're both stories that kind of challenge masculinity, how we view it and the empathy we have or don't have toward people who tare different from us—specifically, Black men.
Were you a theatrical child?
I was pretty shy as a child. I felt like, "I got something to say, and something to sing or something to do." But I was always scared to put it out there.
What was the first thing you did on stage?
My first thing on stage was Cats the musical, in high school. [Laughs] My freshman year I had to choose between running track and doing the school musical, and I got a lead. I played Skimbleshanks. I made him a hip-hop cat; I wanted to bring my own flavor to him.
How long have you been dancing?
My grandma [and I], we always have dance parties in the house. I was pretty comfortable in my body. And then, as I got older and more serious about the craft, it was like, take ballet and jazz and tap. Ballet kicked my butt. I hated it, 'cause I wasn't good at it, and you always wanna do things that you're good at. [Laughs] But I definitely am grateful for that training.
Did you always dream of Broadway?
Broadway was one of the dreams. I wanted to be in movies and make music and be on Broadway. But I didn't necessarily know what type of role I could play. Outside of a Lion King or a Hairspray, I didn't really see a Black man leading a space and singing and dancing outside of the ensemble. So that was my evolution of trying to see myself in these spaces that my heart desperately wanted to be a part of.
What is your astrological sign?
I'm a Cancer.
What are Cancers like, in your opinion?
I think they're beautiful and great. People would say very sensitive.
And do people think you're a typical Cancer?
Yes. I am very much a crab. I like to come in, recharge, go out. I am emotional. But I'm tapped in. I'm a lover, I'm a hard lover.
What was your favorite birthday?
I love smaller birthdays, where it's just food. Don't let my body fool you—I eat pound cake, sweet potato pie, fried chicken, catfish, mac and cheese, sweet potato soup. I feel like I'm rapping now. That's my ideal birthday: just eating.
Hair for portfolio by Anthony Turner at Streeters; makeup for portfolio by Lucia Pica for Byredo at Art Partner. Senior style editor Allia Alliata di Montereale; senior fashion market editor Jenna Wojciechowski. Manicure for portfolio by Michelle Saunders. Set Design by Gille Mills at 11th House.
Produced by Connect the Dots; executive producer: Wes Olson; producer: Zack Higginbottom; production manager: Nicole Morra; photo assistants: Cecilia Byrne, Jack Buster, David Gurzhiev; retouching: Simon Thistle; fashion assistants: Julia McClatchy, Tori López, Jacqueline Chen, India Reed, Nycole Sariol, Derek Ezra Brown, Karla Garcia, Rosa Schorr; production assistants: Khari Cousins, Tchad Cousins, Kelsey Swope Romero, Mateo Calvo, Juan Calvo, Rayon Pollard, Gina York, Peter Ditzler, Nico Robledo; hair assistants: John Allan, Dylan Michael, Ramdasha Bikceem, Malika Palmer; makeup assistants: Kate O'Reilly, Lilly Pollan, Bailee Wolfson; manicure assistants: Pilar Lafargue and Victoria Valenzuela, Jolene Brodeur; set assistants: Cory Bailey, Dirk Knibbe, Joel Garcia, Matt Day; tailors: Irina Tshartaryan, Ripsime Vartanyan at Susie's Custom Designs, Inc.