Jeremy Strong Pours Himself Into Every Role
The Armageddon Time and Succession star on his all-consuming approach to bringing a character to life.
Interview by Lynn Hirschberg
Photographs by Jamie Hawkesworth
---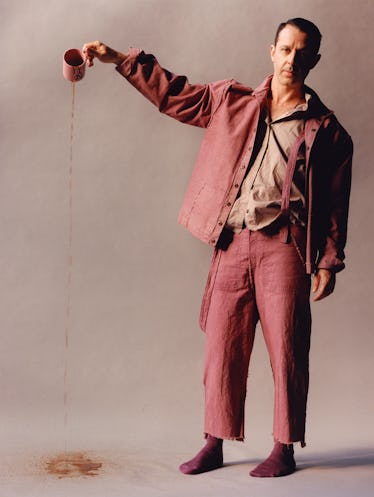 Strong wears an Anecho jacket, shirt, and jeans; Falke socks.
It will take years, perhaps a lifetime, for Succession fans to completely separate Jeremy Strong from his career-defining and Golden Globe–winning role as Kendall Roy. But as the bespectacled, gray-haired Irving Graff in Armageddon Time, Strong gives audiences a character that's far removed from the Roys' prodigal son. In the semi-autobiographical coming-of-age story from director James Gray (Ad Astra, The Lost City of Z), Strong embodies a version of Gray's real-life father, a boiler repairman pursuing the American dream in 1980 Queens. The film marks Gray's first foray into deeply personal territory with newcomer Banks Repeta taking on his childhood experience, Anne Hathaway as his mom, and Anthony Hopkins as his doting grandfather. Here, Strong discusses his extreme dedication to the part—and his craft in general.
What was your first reaction to reading the script for Armageddon Time?
The script landed on me like a tidal wave. This character, who's described as a Jewish Stanley Kowalski with an engineering degree, reminded me of my grandfather, who had been a plumber in Flushing and had a temper. You see silliness and goofiness and tenderness and rage and cruelty and brutality commingling in one man who's a boiler repairman. There's a sense of this boiler pressurization and blowing up.
In Armageddon Time, you play, essentially, the father of James Gray, who wrote and directed the film. Was that difficult?
I didn't know at that time that it was autobiographical. I had read an interview with [Gray] where he talked about his interest in breaking down the wall between himself and his work. He saw something in a gallery that said history and myth begin in the microchasm of the personal. I think he felt like, I'm just going to really mine my own early experiences and find what's there of value for storytelling. But did I know it was his father? No. When he offered me the film, it became my job to become an expert on someone that only James knew. As an actor, you become a detective. You're looking for a lockpick that might open up the world of the character. And this was a person from Queens in 1980. I tried hard to get his voice. The voice, in a lot of ways, was everything.
It's a very precise voice. Was it difficult to pin down?
To create a whole person, I had to go to the source. James was hesitant to reveal too much with Annie [Hathaway] and I, but I put a digital tape recorder in his wife's and daughter's hands and deputized them as researchers. I was able to get a few hours of his father speaking and answering the Proust questionnaire. Actually, the first night I met James, we went to Shun Lee, and I asked him to answer the Proust questionnaire as Irving, his father. His answers were uncannily exact to when his father then answered it himself. So I got a composite picture and a visceral sense of who he was.
Were you always theatrical as a child?
I was a big ham. I loved to sing when I was young. I don't know that I was a performer naturally, because I've always been a bit of an introvert, but walking onstage was a great leavener. When I was 7 or 8, I played Winthrop in The Music Man, and the character has a speech impediment. I think I played the hell out of a lisp. We're all so playful when we're young. We're present; we're full of wonder. And then life has its insidious way of trying to take those things from you. You have to remain defiantly open.
Did you say to your parents that you wanted to be an actor?
I'm not sure it was ever articulated to my family. It was preconscious. All I ever wanted to do was act.
It must be wonderful to have such clarity.
Yes and no, because it can also be a burden. It's great to have a singularity of purpose and wanting. But I never bummed around backpacking or any of that. It's always been an obsession to explore the human experience by being a vessel for these characters.
What is your secret skill?
I don't know if it's a skill or secret, but fashion is a passion. I pick out all the wardrobe for Kendall Roy, my character in Succession, and I live in those clothes when we're shooting the show. The clothes maketh the man, and aesthetics are so personal.
Do you have a favorite tailor?
There's a guy named Geoffrey B. Small. He's incredible. Everything is by hand and done with great care and exactitude. It's meticulous and artisanal. You know, I've thought a lot about Tár recently, and this idea of the signal-to-noise ratio of life. When we're bombarded with so much noise, I guess there are certain clothes makers who embody an ethos that I'm drawn to. There's a designer named Haans Nicholas Mott. Everything is hand-stitched, and everything is done with precision and soul. I guess precision and soul are things that I look for in acting and everything.
What's your astrological sign?
I'm a triple Capricorn. Every rising and everything is Capricorn. But I've learned that my primal astrological animal is the salmon. That is, essentially, an animal that swims in one direction for its whole life and gets shredded by the river and the rocks and when it reaches its destination and comes to fruition, it dies.
Hair for portfolio by Anthony Turner at Streeters; makeup for portfolio by Lucia Pica for Byredo at Art Partner. Senior style editor Allia Alliata di Montereale; senior fashion market editor Jenna Wojciechowski. Manicure for portfolio by Michelle Saunders. Set Design by Gille Mills at 11th House.
Produced by Connect the Dots; executive producer: Wes Olson; producer: Zack Higginbottom; production manager: Nicole Morra; photo assistants: Cecilia Byrne, Jack Buster, David Gurzhiev; retouching: Simon Thistle; fashion assistants: Julia McClatchy, Tori López, Jacqueline Chen, India Reed, Nycole Sariol, Derek Ezra Brown, Karla Garcia, Rosa Schorr; production assistants: Khari Cousins, Tchad Cousins, Kelsey Swope Romero, Mateo Calvo, Juan Calvo, Rayon Pollard, Gina York, Peter Ditzler, Nico Robledo; hair assistants: John Allan, Dylan Michael, Ramdasha Bikceem, Malika Palmer; makeup assistants: Kate O'Reilly, Lilly Pollan, Bailee Wolfson; manicure assistants: Pilar Lafargue and Victoria Valenzuela, Jolene Brodeur; set assistants: Cory Bailey, Dirk Knibbe, Joel Garcia, Matt Day; tailors: Irina Tshartaryan, Ripsime Vartanyan at Susie's Custom Designs, Inc.