Jessica Henwick Is Creating the World She Wants to See
The actress known for appearing in multiple blockbuster franchises would like to create a cinematic universe of her own.
---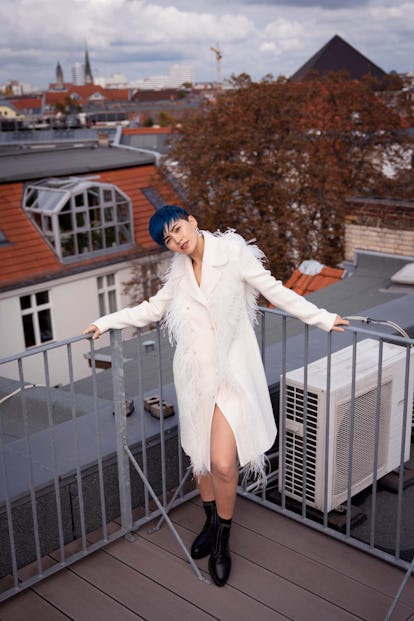 Jessica Henwick photographed by Matt Berberi.
At 28 years old, Jessica Henwick has already acted in a handful of "cinematic universes" for some of the biggest film franchises in Hollywood. She's appeared in the Marvel Cinematic Universe, the Star Wars Cinematic Universe, and the Game of Thrones universe. But she's also navigating the rom-com waters with two films out this fall—Love and Monsters and On the Rocks—and learning to write her own scripts.
Henwick called W during a gloomy day in Berlin, during a rare spell of downtime in between filming The Matrix 4 with director Lana Wachowski and polishing up a draft of her upcoming Amazon series, Nancy Wu Done It, which will follow a young adult novelist who gets thrown into the world of her own mystery books.
"I knew from a really young age that I wanted to tell stories," Henwick said. "When I was a kid, when people would ask me what I wanted to do I would say, 'Oh, I don't know, I want to write, or I want to act, or I want to play piano,' because to me, they're all kind of the same thing."
As a child, she was also a gifted ballet dancer, but in her teen years, she realized that she would have to make a choice. "To continue doing pointe work I'd have to put in an extra three hours a week on top of what I was already doing, so that would have meant giving up my acting class," she explained. "That was the moment where I went, actually you know what, I think I want to focus on acting and all the other stuff fell back and I just really honed in on it."
Not that the ballet lessons were a waste—in fact, many of Henwick's acting projects have required a lot from her, physically, and she credits her choreography skills with helping her take on any action-packed roles. "I tell some people, I'm not a good martial artist I can just pick up choreography really well," she said. "That is 100 percent from dance training and from piano."
Henwick also recently starred as Teen Wolf alum Dylan O'Brien's love interest in Love and Monsters, a post-apocalyptic action-adventure romantic comedy. If that sounds like a mouthful of genres, well, that's because it's supposed to be an amalgamation of just about everything you can think of in one movie. "I'd seen Dylan's work and knew how talented he was," Henwick said of what drew her to the film. "It was an original script, which is quite rare to see in Hollywood these days."
Henwick can also be seen in Sofia Coppola's On the Rocks, which is now streaming on Apple TV+. Of course, like any young performer given the chance to be directed by Coppola, Henwick considered it to be a "dream" experience. "She exudes this quiet confidence," she said of Coppola. "I've worked with a lot of female directors before, but one thing about her, she owns that set. She didn't have to do it by force, she never raised her voice, she just knew exactly what she was doing and commanded respect. If I end up being a director, I would want to be like her."
Another acclaimed director Henwick considers herself lucky to work with is Lana Wachowski, who is filming The Matrix 4 right now with Yahya Abdul-Mateen II, Keanu Reeves, Carrie-Anne Moss, Priyanka Chopra, and Jonathan Groff. "There are a lot of technical things that I love that Lana does," Henwick enthused over the phone. "She does running takes and very rarely cuts. We'll keep the camera rolling for 20, 30 minutes and she keeps such a close eye on what's going on in a scene, and she'll jump in and be like, 'Do that line again' or 'We're going to do that, but push in closer here,' and she's really on top of it. When you cut, it just slows down the set so much because then they have to slate, makeup and hair come in, everything has to be reset. Having the cameras keep rolling keeps everyone on their toes because it takes out all of that waiting time."
"As an actor, it keeps me sharp," Henwick continued, "Because I know that she knows the script just as much as I do, and I have to be on top of it. You can't wing it with her, or bluff your way through a scene."
Next, Henwick will be heard—but not seen—in an animated Netflix series called Blood of Zeus, set in the world of Greek mythology. "It was such a dream, I would come into work in my pajamas and just get to play," Henwick said. "Looking at the character I play, she's this white, blue-eyed, blonde-haired Amazonian looking woman and I would never be seen for her, so it's so refreshing. That's the beauty of voice acting. It's refreshing to get to play roles you probably wouldn't get to play in real life."
A lot of her work has been situated in the sci-fi or fantasy realms, both of which are genres that feel close to home for the actress. "I grew up reading a lot of fantasy and sci-fi when I was a kid. My dad is a writer, and he really nurtured that piece of me," Henwick said of the decision to act in Game of Thrones, Iron Fist, Luke Cage, and Star Wars: The Force Awakens. "But also a reality of being an Asian actor is that I don't get called for any period dramas. Especially growing up in England, that's our number-one output. Downtown Abbey, Austen adaptations—I just could never audition for those," she went on.
"There does seem to be more willingness to cast ethnic minorities in these genre pieces," she said of science fiction and fantasy. "It's changing now, but definitely when I started, it was just the reality of it," Henwick continued. "I actually wrote a miniseries that's a period drama about a British-Chinese family," the actress revealed, adding that she hopes to be "part of that change" from a creator's standpoint.
"Part of the reason I got into writing was because I was feeling a little bit jaded about the roles that are available to women, especially women of color," she explained. "My co-writer of Nancy Wu Done It is female, my producer is female, the team at Amazon is mostly female and the character is female. In terms of how much I can say that has been announced is probably very little, except that I'm actually about to turn in a new draft so I'm excited to see how that goes," she laughed.
In between acting, lending her voice to an animated character, writing, and producing her own series, it all begs the question of how the 28-year-old has any time to do all of this work. "My response is always, what does everyone else do with their time?" Henwick said. "It doesn't feel like work to me because it's what I'm passionate about. I think if it was more of a job to me, I wouldn't be doing this. The moment I fall out of love with acting or writing, I'll just quit."