Joshua Kissi Is Changing the Pecking Order of Old-School Photography
The photographer and filmmaker has shot Michael B. Jordan, Laverne Cox, Cynthia Erivo, Jaden Smith, and many more.
---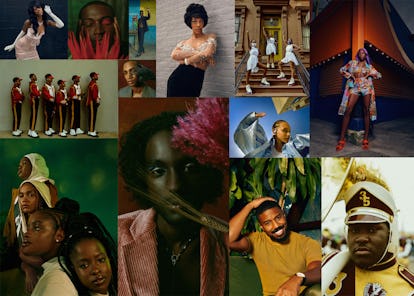 Photographs by Joshua Kissi. Collage by W magazine.
Welcome to Ways of Seeing, an interview series that highlights outstanding talent in photography and film—the people behind the camera whose work you should be watching. In this week's edition, senior content editor Michael Beckert chats with the photographer Joshua Kissi, whose photography holds a classical feeling, but is wholly modern. Kissi's projects vary in subject matter—he has shot Michael B. Jordan for the cover of People Magazine and Fuel the People activists for The New York Times' T Magazine. His style, however, is instantly recognizable.
Joshua, it's great to speak to you again after our Rico Nasty shoot. Let's backtrack, where did your photography career begin?
It all started from Street Etiquette, a men's street style and fashion blog that I created with Travis Gumbs in 2008, which evolved into a creative agency. It was my first play to the industry; it started with me picking up a camera and photographing people in our community in the Bronx. At the time, it was really important because there weren't that many Black male perspectives being considered in the fashion industry. Travis and I thought to ourselves, "What if we just photograph, talk about, and dissect clothing?" We'd wear the clothes but we'd also break down the history of each item. From item to item—like a cargo pant or hoodie—we'd go through the etymology of it and contextualize it in present-day terms. A lot of people who hadn't previously seen themselves reflected in the industry saw themselves in parts of Street Etiquette.
Two thousand and eight was back when blogs were a real thing that had real potential to turn into—
Into actual things! There was an entire class and tier of blogs that turned into companies: The Sartorialist with Scott Schuman, Emily Weiss's Into The Gloss. The term "bloggers" is sort of archaic now; they all turned to Tumblr, and then Instagram came around and satisfied the market. Instagram is your portfolio, blog, diary, etc. At the time, when we started, there was no Instagram.
Instagram is sort of the bane of our existence, considering the amount of time we spend scrolling through it; that said, I'm so thankful for it. I wouldn't have this career without it, and I'm not sure we'd be speaking even if it weren't for it. I don't think the photography community has ever been as connected as it is right now because of it.
I really agree; Instagram is a celebration of the photography community. People have their own critiques of that, of course, because there aren't a lot of formal critiques of photography happening on the platform, but that sort of stuff is more likely to happen offline. Instagram is more about showing and presenting something. People are posting what they feel great about and want to celebrate.
How did you transition into the artist we know now?
I was always taking photos, but I didn't really consider myself a photographer because, you know, there's this idea that you had to go to school and get a BFA or an MFA, and I hadn't done that. I also respected a lot of different photographers and I didn't want to just call myself one, throwing the term out there without doing the research. So I was calling myself an image maker, or explaining that I did creative direction. I really just wanted to tell stories. By the time I had developed my own idea of what great photography looked like, around 2013, I started playing around with saturation and contrast, and what Black skin could look like in ways I hadn't seen before. When Street Etiquette ended in 2016, I felt like I was finally ready to tell my own stories. I went to Ghana and started working on personal projects—I'm first generation Ghanaian American. I was really inspired by Gordon Parks, and this photographer James Banner, who was a Ghanaian photographer who moved to England and had this very diasporic view of life in England verses on the continent, and the connection between the two. Since I already had this diasporic, first-generation mindset, I started using photography to connect the dots for myself, and that's what I became known for. I go to Ghana a lot, and I'm really connected to the culture. Making work there is another way to look at the global Black perspective, and not just from an American perspective, but from a perspective that's more nuanced. What does it mean to be Black in America, but also Black in the world, wherever you're from?
My work has definitely changed a lot. I came from a place where my work was particularly moody, and every time I'd go into these portfolio reviews, they'd be like "This is so beautiful, but we're looking for a more commercial lens." Another thing that used to come up with editors was that I hadn't photographed a celebrity before, and honestly it hadn't ever been an interest of mine. Most of my work revolved around people in my community—interesting faces or models. As soon as I started photographing more notable people, I had to think about how I could incorporate a more recognizable face into my work, without compromising the parts of my work that make it stand out in the first place. The challenge is not losing the qualities of your work, while also being able to encompass a variety of subjects in it.
When we shot Rico Nasty, you were so calm on set despite poor weather and not having a ton of time to shoot. How do you manage to stay so calm when you're shooting these types of projects?
I try to remember that if I walk onto set with a calm and positive attitude, the team will reflect that back to me, and we'll make our best work. If I'm anxious and stressed, that'll influence the team to be the same, and we might not get any good pictures. I try to remember to go back to the basics: lighting, composition. Those things aren't going to change, even if other variables are. As for the things that'll change last minute—you just have to remind yourself that you don't have full control over those things, anyway.
I get the idea that sets used to feel a bit more strict and hierarchical back in the day.
I think we've arrived, and reordered the pecking order a bit. Campaigns are still being awarded to an older generation of photographers, but those situations are fewer and far between. If you're not Steven Meisel, it's a little more difficult to progress without staying relevant on social media. There's this idea of the middle class creative that's emerging because of social media, though—the middle class photographer. You haven't made it so big that you're David LaChapelle, Meisel, or something like that, but you're also not a starving artist who's struggling. Today, there are artists that can truly exist in the middle. And we have social media to thank for that.
There's so much more economy and room for photographers, image makers, filmmakers, and the middle class creative is really informing the market. We're at a place now where you can build up value and equity on Instagram, and really turn that into something. There's no promise that you'll be Steven Meisel, but you have the possibility.
There's less of a binary now. It's not a clear "you made it," or "you didn't."
For a long time, people romanticized this idea of the starving artist because there were so few that make it to the top. Now people are finding spaces that make sense for them, and it's not because it's being forced upon them. They've had way more control and autonomy over building a space they feel comfortable creating from. They're not making things from a scarcity mindset anymore.
You did a project with Google Pixel at the end of 2019. What inspired this project, and what is it like collaborating with a company like Google?
Working with the Google team was transformative. Creator Labs is all about empowering the artist to create ideas that impact society or culture from your point of view. The project I collaborated with Google on was Gerewol, which explored the beauty of masculinity and femininity through portraiture. Gerewol is the name for the annual courtship and ritual competition among the Wodaabe Fula people of Niger. Young men dress in elaborate ornamentation and traditional face painting, then gather in lines to dance and sing, vying for the attention of women. The men abandon dress and behavior typically understood as masculine in order to appeal to their potential wives.
I wanted to talk a bit about some of the photography and film projects you've done in collaboration with Nike. I've always felt like artists and athletes have a lot in common with one another. Both have to wake up every day and fight for their own talent, and the talents of the people they're working with. Both require an insane amount of discipline, sacrifice, and practice. Both are dependent on a long-term payoff, and even advertising clients.
I love that you brought that up. I find a lot of inspiration and commonality with athletes, and in my work. The preparation, the execution, the routine. A lot of those themes can be applied to real life, but especially to your art. Whatever your position is, you go out and play it your best. Just because you've got the ball, and you've made the shot, doesn't mean it's all about you. It's about the hair, makeup, the talent, the producer. People came together to make the shot possible. A win for me is a win for the entire team. Bringing it back to our shoot with Rico Nasty, that's [stylist] Marion Kelly paying homage to Ronnie Spector. I could have been the type of photographer who was like, no, I want to come up with the creative, but Marion had a great idea.
Can you tell me about the piece you released this year for the New York Times, surrounding Long Island's Black beachfront community?
The New York Times approached me about this story they had already written, but they wanted to do a video portion for it. I started to do research on the topic and was wondering, how do I make a piece about a particular area over a period of time? That's always difficult. It couldn't be too retrospective because people would write that off and not understand the urgency of the story. I had to really show how the past has influenced the present we're living through right now—and that we have a choice to impact how this community will look in the future. I wanted to show this Black community that has owned the beachfront property in this area since the beginning, and how industrial developers are trying to take over that community today. It was sad, but I needed to focus on galvanizing my power as a filmmaker to make people who don't live there actually care. There aren't a lot of spaces in the United States that actually possess beachfront property for the Black community. I was able to go into people's homes and meet them and I was like "Wow, this whole filmmaking process is this spiritual journey almost," because you sort of hear their life stories and what their homes mean to them. My job was to figure out what parts of their story were most crucial to this particular project, though, which was a challenge. At the same time, you want to make sure the people you're making the film with feel good about it. If they don't, then it's doing a disservice to them. One of the things that touched my heart the most about that project was that the people who actually live in the community have contacted me to say thank you for doing such a great job, and for telling a truthful story.
Many of our readers are newly college graduates entering the creative industries. What advice would you give them?
First, find community and form friendships because it's difficult to always create in isolation. The majority of the work that shifted things for me career-wise was produced with my friends. There's no ultimate deadline or clients—you get creative freedom to just discover more of yourself.
What are you most proud of so far in your creative journey?
I am most proud of the ability to impact people over time. The ability to create a mirror for people who didn't have a mirror of themselves and couldn't see an example of who they are and want to be. Even if something is starting with me, it's not ending with me. I think that's the most important thing that I can take away from the past 10 years or so, whether I'm working as a photographer or filmmaker. I'm grateful to have stayed relevant, but to still have a lot of room to grow and try things that are challenging. I'm grateful that I have the opportunity to continue to do this until I'm 60 or 70. I'm looking forward to all the stories I'll be able to tell.
Related: Filmmaker Stephen Isaac-Wilson Takes a Chance on Himself