How Judd Hirsch Became the Oracle of The Fabelmans
Interview by Lynn Hirschberg
Photographs by Jamie Hawkesworth
---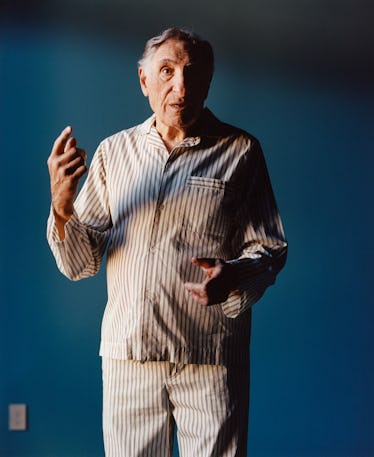 Judd Hirsch wears a Tekla pajama top and pants.
With only a few minutes of screentime in Steven Spielberg's semi-autobiographical coming-of-age drama The Fabelmans, veteran actor Judd Hirsch makes an outsized impact. As Boris, a version of Spielberg's eccentric great-uncle, Hirsch delivers a compelling speech to the film's young protagonist, Sammy Fabelman (Gabriel LaBelle), that convinces him to follow his passion for filmmaking. At 87 years old, Hirsch is best known for his Emmy-winning role in Taxi and Oscar-nominated turn in 1980's Ordinary People, but The Fabelmans proves he still has more than a few tricks left up his sleeve.
How did you hear about The Fabelmans?
I got a Zoom call from Steven Spielberg, and it started out with "SS wants to talk to JH." I said, "Who is SS? I know who JH is!" [Laughs] Okay. What's the big whisper here? What, are we doing a crime story? Am I gonna be arrested? All right. Fine. So I asked, "Who would I play?" Steven said, "A great-uncle of mine." I said, "What does he do in the movie?" He said, "He made me become a director."
The advice your character shares with a young version of Spielberg helps him become the filmmaker he is today.
The message from this oracle that I played will be sent through as a sort of nugget in everybody's heart. It's "Follow your art, and you won't be able to do anything else. And don't let any family stop you."
Did anyone ever say that to you?
No, they didn't have to. I just did it. [Laughs]
Did you relate to the character?
As a very young child, I lived in Coney Island. And all that unreal stuff—the sideshows, the barkers, the amusement park—was a vision that took me out of my own life. And then this guy in Steven's movie actually started out in the circus. That hooked me.
And he's funny.
Spielberg has a wonderful sense of humor. And we kind of matched. Because everything is humorous, you know. If you don't laugh, you die.
Did you always know you wanted to be an actor?
My father was an electrician. He wanted me to be a union guy, but then I went and learned something bigger.
Hair for portfolio by Anthony Turner at Streeters; makeup for portfolio by Lucia Pica for Byredo at Art Partner. Senior style editor Allia Alliata di Montereale; senior fashion market editor Jenna Wojciechowski. Manicure for portfolio by Michelle Saunders. Set Design by Gille Mills at 11th House.
Produced by Connect the Dots; executive producer: Wes Olson; producer: Zack Higginbottom; production manager: Nicole Morra; photo assistants: Cecilia Byrne, Jack Buster, David Gurzhiev; retouching: Simon Thistle; fashion assistants: Julia McClatchy, Tori López, Jacqueline Chen, India Reed, Nycole Sariol, Derek Ezra Brown, Karla Garcia, Rosa Schorr; production assistants: Khari Cousins, Tchad Cousins, Kelsey Swope Romero, Mateo Calvo, Juan Calvo, Rayon Pollard, Gina York, Peter Ditzler, Nico Robledo; hair assistants: John Allan, Dylan Michael, Ramdasha Bikceem, Malika Palmer; makeup assistants: Kate O'Reilly, Lilly Pollan, Bailee Wolfson; manicure assistants: Pilar Lafargue and Victoria Valenzuela, Jolene Brodeur; set assistants: Cory Bailey, Dirk Knibbe, Joel Garcia, Matt Day; tailors: Irina Tshartaryan, Ripsime Vartanyan at Susie's Custom Designs, Inc.