The Kardashians' Return is Imminent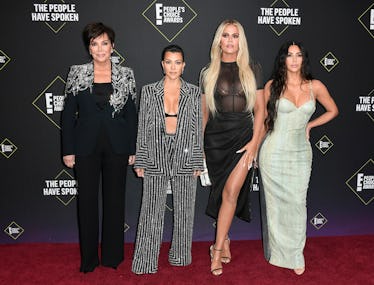 Frazer Harrison/Getty Images
Back in 2020, the Kardashian-Jenner industrial complex announced they would be ending their E! show, Keeping Up with the Kardashians, after 15 years and 20 seasons. The news left some fans despondent, forced to think about a world without the famous family's antics airing on TV every week (we would instead be regulated to watching their antics play out on Instagram Stories every day). Then, just two months after this announcement, another one was made. The KarJenners revealed they weren't going anywhere. Well, actually they were just heading over to Hulu, where they signed a "multi year partnership" to "create global content" AKA they were going to film a new reality show. For awhile, there was no news about what this new show would look like and when it would air, but finally, about a year and a half after the original announcement, we have some information about The Kardashians.
What will The Kardashians cover?
As the premiere date for The Kardashians approaches, we are slowly learning more about what to expect when the famous family returns to our screens. Recently, we got the first trailer for the show, which shared a few fleeting shots of Kourtney Kardashian's engagement to Travis Barker and Kim preparing for her SNL gig, but in a recent interview with Variety, the sisters and Kris Jenner opened up about more of what's to come.
For one thing, it has been confirmed that some of the Kardashians' exes will be on the show, including Kanye West and Tristan Thompson. According to the article, West filmed scenes for the show and "figures into a major arc in the first episode." As for if The Kardashians will cover what has become their extremely public divorce, it's unclear. "I don't think I would ever criticize the father of my children on my TV show," Kim said. "That's just not really what I'm about, and I just don't think that would ever make me feel good."
Meanwhile, Kim's new relationship with Pete Davidson will be a topic of discussion as well. Kim revealed the show will add some context to how the pair met, "who reached out to who and how it happened and all the details that everyone wants to know." Unfortunately, Davidson didn't want to be filmed for the series, but it seems you may be able to spot him in the back of some scenes.
For the most part, The Kardashians—which is being described as more of a "documentary style show"—will look a lot like its predecessor. "If it ain't broke, don't fix it," said Ben Winston, the executive producer of the new show. "It feels different, but yet, ultimately builds on the great show that they did."
One major difference will be the turn around time for the episodes. Working with a streaming service like Hulu will allow The Kardashians to cover events closer to when they actually happened. "We wanted it to be as current as possible," Kim said. "We hated how long we had to wait. That was like the death of us, because once we got over something, we had to rehash it all over again."
Will the whole family be featured in The Kardashians?
While Kourtney opted out of the last few seasons of KUWTK, she will be returning for the Hulu show, along with her four sisters and, of course, Kris Jenner. There is also the question of current and ex-partners, as they often make up large portions of the family drama. We know Travis will be involved since his engagement to Kourtney was filmed, and Kim announced back in May 2021 that Scott Disick would be coming to Hulu with them as well, though he was noticeably absent in the first trailer. West will be featured in at least the first episode, but it's unclear if we will see their fallout that has recently occurred in the public eye.
In the interview with Variety, Khloé revealed her ex, Tristan Thompson, will be on the show. "I wish I never had to talk about that because it's not a fun thing to talk about," she said. "But it is part of my journey in life, so we will see it on the show."
Caitlyn Jenner, who was fairly absent from Keeping Up following her transition back in 2015, will not be on the new show. Meanwhile, the sole son of the family, Rob, is not a main cast member, though he is expected to make cameos, per usual.
When will The Kardashians air?
After months of reports that the Kardashians were filming content, and a multitude of teasers on Instagram, we finally have a premiere date. The Kardashians will be back on TV on April 14th. After the premiere, there will be a new episode every Thursday. Right now, Hulu and the family have committed to two seasons of the show, with twenty episodes each, but it seems certain they will renew their contract if The Kardashians proves to be popular.
This article was originally published on