Karol G Keeps It Authentic
The Colombian superstar reflects on the challenges that informed her latest album, Mañana Será Bonito, and the importance of being real with her fans.
Photographs by Philip-Daniel Ducasse
---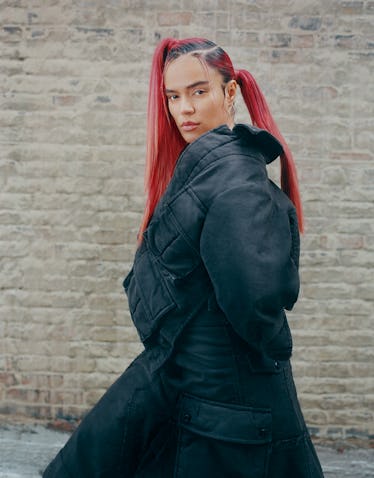 Karol G wears a Marc Jacobs jacket and skirt; De Beers earrings.
When Karol G appears in my Zoom window, she is the quintessential image of the Little Mermaid. The Colombian superstar's bright red hair is long, wavy, and wet, and her glowing skin looks like it was just sprayed with sea mist. Her love of the fantastical creature is well known—at her concerts, fans in red wigs throw mermaid dolls at her feet—but unlike Hans Christian Andersen's fairy tale, Karol's story is about her finding and protecting her voice.
Carolina Giraldo Navarro was born and raised in Medellín, Colombia. Her first foray into the industry was as a competitor on the country's version of The X Factor in 2006, when she was 14. But in the years after her appearance, she was turned away by record label executives, who told her there wasn't room for women in reggaeton, a genre known for its unabashed male horniness. Thankfully, she had full support from her parents. "They believed in me since the first day," she says. "So I'm always trying to send the message that families should trust their kids and let them be whatever they want."
She traveled around Colombia as an independent artist, performing on college campuses, in nightlife venues, and at festivals. She caught the attention of Nicky Jam, with whom she collaborated on the hit song "Amor de Dos" in 2013. It took her three more years to get signed to Universal Music Latino. Since then, she has continued to prove the men in suits wrong with a slew of chart-topping smashes with major stars like Bad Bunny, J Balvin, Ozuna, and Nicki Minaj. Videos for four of her songs have over a billion views each on YouTube.
"In the Anglo market, you see a lot of girls doing their thing, like Ariana Grande, Rihanna, Nicki Minaj, and Cardi B," Karol says. Though she acknowledges that all of those women have faced obstacles too, she feels that the world of reggaeton has even more conservative gender politics. "For us in the Latina community, it's different," she says. "It has been very hard to find a place of respect in this industry. Now I'm super happy to see the movement grow and be at the point where girls are representing and saying, 'We have our side of the story. We have different situations and moods; we are good girls, bad girls, boss girls—we feel, we have intimacy, we like sex too.' "
Her discography is filled with sultry tales of romance, devastating accounts of heartbreak, and everything in between. "Most of my songs are about a very personal story, and I think that realness is what connects with people, even if they don't know the lyrics. It's all about energy," she says. Part of the recipe for Karol's universality is her breezy, hypnotic voice—a significant departure from the typically "hype" reggaeton sound (think of Daddy Yankee's "Gasolina"). Another key ingredient is the escapist seaside world she creates in her videos, which evokes the coastal beauty of her home country.
Zadig & Voltaire dress; Elsa Peretti for Tiffany & Co. earrings; De Beers rings; Marc Jacobs boots.
Karol's latest album, Mañana Será Bonito ("Tomorrow Will Be Beautiful"), which came out in February, features many songs that she wrote during a period of intense emotional turmoil, in the wake of a public breakup. Still, she maintained a sunny outlook. "It was super hard for me to open myself up in very different ways. Every song tells a story about me, about my life," she says. "I think those moments are the ones that create our personalities and make us stronger for the bigger things to come. I always say, 'The shark makes the fish swim faster!' "
Mañana Será Bonito has already broken numerous streaming records and has become the all-time highest-charting Spanish language album by a female artist. In fact, one of its mic-drop moments is "TQG," a blistering collaboration with Shakira in which the two Colombian superstars roast their exes to a crisp. But the album also shows a softer, more vulnerable side to Karol G than the brash persona fans might associate with her boss-bitch anthem, "Bichota." Karol is thankful she took that chance. "I thought, If they're going to love me, they should love Carolina the way she is."
Fendi dress; Jennifer Fisher earrings; De Beers rings.
Karol G wears a Marc Jacobs jacket and skirt; De Beers earrings.
Hair by Joey George for bumble and bumble at MA World Group; Makeup by Michaela Bosch for Surratt at Bryant Artists; Manicure by Honey for Londontown at Exposure NY; Tailor: Isa Kriegeskotte; photo assistants: Jupiter Jones, Nikolai Hagen; fashion assistant: India Reed; hair assistant: Kazuto; makeup assistant: Mika Omura.
This article was originally published on