Kate Hudson Knows How to Make an Entrance
The Glass Onion: A Knives Out Mystery star discsusses the power of body language and her career in great costumes.
Interview by Lynn Hirschberg
Photographs by Jamie Hawkesworth
---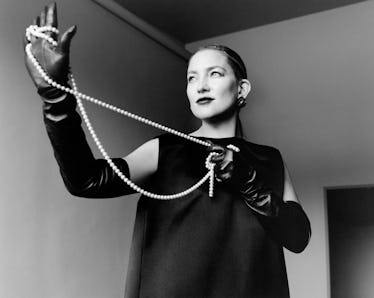 Hudson wears the Row dress; Patricia von Musulin earrings; Assael necklaces.
Kate Hudson has never faded far from the limelight since her breakthrough role as the endearing groupie Penny Lane in Almost Famous. For years, she balanced her status as a queen of romantic comedies (How to Lose a Guy in 10 Days and You, Me and Dupree) with detours into genres as varied as thrillers (The Skeleton Key) and musicals (Nine). Lately, she has found success embodying off-the-wall characters that require an actor's commitment to big swings. Her turn as a streetsmart New Orleans stripper in the trippy Mona Lisa and The Blood Moon helped set the stage for this new chapter, but her role in Rian Johnson's Glass Onion: A Knives Out Mystery makes it crystal clear. Her character, Birdie Jay, is a supermodel turned designer who has little use for modesty or political correctness. It was a part Hudson felt so strongly about, she says she almost knocked down Johnson's door to be cast.
Did you have fun playing Birdie?
Birdie Jay is such a dream character. She was just so full of hilarity and insanity. Flamboyant characters that are well written just don't come around very often. One of the first things I said when I read the part was, "Rian, I know how to ground her." Her body language was so important. It was almost like a dance routine. The dancer in me was like, "Oh my god, I just need to get in her skin!" Her movement came out on the page and I couldn't wait to bring that to life.
There was a melancholia to her, but she's still so fabulous.
I won't spoil it for anybody, but there's something kind of sad about her particular situation. Yet Birdie can't go anywhere without being glamorous. That's her desperate attempt to be loved and seen. There is a lack of awareness that's maybe due to, you know, not being that smart. So she uses what she has.
Birdie has a dramatic entrance in a bikini and very high stilettos.
The pool scene! As my clothes fall off! You know, I don't shy away from an entrance. That's part of why I wanted to be an actress. There's something thrilling about moments like that. This is a girl who's been tucked and nipped, and I'm sure she's getting every machine all over her body. So while the rest of the cast were having their Aperol Spritzes on the beach in Greece, I was staring at them longingly going, "When is the bikini scene going to be done?"
Where was your first kiss?
It was at a party. We were friends. It was "Chris wants to kiss you," and I was like, "Oh great." And then we did, and it was really sweet. We kissed, we hung out, and then I was like—maybe I'm not ready for this. Maybe I need to be alone and independent. I think it foreshadowed the rest of my life.
Your breakthrough part was Penny Lane in Almost Famous.
Initially, I had the part of the sister. At the time, it was Brad Pitt as Russell, the rock star, and Sarah Polley as Penny Lane. But that casting fell apart, and I auditioned for Penny Lane. When they told me I had the part, I burst into tears.
And you were nominated for an Academy Award.
Back then, I had fallen so deeply in love with my [then] husband that the night of the Oscars, I just wanted to go home, get snuggly by the fire, and smoke a joint. But when the show was over and I lost, Kurt [Russell] looked at me and said, "Congratulations. Now you can have a career." Two decades later, that feeling is always close to my heart.
Did you get to keep any of the Almost Famous costumes?
I stole a pair of jeans and a shirt I don't even think made it in the movie. I didn't get the fur. I think the coat is in the Academy Museum. I've been lucky to get some real iconic looks in films. Like the coat, and then in How to Lose a Guy in 10 Days, that dress. And then in this one, I think people are really gonna love Birdie's clothes.
Hair for portfolio by Anthony Turner at Streeters; makeup for portfolio by Lucia Pica for Byredo at Art Partner. Senior style editor Allia Alliata di Montereale; senior fashion market editor Jenna Wojciechowski. Manicure for portfolio by Michelle Saunders. Set Design by Gille Mills at 11th House.
Produced by Connect the Dots; executive producer: Wes Olson; producer: Zack Higginbottom; production manager: Nicole Morra; photo assistants: Cecilia Byrne, Jack Buster, David Gurzhiev; retouching: Simon Thistle; fashion assistants: Julia McClatchy, Tori López, Jacqueline Chen, India Reed, Nycole Sariol, Derek Ezra Brown, Karla Garcia, Rosa Schorr; production assistants: Khari Cousins, Tchad Cousins, Kelsey Swope Romero, Mateo Calvo, Juan Calvo, Rayon Pollard, Gina York, Peter Ditzler, Nico Robledo; hair assistants: John Allan, Dylan Michael, Ramdasha Bikceem, Malika Palmer; makeup assistants: Kate O'Reilly, Lilly Pollan, Bailee Wolfson; manicure assistants: Pilar Lafargue and Victoria Valenzuela, Jolene Brodeur; set assistants: Cory Bailey, Dirk Knibbe, Joel Garcia, Matt Day; tailors: Irina Tshartaryan, Ripsime Vartanyan at Susie's Custom Designs, Inc.