Kaytranada and Aminé Introduce Kaytraminé
The producer-rapper duo on the long road to creating their first album, featuring Pharrell Williams, Snoop Dogg, and more.
Photographs by Paul Mpagi Sepuya
Styled by William Graper
---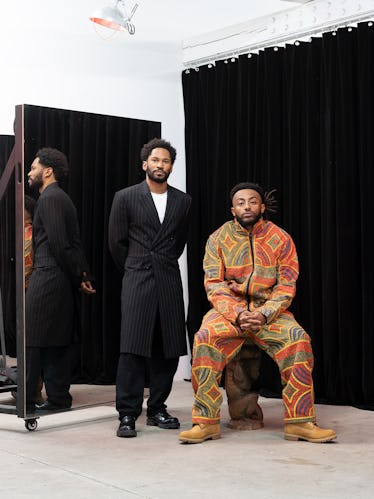 From left: Kaytranada wears a Dries Van Noten coat; Loro Piana T-shirt; his own pants and shoes. Aminé wears his own clothing and accessories.
In 2021, the musicians Kaytranada and Aminé rented a house in Malibu, California, together. "It was a beautiful place, but we were locked in, working every day," Kaytranada said. After two weeks, they finally let loose: "We threw a huge rager after cranking out tons of songs," Aminé said. "We played some of them without telling people what they were. It felt like there was no bias—people were just nodding their heads and dancing to shit that they had no judgment about."
Two years later, their collaborative album, Kaytraminé, is finally ready. "It has some of the best Kay beats that he's ever made, and some of the best singing and rapping I've ever done," Aminé said. "It really leveled up my artistic capabilities."
Aminé and Kaytranada met in 2014, when the still-unknown Aminé remixed Kaytranada's track "At All," calling his new version "Not at All" and uploading it to SoundCloud. Kaytranada—an established DJ and producer who has worked with the likes of Kendrick Lamar, Kali Uchis, and Anderson .Paak—caught wind of it, then reached out to show Aminé love. "He was one of the first people to recognize my music, and gave me free beats for my mix tape, Calling Brio, in 2015," said Aminé. They began kicking around the idea of working on a collaborative album around fall 2020, after "smoking, drinking a little bit of wine, and dancing in the studio together," Aminé recalled.
The Kaytraminé announcement has already generated plenty of hype, especially since both artists have dedicated fan bases—and the first single they released, "4EVA," features vocals and production by Pharrell Williams. " '4EVA' is one of the dance songs on the album, and people expect it's going to go in that direction, but it's completely the opposite," Kaytranada teased. "They are really going to experience my versatility as a producer."
Kaytranada spent months digging up samples for each track, including a bunch of snippets from Bollywood films, while also drawing inspiration from sources as varied as the legendary jazz pianist Bob James and the rapper Don Toliver. In Malibu, the duo worked almost in shifts: Kaytranada would make beats during the day, and Aminé would listen to them and write corresponding lyrics at night. "This was not the typical way I make albums, which is good for me," Aminé said, stating that usually, he'll have a number of producers and engineers on a given record. "But when it's with Kay, everything is made by him; it's really easy. I don't need to look into anyone else's opinion."
In April, Kaytranada performed at Coachella, bringing Aminé onstage to perform "4EVA"—a song that, Aminé points out, Kay first played for him as a throwaway. "I was like, you're fucking crazy," he said with a laugh. Although the duo doesn't have any concrete plans for more live performances, should the opportunity present itself, they won't say no. For now, they're playing coy: "Even if there was anything we could say right now, we wouldn't want to give that information up," Aminé said. "It's a little too early."
Grooming by Alexa Hernandez for Tom Ford at the Wall Group; photo assistant: Hope Koyama.