Ke Huy Quan Is Back and Better Than Ever
After a 20-year break from acting, the former child actor returned to the big screen in Everything Everywhere All at Once—and won a Golden Globe.
Interview by Lynn Hirschberg
Photographs by Jamie Hawkesworth
---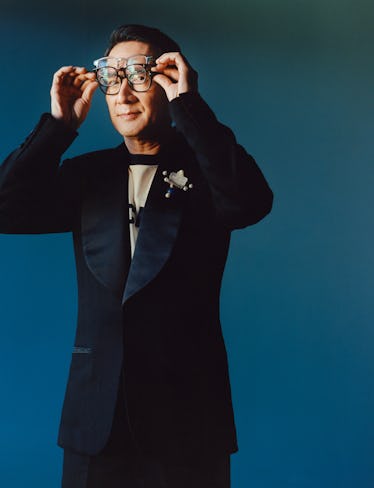 Ke Huy Quan wears a Wales Bonner suit and T-shirt; glasses, from top: Tom Ford, Oliver Peoples, his own.
While a whole generation knows Ke Huy Quan as Short Round in the 1984 film Indiana Jones and the Temple of Doom and Data from The Goonies, a new crop of fans has been introduced to the actor as sweet Waymond Wang in Everything Everywhere All at Once. Quan's lovable, googly-eye-obsessed character is the heart of the A24 hit and the moral compass that remains steady as the rest of the world (and the entire multiverse) crumbles around him. Everything Everywhere was Quan's first role in almost two decades, but the actor had no trouble finding his footing once he was back on set: His standout performance landed the 51-year-old his first Golden Globe for best supporting actor in a motion picture.
You took a long break from acting.
Twenty years! Short Round in Indiana Jones and the Temple of Doom was my first role. I was 12 years old. That movie changed my life. And my stepping away from acting was not an easy decision to make. I had to be realistic: There were not a lot of opportunities for an Asian actor at that time. I had no choice but to do something else, so I went to film school, graduated, and started working behind the camera. Two weeks after I decided to go back to acting, I read the script for Everything Everywhere All at Once. And I got the part! So for all those doubters out there who don't think their dream can come true, look at me. Your dream can come true as well.
After you got the script did you put yourself on tape, or did they offer you the part straight away?
Oh, I wish they did. But actually, I'm glad they didn't. I read the script and I thought the role of Waymond was written for me. I read it until, like, 5 a.m. I looked out the window and the sun was rising, and I was just imagining all these things I wanted to put into this character. I was scheduled to go audition for them that afternoon, so I had to go to sleep. But right before I went to sleep, I thought, There's no way they would offer me this role. It's too good to be true. But after two auditions, I got the phone call, and I heard the three words every actor wants to hear, which are, "We want you." It was one of the happiest days of my life. I screamed and I jumped so high.
Did you know you would be starring opposite Michelle Yeoh?
Yes, I knew from the very beginning, which made me even more nervous, because I've been a fan of Michelle Yeoh for many years, and I always wanted to work with her. She's an amazing talent. Michelle Yeoh is the queen.
Who was your cinematic crush growing up?
In the '80s I think everybody had a crush on Princess Leia. You know, Star Wars. Come on; you can't beat that. Now I only have one crush, which is my wife. I love my wife dearly.
Does it feel like your whole life has changed?
Being an actor again feels great. I feel alive. I'm really happy. It's been incredible ever since our movie came out. So many people come up to me and say how much they love the movie, and I'm very proud to say that our movie is A24's most successful movie. I'm so happy and grateful to be a part of this.
What makes you cry?
Here's the thing. I grew up in a very traditional Chinese family. So, I worked hard to keep a lot of my emotions within. But I think I've cried more in the last six months than I cried in the previous 20 years. Hearing all these wonderful comments from people about how much they've missed me on the screen and their warm embrace of my return has made me very emotional.
You saw Harrison Ford again recently; how was that?
I was scheduled to attend the Disney D23 event, and I was told Harrison Ford was gonna be there. So, as I was waiting in the greenroom, somebody told me that Harrison Ford was just outside, and I was thinking, Do I want to say hi? But of course I wanted to say hi; I hadn't seen the man in 38 years. I walked out, and he was, like, 10 feet away. My heart was pounding. I was so nervous and was thinking, Is he gonna recognize me? Because the last time he saw me, I was a little kid. When I approached him, he turned to me, and he had that famous grumpy Harrison Ford look on his face. He lifted up his finger, and he pointed at me. He stared at me, and I thought, He thinks I'm a fan, and he's gonna tell me to stay away. But instead, he said, "Are you Short Round?" I was immediately transported back to 1984 when I was a little kid and I looked up to him. I said, "Yes, Indie." And he said, "Come here." He pulled me close to him and gave me the biggest hug.
Hair for portfolio by Anthony Turner at Streeters; makeup for portfolio by Lucia Pica for Byredo at Art Partner. Senior style editor Allia Alliata di Montereale; senior fashion market editor Jenna Wojciechowski. Manicure for portfolio by Michelle Saunders. Set Design by Gille Mills at 11th House.
Produced by Connect the Dots; executive producer: Wes Olson; producer: Zack Higginbottom; production manager: Nicole Morra; photo assistants: Cecilia Byrne, Jack Buster, David Gurzhiev; retouching: Simon Thistle; fashion assistants: Julia McClatchy, Tori López, Jacqueline Chen, India Reed, Nycole Sariol, Derek Ezra Brown, Karla Garcia, Rosa Schorr; production assistants: Khari Cousins, Tchad Cousins, Kelsey Swope Romero, Mateo Calvo, Juan Calvo, Rayon Pollard, Gina York, Peter Ditzler, Nico Robledo; hair assistants: John Allan, Dylan Michael, Ramdasha Bikceem, Malika Palmer; makeup assistants: Kate O'Reilly, Lilly Pollan, Bailee Wolfson; manicure assistants: Pilar Lafargue and Victoria Valenzuela, Jolene Brodeur; set assistants: Cory Bailey, Dirk Knibbe, Joel Garcia, Matt Day; tailors: Irina Tshartaryan, Ripsime Vartanyan at Susie's Custom Designs, Inc.