Keke Palmer Holds Nothing Back
The Nope star and soon-to-be mom reflects on her twenty-year career and her strong Virgo tendencies.
Interview by Lynn Hirschberg
Photographs by Jamie Hawkesworth
---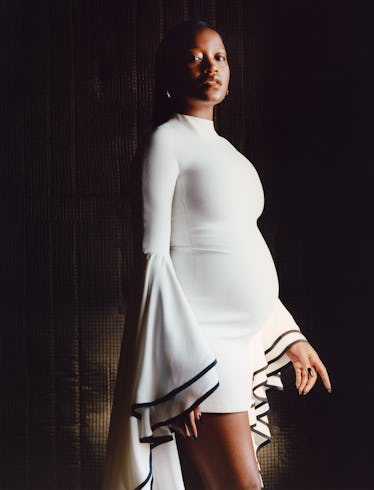 Palmer wears a Proenza Schouler dress; Alexander McQueen earrings.
Keke Palmer can't say exactly which one of her myriad projects inspired Jordan Peele to write the role of Nope's Emerald Haywood with her in mind. It could have been 2006's Akeelah and the Bee or her work as a child star on Nickelodeon (True Jackson, VP) and the Disney Channel (Jump In!). Maybe it was her turn in Hustlers or Pimp or, she says, "my Internet persona." Most likely it was a combination of all of the above. Regardless, the multitalented actress and singer is just glad—and gagged—that he did. "My character goes a lot of different places," she explains of the vivacious daughter of a Hollywood horse trainer who she plays in the hit thriller. "In the beginning, Emerald is what you would consider the jester archetype. She's the comic relief. And then as the story goes, she's someone that rises to the occasion." The same can most certainly be said of the now 29-year-old who brings razor-sharp wit, charm, and serious acting chops to every performance. Here, the mom-to-be discusses growing up in the spotlight and the moment she knew she was famous.
How did Nope come into your life?
Every now and then, very rare, magical situations happen where people just know that they want you, and Nope was one of those scenarios for me. I got on the phone with Jordan. He told me that he wrote this role with me in mind and wanted me to star in it alongside Daniel Kaluuya. I was just shocked and gagged, and obviously more than ready for the opportunity.
Did you do anything special to cement your brother-sister relationship with Daniel Kaluuya?
Daniel and I actually spent a lot of time together. Before we started filming, Daniel invited me out to dinner and I was really excited because honestly, I'm a big fan. It was good for me to get the opportunity to break the ice because I didn't want to fan out on him on set. During the whole filming of Nope we were hanging out and then afterwards, too. He's someone that I consider a good friend.
What was your first red carpet look?
I was about 10 years old, and I was going to the Barbershop 2 premiere. My mom got me a little custom jean look made. Honey, my jean look was everything. I had pink fur on the collar, pink fur on the sleeves, I was just giving you life, honey. I wish I had the same poses that I did back then, because I was really taking photos. I was giving you everything.
Where was your first kiss?
I had a little boyfriend via Myspace! Because I didn't go to regular school, I found most of my friends on Myspace. My family said I could invite his family over. We were sitting on the swings of the jungle gym in my backyard, and we had a sweet kiss. We dated for years! And we still stay in touch.
But now Myspace is dead.
I know. Rest in peace, Myspace. And much love to you, Tom.
What is your go-to karaoke song?
I have two: "The Boy is Mine," obviously, by Brandy and Monica. And the other would be "Amor Prohibido," by Selena. I learned that one phonetically. I'm a huge Selena fan.
You grew up in the public eye, on shows such as True Jackson, VP on Nickelodeon. What was that like?
It was cool. It's one of those things where how can you know anything else if that's all you really know? I started acting when I was 9. I was 14 when I did True Jackson, VP, and it was my own show. I remember thinking, Wow! This is crazy! When that show came out, everything changed for me. It was a whirlwind experience.
What is your sign?
I am a Virgo. Obviously [like] my girl Beyoncé, need I say more? Virgos are known for being analytical, perfectionist, very organized, sometimes anal people, which is true to a certain degree, but those words are a lot broader than sometimes the kind of linear way that we look at them. I'm organized, but I'm organized to me, you know what I'm saying? And I'm anal, but only about things that I really think are important, you know? And I'm a perfectionist, but I'm not a procrastinator, which sometimes perfectionism can lead to. My work ethic is very, I'm not playing around, which is how a Virgo would be.
Hair for portfolio by Anthony Turner at Streeters; makeup for portfolio by Lucia Pica for Byredo at Art Partner. Senior style editor Allia Alliata di Montereale; senior fashion market editor Jenna Wojciechowski. Manicure for portfolio by Michelle Saunders. Set Design by Gille Mills at 11th House.
Produced by Connect the Dots; executive producer: Wes Olson; producer: Zack Higginbottom; production manager: Nicole Morra; photo assistants: Cecilia Byrne, Jack Buster, David Gurzhiev; retouching: Simon Thistle; fashion assistants: Julia McClatchy, Tori López, Jacqueline Chen, India Reed, Nycole Sariol, Derek Ezra Brown, Karla Garcia, Rosa Schorr; production assistants: Khari Cousins, Tchad Cousins, Kelsey Swope Romero, Mateo Calvo, Juan Calvo, Rayon Pollard, Gina York, Peter Ditzler, Nico Robledo; hair assistants: John Allan, Dylan Michael, Ramdasha Bikceem, Malika Palmer; makeup assistants: Kate O'Reilly, Lilly Pollan, Bailee Wolfson; manicure assistants: Pilar Lafargue and Victoria Valenzuela, Jolene Brodeur; set assistants: Cory Bailey, Dirk Knibbe, Joel Garcia, Matt Day; tailors: Irina Tshartaryan, Ripsime Vartanyan at Susie's Custom Designs, Inc.