Kelly Rowland's Art Obsession Was Sparked by Tina Knowles
The musician and actress has carried her love for art well into adulthood—and now, she's the guest curator at Sotheby's Contemporary Curated auction.
---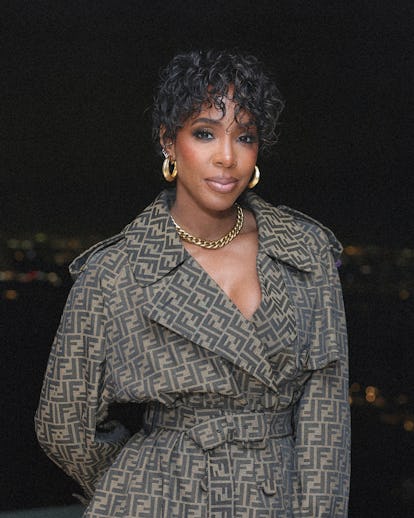 Photo by Stefanie Keenan/Getty Images for Shani Darden. Image treatment by Ashley Peña.
When Kelly Rowland was nine years old, she visited Beyoncé's childhood home—what would become a regular occurrence for the Destiny's Child bandmates and lifelong friends—in Houston. What she saw within those walls blew her away: Mrs. Tina Knowles Lawson's art collection. "I saw paintings and sculptures that looked like my facial features: full lips or high cheekbones, a pronounced forehead or full lips," Rowland recalls to me over the phone on a recent afternoon. "But I saw myself reflected in a world that I thought was only one-dimensional."
Whether she knew it at the time or not, Mrs. Tina sparked within Rowland a passion and love for art that has extended well into her adulthood. These days, the musician and actress is an avid art collector, with works by Jean Michel Basquiat, Robert Pruitt, Deborah Roberts, and a variety of up-and-comers decorating her Los Angeles home. Now, Rowland is lending her discerning eye to Sotheby's, where she is the guest curator of the fine arts company's Contemporary Curated auction. On March 9, Rowland's edit of six superlative artworks that resonate specifically with her collecting vision will be up for auction—including pieces by Ernie Barnes and Peter Bradley.
This is the first time Rowland has spoken publicly about her obsession with collecting art, let alone gotten involved in a project like this one. But to be clear, according to the mother of two, it is an obsession. "I'll never forget my first time at Art Basel in Miami, when I saw a sculpture of a desk with all these holes drilled in it," she says. "In that moment, I knew I was connected, and I knew this was something that I'd always want to be around, always want to see. I knew it would always feed me."
How did the Sotheby's gig come into your life?
[A friend of mine who] we know mutually told Sotheby's what a big art enthusiast I am. That friend is always like, "No one knows this about you! Everyone should know your love for art and how you talk about it." When people come into my house it's the first thing they see—whether it's artwork on the walls or a sculpture or even my kids' art on the refrigerator.
To be honest, the art world is intimidating. It feels snooty at times, so it put me off. But I just know what moves me emotionally and what inspires me. It's really important to just take art in, and see how it makes you feel. I love that process of being at the museum or at a friend's house, if they have a piece and I'm blown away, because that happens too.
Is there a friend or a colleague whose collection you admire in particular?
Yes. The Deans [Swizz Beatz and Alicia Keys] and the Carters [Jay Z and Beyoncé]. Their art collections are just not even fair [laughs]. It's honestly Black excellence on another level.
Are their collections mostly comprised of Black artists?
I think they are. The Deans and the Carters also are very much art enthusiasts, and the pieces that I know [they have] are mostly Black artists.
I'm so intrigued by the artists that you chose for Contemporary Curated. What about Stanley Whitney's works stand out to you?
What I liked about Stanley Whitney were the shadows. Seeing his pieces felt like a dream to me. My husband and I do not have anything abstract in our house, and I showed my husband [one of Whitney's works]. He was like, we need that. He told me how it made him feel and how he wanted to see it on the way to work every morning.
It sounds like your family and your interest in art are intertwined.
I like for my art to set the tone of the household, too. It's kind of seasonal: I transition some in and some out of storage. In my house now, there's a piece by a young artist named Tyler D. Ballon—it's currently on the stairs, but my sons are attracted to it and they want it closer to them. So I put it in the playroom. I've had to actually transition a piece out of the house because it scared my oldest. He was like, His eyes at night are so scary! I just can't go down the stairs!
Let's get into the Culture Diet questions. Do you remember your first major art purchase?
My first major art purchase was my Basquiat print. I was very proud of that. I remember putting it up in my place and it just made me feel like, this is what I work hard for. And it was the beginning of that legacy for me, at the time, for passing on these works to my children.
Who was one of the first artists that really caught your eye?
To be honest, that was Basquiat. When I was looking at his work, I was just thinking, how many things are going on in your mind? And: this is the most beautiful chaos I've ever seen in my life. He put his history in his work, along with what was going on with him at the present time. And Basquiat was also setting up Black artists for the future.
What musicians or playlists or albums have you had on repeat lately?
I made a playlist for my home that I love. I call it "Where the Blessed Rest." It has everything on it: the Isleys; Earth, Wind and Fire; Roberta Flack; Stevie Wonder; Prince; A Tribe Called Quest, Thundercat; Robert Glasper, and Fela Kuti. It's a fun playlist for dinner parties, chilling, and having great people around.
What's your go-to karaoke song?
It would probably have to be the Fugees, strumming my pain with his fingers…of course! Because everyone's gonna sing it.
Right, everyone does the woooooah…
Exactly! And then before it comes on, you say, Everybody sing it!
What's the last piece of art that you bought or checked out?
There were actually three, maybe four [laughs]. I have to stop, it's becoming a real habit. I'm cheating on fashion with art right now. I just purchased this young, talented lady's work—her name is Harmonia—a piece called Obedience. And she simply asked, what does it look like when you allow manipulation of your mind? I love the piece for that question alone. The work looked like it belonged in a museum in Italy or Paris—but it's us, Black people, rewritten in the most beautiful, exquisite way.
Is there an up-and-coming artist you're loving right now?
She's not up-and-coming, but Calida Rawles is not to be messed with. And there's a young girl, Braden Hollis—I just got a stunning piece from her. Deborah Roberts has become like family to me. We'd love another one from Deborah, but everybody wants a Deborah Roberts right now [laughs].
Is there a piece of advice you'd give to folks looking to get into collecting?
I just wanna encourage young people out there to invest in art. Tennis shoes are great, and clothes are great—but art is forever.