So, Are These Kendall Jenner and Bad Bunny Rumors Actually True?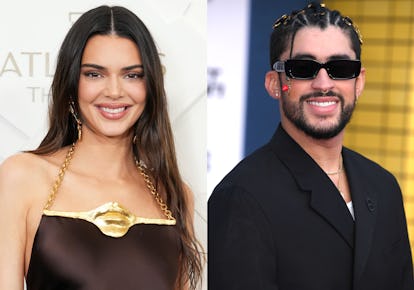 Kevin Mazur/Getty Images for Atlantis The Royal/Steve Granitz/FilmMagic
Thank goodness for President's Day, because the long weekend gave Bad Bunny's fans one extra day to fully absorb the rumors that the singer is dating Kendall Jenner. The story has been circulating ever since Gen-Z Gossip Girl Duexmoi released a tip that the model was seen locking lips with Bad Bunny at a private club in West Hollywood last week. So what's really going on between these two? Let's dive in and see if we can suss it out.
Duexmoi's reports sent many Bunny fans into a bit of a tailspin, as some of them seemingly weren't happy with this pair. Prior to the alleged coupling, Bunny was connected to jewelry designer Gabriela Berlingeri, but the two reportedly ended their six year relationship neat the beginning of this year. Mostly, fans seemed nervous about the so-called "Kardashian curse," the idea that those who associate with the famous family often meet their downfall not long after.
Bad Bunny seems undeterred by this curse, however, and just a few days after they were spotted at the club together, the singer and Jenner were seen leaving the same restaurant (where they were joined by Hailey and Justin Bieber, according to TMZ), albeit from different exits.
So what does this all mean? A source told People, the two are "spending time together," which seems obvious. Apparently they were introduced by friends not longer after Bunny bought a house in Los Angeles and started spending more time in the city. "She likes him and is having fun," the source said. "He is different from guys that she dated in the past. He is very charming." According to Entertainment Tonight, the feelings are reciprocated on Bunny's part.
"Kendall and Bad Bunny are attracted to each other and definitely have a flirty vibe," a source told the site. "It is still new, but they're enjoying each other's company and like each other...It's been fun for both of them so far."
So yeah, they're clearly hanging out (that cannot be denied) and we can assume that means they have to like each other to some degree, but as for if things will turn romantic between the pair, it's too early to tell. It's pretty uncommon that a late night club hookup turns into lasting relationships and the ET source stressed that "as of now, it's not serious and the two are having fun." Bad Bunny fans, you can all now breath a sigh of relief.