Kering Adds Emma Watson, Jean Liu and Tidjane Thiam to Board of Directors
The actress and activist will help steer the luxury conglomerate towards more environmentally-friendly initiatives.
---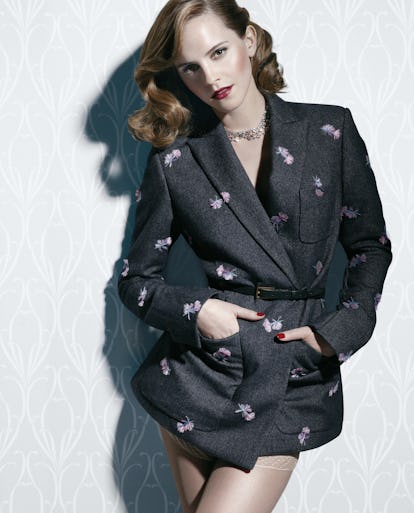 In recent years, the fashion industry has come under increased scrutiny when it comes to sustainability and diversity, two issues that the luxury conglomerate Kering may have sought to address with the three new board appointments announced today. The company that owns Gucci, Saint Laurent, Bottega Veneta, Balenciaga, and Alexander McQueen, among other brands, welcomed the actress Emma Watson and the executives Jean Liu and Tidjane Thiam to sit on its board of directors.
Thiam, who is Black and was born in Ivory Coast, and Liu, who is Chinese, are the only people of color on the board, which is otherwise entirely white and European. Watson, who has been outspoken about the need for increased sustainability in fashion both as the face of the Good On You rating app (which, as the BBC noted, has been "less than complimentary" about the practices of some of Kering's own brands) has been appointed Chair of the Sustainability Committee.
Kering CEO François-Henri Pinault emphasized the value of this increased diversity in an official statement. "Their respective knowledge and competences, and the multiplicity of their backgrounds and perspectives will be invaluable additions to Kering's Board of Directors," he wrote. "The collective intelligence that comes from diverse points of view and the richness of different experiences are crucial to the future of our organization. I am proud to add such impressive talents to the team."
Although Watson is best known for her role as Hermione Granger in the Harry Potter movies, she is also a UN WOMEN Global Goodwill Ambassador, the founder of the HeForShe initiative, and part of the TIME'S UP Entertainment Steering Committee, the UK branch of which she spearheaded. She has also made a point of using her platform to signal-boost independent, sustainable fashion brands in the past, publishing a "guide to sustainable fashion" in 2017 and auditing the environmental credentials of the brands she selected to include as guest editor of British Vogue's November 2019 issue.
Thiam, who was appointed Chair of the Audit Committee, is the former CEO of Credit Suisse Group AG and the African Union Special Envoy on Covid-19. Liu is the president of Didi Chuxing, a multi-billion dollar Chinese ride-hailing app similar to Uber.
Watson has yet to acknowledge the appointment on her social media feeds, which have been dedicated to raising awareness about the Black Lives Matter movement as well as supporting Black-owned fashion and beauty brands since the beginning of this month. (On Twitter last week, she also took the time to share support for trans people after Harry Potter author J.K. Rowling made yet another in a series of tone-deaf comments.)
On June 5th, Watson shared an Instagram post in support of the 15 Percent Pledge, an initiative by the designer Aurora James that is challenging major retailers to devote 15 percent of shelf space to Black-owned businesses. "This year I'd love to work with my partners at @goodonyou_app to ensure a greater percentage of the sustainable brands they feature are founded or led by black people," she wrote in the caption. "Please do tag any beautiful black-helmed brands here so we can collectively support them. I love buying vintage as it's such a sustainable way to shop and @cheshirevintage has compiled an amazing list of black-owned vintage shops."