SAG Awards 2017: Kerry Washington and Ashton Kutcher Open the show with Strong Political Messages
"You are a part of the fabric of who we are."
---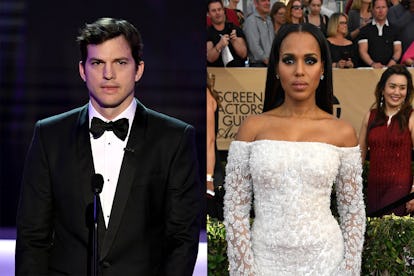 Composite. Kevin Winter/Getty Images, Frazer Harrison/Getty Images
Just weeks after Meryl Streep was labeled as "overrated" by President Donald Trump for turning her Golden Globes acceptance speech into a political statement against his racist and bullying rhetoric, several notable celebrities used the Screen Actors Guild awards as a platform to denounce Trump's recent immigration ban.
Kerry Washington opened the SAG awards with a brief but direct message to the Commander-in-Chief as well as naysayers who have criticized actors for taking a stand against Trump.
"A lot of people are saying right now that actors should keep our mouths shut when it comes to politics. But the truth is, no matter what, actors are activists because we embody the humanity and worth of all people. This union helps me to do that. I am Kerry Washington, and I am an actor."
The Scandal actress also accessorized her Roberto Cavalli gown Sunday night with a safety pin, announcing on Instagram that she was doing so as a sign of "solidarity."
"We will not stop fighting for our safety & the safety of our fellow citizens and human beings," she captioned the image, adding, "#NoBanNoWall."
It's not the first time Kerry Washington has made strong statements against Trump and for civil liberties. She joined the Women's March in Los Angeles last week, speaking to the historic crowds about feeling marginalized in Trump's America.
"When you go back home tonight… and you feel like 'Wow, there is an agenda at work to make me feel like I don't matter, because I'm a woman my voice doesn't matter, because I'm a person of color my voice doesn't matter, because I'm an immigrant, because I'm a member of the LGBTQ community, because I'm an old person, because I'm a young person… because I have a f***ing voice, I don't matter.' You matter."
Ashton Kutcher followed Washington's lead as the first presenter of the award show, going off script in another powerful message that referenced the hundred of protests taking place in airports due to the president's executive order. Kutcher's statement encapsulated the entire night's tone: telling immigrants that they and their stories are honored in Hollywood.
"Good evening, fellow SAF-AFTRA members and everyone at home. And everyone in airports that belong in my America. You are a part of the fabric of who we are, and we love you and we welcome you," he said.
Earlier in the day, Kutcher took to Twitter to share his anger at Trump's order, saying his wife, Mila Kunis, once entered the U.S. on a refugee visa. "My blood is boiling right now!" he wrote, adding, "We have never been a nation built on fear. Compassion that is the root ethic of America."
Washington and Kutcher were just the tip of the political iceberg Sunday night. Almost every acceptance speech directly or indirectly referenced Trump and the NoBanNoWall fight, including comments from William H. Macy, Sarah Paulson, Mahershala Ali, the cast of Orange Is the New Black, as well as Veep's Julia Louis Dreyfus who delivered a funny yet emotional takedown of Trump during her acceptance speech for Outstanding Performance by a Female Actor in a Comedy Series.
SAG Awards 2017: See What Everyone Wore on the Red Carpet
Sarah Paulson in Vera Wang at the 2017 Academy Awards.

Steve Granitz
Winona Ryder at the 2017 Academy Awards.

Kevin Mazur
Evan Rachel Wood in Altuzarra at the 2017 SAG Awards.

Dimitrios Kambouris
Brie Larson at the 2017 SAG Awards.

Jeff Kravitz
Nicole Kidman in Gucci at the 2017 SAG Awards.

Frazer Harrison
Amy Adams in Brandon Maxwell at the 2017 SAG Awards.

Alberto E. Rodriguez
Emma Stone in Alexander McQueen at the 2017 SAG Awards.

Alberto E. Rodriguez
Salma Hayek in Gucci at the 2017 SAG Awards.

Frazer Harrison
Lily Tomlin at the 2017 SAG Awards.

Frazer Harrison
Natalie Portman in Dior at the 2017 SAG Awards.

Alberto E. Rodriguez
Julia Louis-Dreyfus in Lela Rose at the 2017 SAG Awards.

Steve Granitz
Gina Rodriguez at the 2017 SAG Awards.

Steve Granitz
Taylor Schilling at the 2017 SAG Awards.

Frazer Harrison
Teresa Palmer at the 2017 SAG Awards.

John Shearer
Michelle Williams in Louis Vuitton at the 2017 SAG Awards.

Alberto E. Rodriguez
Octavia Spencer in Tadashi Shoji at the 2017 SAG Awards.

Lester Cohen
Rashida Jones in Vivienne Westwood at the 2017 SAG Awards.

Frazer Harrison
Taraji P. Henson in Reem Acra at the 2017 SAG Awards.

Frazer Harrison
Meryl Streep at the 2017 SAG Awards.

Frazer Harrison
Kirsten Dunst in Dior at the 2017 SAG Awards.

Frazer Harrison
Kerry Washington at the 2017 SAG Awards.

Frazer Harrison
Janelle Monae in Chanel at the 2017 SAG Awards.

Steve Granitz
Bryce Dallas Howard in Dress the Population and Irene Neuwirth at the 2017 SAG Awards.

Steve Granitz
Kate Hudson in Dior at the 2017 SAG Awards.

Frazer Harrison
Sofia Vergara in Zuhair Murad at the 2017 SAG Awards.

Frazer Harrison
Ellie Kemper at the 2017 SAG Awards.

Frazer Harrison
Nathalie Emmanuel in J.Mendel at the 2017 SAG Awards.

Frazer Harrison
Tracee Ellis Ross at the 2017 SAG Awards.

Steve Granitz
Julie Bowen at the 2017 SAG Awards.

Frazer Harrison
Sophie Turner at the 2017 SAG Awards.

Frazer Harrison
Watch a video interview with SAG award winner Mahershala Ali: