Leonardo DiCaprio Asks If You Can Spot the Wolves in First Killers of the Flower Moon Trailer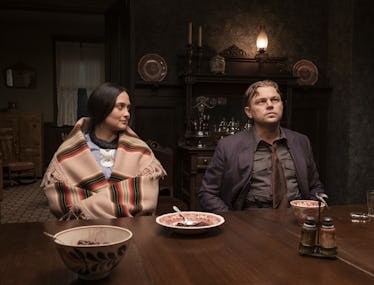 Apple Studios
Martin Scorsese has reunited with longtime collaborators Leonardo DiCaprio and Robert De Niro in the first trailer for Killers of the Flower Moon, the director's highly-anticipated Western epic set in 1920s Oklahoma.
Based on David Grann's 2017 best-seller Killers of the Flower Moon: The Osage Murders and the Birth of the FBI, the Apple Studios film tells the story of how a series of murders of Osage Nation Native Americans—over oil reserves on Osage land—coincided with the newly-formed FBI. Jesse Plemmons plays Tom White, a Texas Ranger-turned FBI agent sent to Oklahoma by J. Edgar Hoover to investigate the increasing murders of the then-very wealthy Osage Nation members. DiCaprio was initially meant to play White, who is the focus of the book, but he, Scorsese and De Niro decided to re-angle the film around suspect Ernest Burkhart, in an attempt to avoid a white-savior narrative, Deadline reports.
In the trailer, DiCaprio-as-Burkhart narrates an ominous voice over as intensifying footage of violence and chaos flashes on the screen. "There are many, so many, hungry wolves. Can you find the wolves in this picture?" he asks. Burkhart is a suspect in the murders, complicated by the fact that he's married to an Indigenous woman played by Lily Gladstone (Certain Women). "Greed is an animal," the trailer's title card reads, "that hungers for blood."
De Niro plays DiCaprio's uncle; despite their close relationship in real life, Flower Moon is the first time the pair of Oscar winners have worked together since the 1993 drama This Boys Life. Separately, the pair are both famously muses of Scorsese, with De Niro earning Oscar nominations for Taxi Driver and Cape Fear and a win for Raging Bull, and DiCaprio nominated for The Aviator and The Wolf of Wall Street, in addition to starring in other Scorsese films like The Departed. Flower Moon is the first time all three of them have worked together on a feature film.
Additional cast for the film's ensemble includes Scott Shepherd, Pat Healy, Tantoo Cardinal, Cara Jade Myers, JaNae Collins, Jillian Dion, William Belleau, Louis Cancelmi, Tatanka Means, Michael Abbott Jr., Gary Basaraba, Brendan Fraser, Jason Isbell and Sturgill Simpson. Scorsese was reportedly adamant about casting Indigenous actors as members of the Osage Nation; reception for this aspect of the film will surely spark debate.
Killers of the Flower Moon premieres at Cannes this year; it'll hit theaters nationwide on October 20th. Watch the first trailer below: