Kim Kardashian Is Coming for Her SAG Card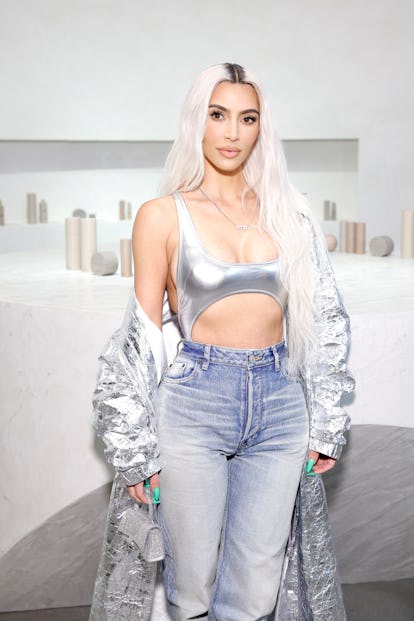 Stefanie Keenan/Getty Images Entertainment/Getty Images
Kim Kardashian has been on our TVs for over 15 years, but now, she's trading in scripted reality for...well, an actual script. The 42-year-old just announced that she will be starring in the upcoming 12th season of American Horror Story alongside series regular, Emma Roberts, coming this summer.
"Kim is among the biggest and brightest television stars in the world and we are thrilled to welcome her to the AHS family," said the show's co-creator Ryan Murphy in a statement to The Hollywood Reporter. "Emma and I are excited about collaborating with this true force in the culture. Halley Feiffer has written a fun, stylish and ultimately terrifying role especially for Kim, and this season is ambitious and unlike anything we have ever done."
Kardashian shared the news on her Instagram on Monday with a video teaser announcing her and Roberts' participation, as well as the title of the AHS season, Delicate. An eery version of "Itsy Bitsy Spider" plays in the background of the video, coupled with the sound of children. The music is a hint at the theme of the season, which will be inspired by pre-existing source material for the first time in the show's history. Delicate will be based, at least in part, on soon-to-be-released novel Delicate Condition, by author Danielle Valentine (who also writers under the names Danielle Rollins and Danielle Vega). According to THR, the book is "a gripping thriller about a woman who becomes convinced that a sinister figure is going to great lengths to make sure her pregnancy never happens." It is assumed that Roberts and Kardashian will play the two main characters highlighted in the book's synopsis, but as of now any other details on the season are being kept under wraps.
This won't be Kardashian's official acting debut. The reality star has made cameos in numerous projects over the years, both as herself and fictional characters. This will be her first major role, however, and if all goes well it could usher in a new acting era for the star. Back in 2015, Lady Gaga made her major acting debut as The Countess in American Horror Story: Hotel. Four years later, she was nominated for an Academy Award for her role as Ally in A Star is Born.
That's not to say we should expect Kardashian on stage at the 2027 Oscars. While the Skims CEO has mastered the art of the still image on Instagram, the jury is still out on how she will parlay that into actual character work. Apparently, though, Murphy has high hopes for the actress. According to THR, the producer was impressed with Kardashian's hosting gig on Saturday Night Live back in 2021, and they began discussing the possibility of her making her scripted TV debut last summer. Of course, Kardashian is a businesswoman at heart and this move also makes sense when it comes to her growing relationship with Disney. AHS has a strong connection with two Disney properties—airing on FX and streaming on Hulu, which also happens to be the home of her reality show.