King Charles Wants His Grandchildren To Be As "Normal" As Possible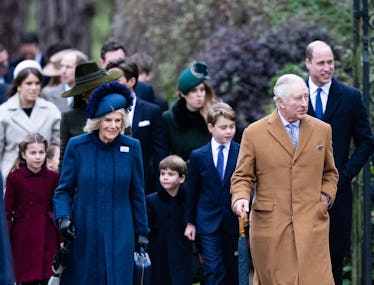 Samir Hussein/WireImage
The newly crowned King Charles III was the first modern heir to the British throne (and the longest), so it's no surprise that he is already approaching his new position differently, and more transparently, than his predecessors. According to The Mirror, the former Prince of Wales hopes that his grandchildren George, Charlotte, and Louis will not make the same mistakes that he did as they mature in the spotlight—especially when it comes to love.
In the documentary The Fab Five: The King's Grandchildren Chandrika Kaul, Professor of Modern History at St Andrews University, explains: "What I think he wants to do is try and help these young grandchildren grow up in as normal a way as possible and create more fully rounded human beings who are unafraid of their emotions and who are able to have the confidence to marry whom they want."
King Charles infamously married Camila Parker Bowles (now Queen Camila) in 2005. Charles was first married to Princess Diana (they divorced in 1996) after it had been exposed that he and Bowles had been engaging in a years long affair while they were both still married.
King Charles has five grandchildren: Prince Louis, Prince George, and Princess Charlotte (between Prince William and Kate Middleton) and Prince Archie and Princess Lilibet (between Prince Harry and Meghan Markle). 9-year-old Prince George is third in the line of succession for the throne after his grandfather Charles and father William, meaning he'll likely grow up to be king himself.
Charles himself was just four years-old when his mother, the late Queen Elizabeth II, was crowned queen. Her coronation was the first broadcast on television, and her reign coincided with both the rise of television and, later, the internet, meaning Charles himself certainly knows what its like to grow up in the modern royal spotlight.