King Krule Carves Out a Space for Himself
Ten years into his career, the musician still sounds fresh and experimental.
Photographs by Tyrell Hampton
---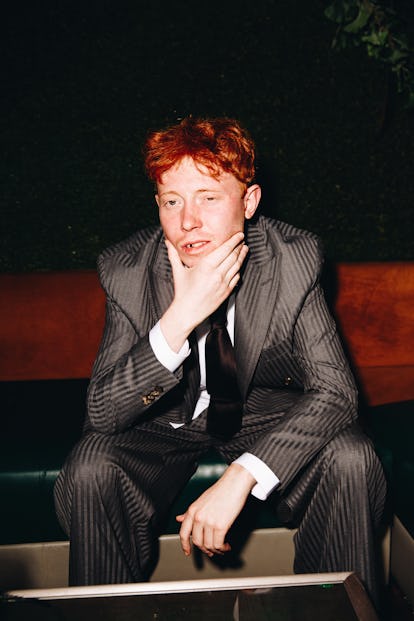 Archy wears Etro suit; Charvet shirt; Yony t-shirt; Stylist's own tie.
A tiny Brooklyn concert venue might be the last place you'd expect to see an act like King Krule, especially since he'd headlined the Primavera Sound festival in Barcelona the year prior. But there he was, facing a crowd of no more than 150 people at Sultan Room in Bushwick, bathed in blue and hot pink lights; his hollowed-out cheekbones and ginger flat top looking eerily impressive amid the shadows. The small crowd vibrated with palpable excitement, waiting to hear the latest King Krule project: a new album titled Space Heavy, out June 9. Lucky fans with quick trigger fingers who were able to snag tickets to the "Shh Tour" were treated to a preview this spring.
If you were at Sultan Room that night in April, you'd know the "shh" part was on point: between songs, you could hear a pin drop. King Krule didn't seem to want to fill the space with salutations or commentary for the crowd. The scuzzy, lullaby-like melodies set against his signature baritone voice and lyrics reminiscent of Edgar Allen Poe's prose said everything.
King Krule's fan base is widespread and rabid—there are Reddit threads discussing such minutiae as which guitar pedals he uses and countless supporters who look for clues on when he'll drop his next song. They love and consume every part of his career, his history, and how his music has evolved since Archy Marshall (his given name) stepped into the limelight at 16 years old under the moniker Zoo Kid. The crowd at Sultan Room roared with approval when Marshall returned to the stage for an encore of "Out Getting Ribs," from King Krule's first album, 2013's 6 Feet Beneath the Moon. What makes Marshall even more enticing to fans is his enigmatic nature; he's known to disappear for years between projects, eschewing a social media presence or public outings for complete and total privacy. He's also notably averse to the press.
That much was evident on the day we met for our planned interview. He'd just played two shows, partied the night before with childhood friends, and had another concert scheduled in upstate New York the next night. Inside a Brooklyn hotel room filled with racks of clothing, he asked to chat another day. "I'd like to get this show on the road so I can go to sleep," he tells me.
When we meet again, it's over Zoom weeks later, where Marshall is seated on the couch of his new home in London, his hometown. That house is one of the many places where the artist created Space Heavy, his first full-length album since 2020's Man Alive! which he released just weeks before the coronavirus pandemic hit. "When we was performing Man Alive before it got shut off, I thought we, as a band, was in the best moment we will ever be in, in a lot of ways," he says. "We were playing better than we'd ever played. I had so much clarity and so much force behind myself, and I felt really good physically and mentally. I used that energy to write a lot of music and to play and to have fun."
Marshall began working on Space Heavy during the summer of 2020. "I would spend the day outside, and then when it cooled down, I would go to my studio and have long nights there," he says. During the next two years, Marshall traveled from his former home in Liverpool to his mother's house in Southeast London, while booking studio time all over Britain to record.
One room in Marshall's mother's house that served as an integral space for making songs on Space Heavy. The musician refers to it as "my studio room." It used to be a bathroom, he explains, with a tub right in the middle of the hardwood-floored space, but he has since converted it into a place where he can record in peace. "It's a bit like a map of my brain," he says. "It's quite all over the place with different equipment. Nothing works. But I understand it." There's a big window on one of the walls, a couple of tables made out of old doors, his MPC, six speakers, and "kind of shitty, high-fi stag speakers." There's an enormous boiler in the room, which Marshall turns off when he's recording. He insists the wires and old machinery all over the place may not have jived in someone else's hands, but it works for him. "Only my brain could make it work. If someone else walked in there, it wouldn't."
While making Space Heavy, he was listening to all kinds of stuff: Transa by Caetano Veloso, Jonny Greenwood's movie soundtracks, rock steady reggae. Although he says he has a hard time pinpointing any direct references that influenced the album, it's one that feels like all of the experiences, lessons, and best parts of his previous projects, cherry-picked and consolidated into one piece of work.
In 2019, he had a daughter, Marina, with the photographer Charlotte Patmore. Becoming a father, he says, changed his whole world. "As I get older, more mature, more comfortable with how I approach recording music, I wanted to have a lot more precision and basically record exactly what was needed," he tells me. "As soon as the album was done, [I wanted] to finish it, to just leave it like that. I didn't want to create a surplus of recordings because it starts to create a bit of a fog in my brain." (He tells me that Marina, now four years old, is currently obsessed with any track from Solange's When I Get Home album, all versions of "Baby Shark," and mimicking the deep growl of her father's voice.)
Space Heavy travels between the darkest, most brutal guitar and sax sounds for which King Krule is known to songs that sound like lullabies for his toddler. The first single, "Seaforth," begins with a description of a mysterious woman on a beach in Marshall's dreams. There is a hopeful, loving tone to the track: "Despite the brick walls and the ceiling up here, I'm freer than the birds," he sings.
"The song starts with talking about being emotionally attached to a memory, and it coming to haunt you," Marshall explains. "But the song is also about my relationship with my daughter and the world around us.
"When I say 'up here,' I mean, 'up here,'" he adds, pointing to his head. "So no matter what the surrounding or place you are in, at least here, you can escape."
Etro suit; Charvet dress shirt; Yony t-shirt; Stylist's own tie.
Etro suit; Charvet dress shirt; Yony t-shirt; Stylist's own tie.
Marshall grew up between a house in East Dulwich belonging to his mother (who was also formerly his manager) and his father's flat in Peckham. He comes from a long line of artists: His grandparents and his parents were musicians, art directors, designers, and costumers. In 2013 he told The Guardian that experienced "a lot of fucking weird shit" as a child, of which his strict father was mostly unaware. At 13, Marshall refused to attend school; he recalls that his dad had to physically carry him to class, otherwise he would skip and hide in his room. He was assigned a tutor, then shuttled to two different education facilities for "permanently excluded" children.
Through all of the movement and discomfort, Marshall sought refuge in music. He was posting songs on Bandcamp as Zoo Kid when an executive from the label True Panther stumbled upon "Out Getting Ribs" in 2011 and signed him as King Krule.
He was quickly hailed as the answer to the return of indie rock, the most exciting new act of the year. In early interviews, he spoke about how, inspired by his parents, he wanted to create music that is art, but not art for sale. "When you're young, you get asked all these questions and you want to be perceived as intelligent, even though you're not really intelligent," Marshall tells me on Zoom. "But I always knew that I was going to be an artist, and someone who was going to be appreciated."
These days, he's changed his tune: "I've been trying to sell out for years. I can't believe you don't think this record's more poppy—that's offended me," he says with a chuckle. (Then he mentions another ambition: to write "a really shitty, really bad, romantic, period kind of novel. I'll get it made on TV as well.")
Even if he harbors secret pop star ambitions, part of what makes Marshall unique is how he's held fast to a scrappy, experimental approach to making and performing music. The "Shh Tour" was inspired by an idle night out in Portugal between performances, with his bandmates Ignacio Salvadores and George Bass. "After Man Alive! got cut, we played a festival in England the next year, the first time we'd played in maybe a year," he recalls. "And I felt kind of soulless. I couldn't get into it, and that alarmed me.
"And then we played at Primavera. I felt so comfortable on stage, just really chill and in control. I missed my flight back to London from Barcelona, so I went straight to Portugal. That was nice, 'cuz I hadn't had a holiday for about 10 years. We was just bored, so I was like, Why don't we borrow some instruments this week and play a random club?"
The impromptu show was "nice" but "tense." "I was really nervous," he remembers. He pauses, lights a match and watches it burn. He rubs his eyes, then his cheeks, then his nose, his whole face obstructed by his hands. "I hadn't felt nervous like that for a very long time, and I quite enjoyed the looseness of it, and also the idea that it was this close to completely falling apart. The compositions should be allowed to breathe in different ways. You know, you don't wanna fall out of love with a project: you want it to stay exciting, you want it to interest you still. And that was the way of doing it, to approach the compositions in a different space with a different energy."
Grooming by Nigella Miller; Stylist assistant: India Reed; Set assistant: Nikola Janjušević. Special thanks to INSA Brooklyn.