Kristen Stewart Kicks Off Her Heels and Continues to Rebel at Cannes
What will she do next, take an "illegal" selfie on the red carpet?
---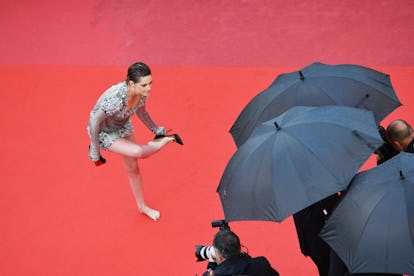 Stephane Cardinale – Corbis/Getty Images
Kristen Stewart has done what could be considered one of the most "Kristen Stewart" things one could do at the Cannes Film Festival. The actress and festival jury member removed her high heels to climb the red stairs at the festival just before the premiere of Spike Lee's BlacKkKlansman.
Stewart took off her spiked black Louboutins and walked barefoot up the soggy stairs of the red carpet to the surprise of the festival attendees and to the delight of the paparazzi snapping photographs of her as she made her way into the screening of the film.
Believe it or not, Stewart is not the first festival attendee this year to bend a rule or two on the red carpet. Legendary actress and fellow rule breaker Jane Fonda sat down on the carpet at the Cannes Film Festival earlier this week. To be fair, though, her heels did stay securely fastened on her feet.
There is a misconception that the Cannes Film Festival holds an infamously strict dress code policy that enforces women to wear high heels on the red carpet after a 2015 incident in which an injured producer claimed she was turned away from the festival. Her foot injury did not allow for appropriate foot attire (high heels), so she was not admitted. After the incident and subsequent petitions demanding the dress code policy be explicitly stated, the festival chief Thierry Fremaux has made it his mission to refute the validity of such a claim.
In any case, Stewart demonstrated that she could not care less about any rule insisting that women unfairly suffer in discomfort when walking the red carpet. She already debuted a braided rattail on the first day of the festival, so there's only so much more rebellious she could get before the festival ends on May 19. What's next—taking an illegal selfie?
Related: Kristen Stewart, a True Punk, Wore a Braided Rattail to Cannes
Cannes Film Festival 2018: See the Best Red-Carpet Looks From the World's Most Glamorous Premieres And Parties
Jury president Cate Blanchett arrives at the jury photo-call during the 71st annual Cannes Film Festival on May 8, 2018 in Cannes, France.

Pierre Suu
Jury member Kristen Stewart arrives at the jury photo-call during the 71st annual Cannes Film Festival on May 8, 2018 in Cannes, France.

Pierre Suu
Jury member Lea Seydoux arrives at the jury photo-call during the 71st annual Cannes Film Festival on May 8, 2018 in Cannes, France.

Pierre Suu
Julianne Moore attends the screening of Everybody Knows (Todos Lo Saben) and the opening gala during the 71st annual Cannes Film Festival at Palais des Festivals on May 8, 2018 in Cannes, France.

Vittorio Zunino Celotto
Kristen Stewart is seen at Grand Hyatt Martinez Hotel during the 71st annual Cannes Film Festival at on May 7, 2018 in Cannes, France.

Marc Piasecki
Chantel Jeffries attends the screening of Everybody Knows (Todos Lo Saben) and the opening gala during the 71st annual Cannes Film Festival at Palais des Festivals on May 8, 2018 in Cannes, France.

Dominique Charriau
Ava DuVernay walks onstage at the opening ceremony during the 71st annual Cannes Film Festival at Palais des Festivals on May 8, 2018 in Cannes, France.

Pascal Le Segretain
Chloe Sevigny attends the screening of Everybody Knows (Todos Lo Saben) and the opening gala during the 71st annual Cannes Film Festival at Palais des Festivals on May 8, 2018 in Cannes, France.

Stephane Cardinale – Corbis
Georgia May Jagger attends the screening of Everybody Knows (Todos Lo Saben) and the opening gala during the 71st annual Cannes Film Festival at Palais des Festivals on May 8, 2018 in Cannes, France.

Mike Marsland
Lea Seydoux attends the screening of Everybody Knows (Todos Lo Saben) and the opening gala during the 71st annual Cannes Film Festival at Palais des Festivals on May 8, 2018 in Cannes, France.

Gisela Schober
Penélope Cruz and Javier Bardem attend the screening of Everybody Knows (Todos Lo Saben) and the opening gala during the 71st annual Cannes Film Festival at Palais des Festivals on May 8, 2018 in Cannes, France.

Venturelli
Kristen Stewart and Chang Chen attend the screening of Everybody Knows (Todos Lo Saben) and the opening gala during the 71st annual Cannes Film Festival at Palais des Festivals on May 8, 2018 in Cannes, France.

Venturelli
Penélope Cruz arrives at the gala dinner during the 71st annual Cannes Film Festival at Palais des Festivals on May 8, 2018 in Cannes, France.

Venturelli
Fan Bingbing arrives at the gala dinner during the 71st annual Cannes Film Festival at Palais des Festivals on May 8, 2018 in Cannes, France.

Pascal Le Segretain
Penélope Cruz attends the photo-call for Everybody Knows (Todos Lo Saben) during the 71st annual Cannes Film Festival at Palais des Festivals on May 9, 2018 in Cannes, France.

John Phillips
Lea Seydoux arrives at the gala dinner during the 71st annual Cannes Film Festival at Palais des Festivals on May 8, 2018 in Cannes, France.

Pascal Le Segretain
Cate Blanchett arrives at the gala dinner during the 71st annual Cannes Film Festival at Palais des Festivals on May 8, 2018 in Cannes, France.

Stephane Cardinale – Corbis
Camila Coelho attends the screening of Everybody Knows (Todos Lo Saben) and the opening gala during the 71st annual Cannes Film Festival at Palais des Festivals on May 8, 2018 in Cannes, France.

Tony Barson
Romee Strijd attends the screening of Everybody Knows (Todos Lo Saben) and the opening gala during the 71st annual Cannes Film Festival at Palais des Festivals on May 8, 2018 in Cannes, France.

Tony Barson
Irina Shayk attends the screening of Yomeddine during the 71st annual Cannes Film Festival at Palais des Festivals on May 9, 2018 in Cannes, France.

Venturelli
Leomie Anderson attends the screening of Yomeddine during the 71st annual Cannes Film Festival at Palais des Festivals on May 9, 2018 in Cannes, France.

Venturelli
Julianne Moore attends the screening of Yomeddine during the 71st annual Cannes Film Festival at Palais des Festivals on May 9, 2018 in Cannes, France.

Pascal Le Segretain
Fan Bingbing attends the screening of Everybody Knows (Todos Lo Saben) and the opening gala during the 71st annual Cannes Film Festival at Palais des Festivals on May 8, 2018 in Cannes, France.

Tony Barson
Nieves Alvarez attends the screening of Yomeddine during the 71st annual Cannes Film Festival at Palais des Festivals on May 9, 2018 in Cannes, France.

Pascal Le Segretain
Chantel Jeffries attends the screening of Yomeddine during the 71st annual Cannes Film Festival at Palais des Festivals on May 9, 2018 in Cannes, France.

Gisela Schober
CANNES, FRANCE – MAY 10: Jury President Cate Blanchett attends the screening of "Cold War (Zimna Wojna)" during the 71st annual Cannes Film Festival at Palais des Festivals on May 10, 2018 in Cannes, France. (Photo by Andreas Rentz/Getty Images)

Andreas Rentz
CANNES, FRANCE – MAY 10: Amber Heard attends the screening of "Sorry Angel (Plaire, Aimer Et Courir Vite)" during the 71st annual Cannes Film Festival at Palais des Festivals on May 10, 2018 in Cannes, France. (Photo by Mike Marsland/Mike Marsland/WireImage)

Mike Marsland
CANNES, FRANCE – MAY 10: Lupita Nyong'o attends the screening of "Sorry Angel (Plaire, Aimer Et Courir Vite)" during the 71st annual Cannes Film Festival at Palais des Festivals on May 10, 2018 in Cannes, France. (Photo by Pascal Le Segretain/Getty Images)

Pascal Le Segretain
Model Irina Shayk attends the screening of "Sorry Angel (Plaire, Aimer Et Courir Vite)" during the 71st annual Cannes Film Festival at Palais des Festivals on May 10, 2018 in Cannes, France. Photo courtesy of Getty Images.

Gisela Schober
Bella Hadid attends the screening of "Ash Is The Purest White (Jiang Hu Er Nv)" during the 71st annual Cannes Film Festival at Palais des Festivals on May 11, 2018 in Cannes, France. Photo courtesy of Getty Images.

George Pimentel