Going GaGa for Lady Gaga
Lady GaGa shakes things up with catchy songs and loads of underwear.
---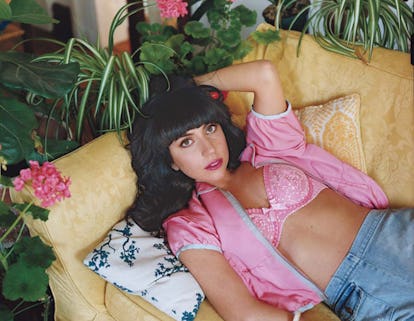 Like many young artists today, Lady GaGa defies categorization. But a general description would go something like this: go-go-dancing diva who writes her own disco-electronica pop songs. Oh, and Lady GaGa performs only in her underwear.
Click HERE to see surprising photos of the budding star from Lollapalooza 2007.
"I thought about my fantasy show," explains Lady GaGa, whose name is a riff on Queen's famous "Radio Ga Ga" song. "What would I be really jealous of if I saw it in New York? Hot chicks in bikinis!" Formerly Stefani Germanotta, a graduate of Manhattan's all-girls Convent of the Sacred Heart, she's a slim 21-year-old with thick black eyeliner and a big brunette bouffant reminiscent of that other crazy rock chick, Amy Winehouse. But while the latter favors bottles of whiskey, Lady GaGa's vices, if you can call them that, are anything skimpy and shiny. She loves spangles, lots and lots of spangles, dripping from the raunchy stage gear she often crafts herself.
Lady GaGa is one of the hottest acts on New York's club scene, spreading the word of burlesque rock, or whatever it's being labeled. Earlier this year she was signed to Interscope Records and finished her first album, to be released next year. In August she and her sidekick, Lady Starlight (Colleen Martin by day, a makeup pro for MAC Cosmetics), played Lollapalooza, by turns dazzling and shocking audiences with their wild performance, a romp of provocative go-go moves set to catchy tunes and beatbox drums. Their show, however, may have been overshadowed by Lady GaGa's brush with the law—she received a citation for indecent exposure while just walking around the concert grounds.
"For HotPants," she says, still irritated at the perceived injustice of it all. "The cop pulled me over on his bike, the mean old man." Okay, so her pair of black American Apparel Hooters-like shorts showed a little too much derriere, but that's all part of Lady GaGa's artistic shtick. Even when she's just running around her Lower East Side neighborhood, she might wear something along the lines of a strapless bra, sheer red leopard-print tights, high-cut briefs and six-inch heels.
However, she clearly has an appreciation for equally dramatic but more substantial clothes. At the W shoot, to which she brought her mother, Cynthia, Lady GaGa spots a fancy Dior jacket and says tremulously, "I'm going to cry. Nude? Feathers?" Then she deadpans, "Lady GaGa goes bankrupt after using up all her album money on Dior resort—not even Dior couture."
Indeed, she does like expensive things, which for a fledgling artist can be tricky. "I love Dolce & Gabbana. I love Versace. I love the crazy, more eccentric stuff," she says, holding up her own Jimmy Choo bag. "I can't pay my rent, but I'm f—ing gorgeous." She also favors Choo shoes, but for performances, she opts for teetering stripper heels she buys at, well, "specialty" stores around 42nd Street. This is a practical matter, she notes. "They're made to be more comfortable, so that I can dance onstage but still have the height."
As for the rest of Lady GaGa's show getups, they consist of any number of bras that she has customized and spangled beyond recognition—a lacy bra she draped with thick chains, for instance, or one $2.99 deal from Conway that she covered in a mosaic of mirrors. The intended effect? "It's supposed to look," she says, "like my boobs are two disco balls."