Lana Del Rey Bought Her Grammys Dress From the Mall at the Last Minute
Lana Del Rey has always had an odd relationship with high fashion, as she proved by wearing an off-the-rack dress at last night's Grammy Awards.
---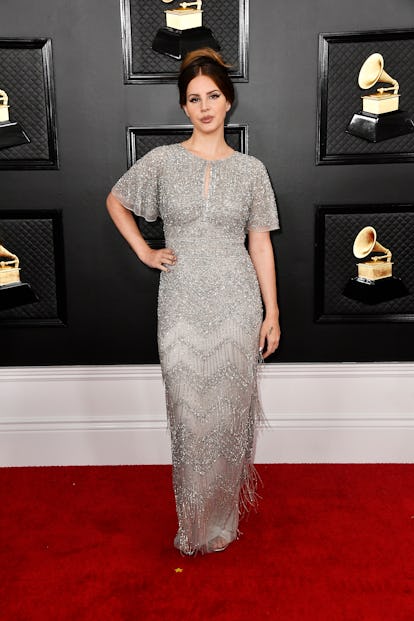 While most celebrities work with a stylist for weeks to perfect an awards show look, Lana Del Rey spotted the silver dress she wore to the Grammys last night at hanging on the rack at a mall.
"I had another dress, and then my boyfriend and I were getting a belt for him at the mall and I saw this and I loved it, so this is a last-minute dress," Del Rey told an Entertainment Tonight correspondent on the red carpet. "I tailored it right there."
(That boyfriend, by the way, is the police officer Sean Larkin, one of the stars of the A&E reality show Live PD. The pair made their official red-carpet debut last night).
The dress was from the New York–based label Aidan Mattox, a mainstay of department stores like Saks Fifth Avenue and Neiman Marcus. Dubbed the "fully beaded evening gown," it's currently listed on the Saks website for $595.
Tiffany Haddish's long-running bit about rewearing the same white Alexander McQueen dress she bought for one of her first major red carpets makes it clear that it's not completely unheard of for celebrities to buy their own gowns (even Blake Lively has admitted to having worn Forever 21 on the red carpet at the dawn of her career).
As a nominee in two of the top categories and a veteran of the Met Gala guest list, though, Del Rey could no doubt conjure up a couture gown if she wanted to. (And indeed the Redemption dress she wore earlier in the weekend to a pre-party was reportedly custom.) It should shock no one that she has many devoted fans in the fashion industry.
In fact, she's even the face of Gucci's Guilty perfume.
Yet Del Rey has never fully embraced her potential power in the fashion arena. She's only been spotted in the front row of fashion shows a handful of times, and none of those were recent.
Perhaps she's uninterested in being a high-fashion dress hanger because she's carefully constructed her own sartorial vision, and even the most well-meaning fashion designer could interfere with that. All she needs is a bold cat eye, voluminous hair, and a nod toward old-school Hollywood glamour. And apparently you can find all of that at the Beverly Center. Who says personal style on the red carpet is dead?