Lana Del Rey and Olivia Rodrigo's Friendship Was On Full Display Last Night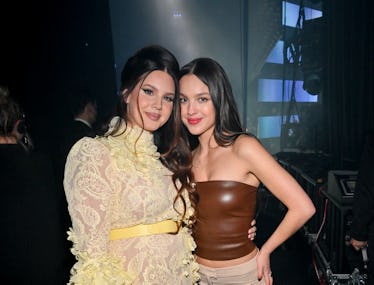 Michael Buckner/Billboard/Getty Images
There are few celebrity friendships that look as fun to crash as the one between Lana Del Rey and Olivia Rodrigo. Just last night the pair were the center of the room at the 2023 Billboard Women in Music Awards, where Olivia presented the Visionary Award to Lana while noting that "Lana has raised an entire generation of music lovers and songwriters like me, and taught them that there's beauty in their vulnerability and power in their melancholy."
But it was during the ceremony when Lana and Olivia had their own private party. The friends were cuddled up and laughing together, looking like they were having the time of their lives, and and it didn't take long for the moment to go viral.
Olivia also heaped on praise for Lana's breakthrough "Videogames." "I still consider that song to be probably the best love song of all time," the 20-year-old wunderkind said in her introduction. "She captures sadness, anger and sensuality in a way only the greatest of songwriters ever could." She shared how much she admires Lana's "unwavering authenticity" and how Lana "has forged her own path, her entire career constantly raising the bar for herself and creating art that pushes boundaries and changes lives." But she added, "More important than her long list of accolades is the unique way she impacts everyone who encounters her and her music."
The pair's last public appearance together was back in 2021 at an industry brunch. They looked super happy to be in each other's company and pose for photos together.
Now we just need to know, when is their duet coming?