Why Brad and Leo Signed the Costume Designer Sandy Powell's Suit at the Oscars
Powell, who worked on The Favourite and The Irishman, plans to auction off her jacket and slacks for a good cause.
---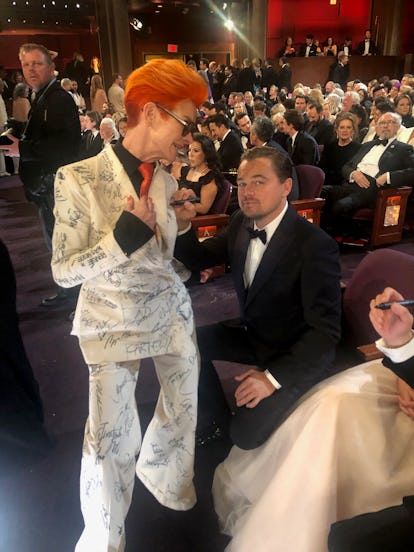 The costume designer Sandy Powell spent this awards season armed with a bag of Sharpies, which she took with her everywhere. At the BAFTAs, in England, the Academy Awards, and the Vanity Fair Oscars Party, Powell—known for her work on The Favourite and The Irishman—carried a sack of pens, asking all her famous peers to sign the calico toile suit she wore to each event.
This round of awards shows was particularly special for Powell because of the aforementioned suit, which ended up covered in autographs from the likes of Brad Pitt, Leonardo DiCaprio, Laura Dern, Janelle Monae, and many others. She intends to auction the jacket and slacks off for a good cause: The proceeds will go toward a campaign to turn Prospect Cottage, the Dungeness, England, home of the late director Derek Jarman, into an arts hub for young people.
The home, which became a landmark after Jarman passed in the early 1990s, was maintained by his long-term partner, Keith Collins. Before Collins died last year, he requested that the house be taken on in a trust, maintained, and used as an artists' retreat and residency. In January, just as the campaign was being launched, Powell received her BAFTA and Oscar nominations.
"I totally wasn't expecting them this time," Powell said a few days after the Academy Awards. The three-time Oscar-winning costume designer was still in Los Angeles, where she'd tacked on a few extra days on the West Coast to "recover," she told me over the phone. (Her recovery included sleeping and eating proper meals, she added. "You hardly, amazingly, get much to eat at all of these events. You're always chasing a canapé.") When she heard word that she'd been nominated, she was uninterested in jumping through hoops to have a different look made for each awards show. Instead, she opted to wear the same custom tailored suit she'd worn to last year's BAFTAs and Oscars. When she tried it on again, she noticed how the cream-colored suit resembled a blank canvas, and the idea to have celebrities sign it to kick-start a charitable initiative suddenly came to her.
"Then I announced to the people running the campaign I was going to do that, so they got all excited, and I thought, Oh, shit, now I've actually got to go ahead and do it," she said with a laugh. "I thought, This could be a disaster, it could be a real failure, or people could refuse and I would have just a couple scrappy signatures on it."
Instead, Powell was surprised to find that Renée Zellweger, Spike Lee, Al Pacino, and Robert DeNiro inscribed their names with great interest, after she delivered a short spiel about the cause.
"Some people did drawings," Powell said. "Bong Joon-ho did a little drawing of a face, which was really sweet. That's on my collar. One of the animators from Klaus did a little drawing as well."
To document whose signature belonged to whom, Powell had friends snap photos of the celebrities autographing her suit. Most locations on her body were available to all—largely.
"I only let women sign my butt," she specified. "So there are a lot of women's signatures there. I asked Gwendoline Christie, 'Will you sign my bum?' She said, 'No, I want to sign your vagina.' That was the most outrageous thing anyone said. She didn't actually sign there, though—she signed my inner thigh."
The project is still ongoing—in fact, right before she jumped onto the phone for this interview, Powell ran into the director Pedro Almodóvar, and he scrawled his name on her suit as well. The costume designer hopes to raise $3.5 million with the suit, and wishes that whoever buys it will eventually put it in a museum. For now, Powell will return to London, where she'll have a few more people put ink down, including Tilda Swinton, who is heavily involved in the quest to save Prospect Cottage (and whose first starring role in a film was Jarman's Caravaggio.)
"Tilda's very much a part of Derek Jarman's world, so I need to get her," Powell said, laughing with determination. "And anybody else who I happen on along the way."