Meryl Streep's Latest Film Let Them All Talk Was Mostly Improvised
Meryl Streep, Candice Bergen, Dianne Wiest and Lucas Hedges take a cruise to cure some writer's block in Steven Soderbergh's Let Them All Talk.
---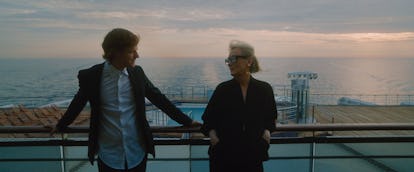 HBO Max.
In the last year or so, audiences have seen Meryl Streep in an array of differing roles: a curmudgeonly aunt, a waning Broadway star, a grieving Monterey mother, and now, a novelist struggling with writer's block in Steven Soderbergh's Let Them All Talk, premiering on HBO Max next month.
In the film, Streep plays a writer whose literary agent (played by Gemma Chan) sends her on a cruise with her two best friends (Candice Bergen and Dianne Wiest) and her nephew (Lucas Hedges). Sounds like this reunion could be a nice vacation, but according to her friends, it's a dicey trip: Streep's protagonist has to make up for the fact that she burned her friends by not always depicting them in the most flattering light in her novels over the years.
According to Bergen, Let Them All Talk is a "fearless" endeavor by Soderbergh. The film took just a couple of weeks to shoot, and he didn't have to pay for their two-week voyage on the ship, Streep told Entertainment Weekly in October. Soderbergh also operated the camera himself and only brought sound equipment on the boat. "Steven held the camera in a wheelchair and just rolled along. None of the lights, and the trucks, all that stuff that goes into making movies, there's none of it. There was Steven and this new camera," Wiest said.
The film, while written by Deborah Eisenberg, also kind of lacked a script. Soderbergh gave the cast outlines and let them improvise most of the dialogue.
The idea of going on a cruise seems like such a far-away concept now that the threat of a global pandemic has basically squashed any way of taking that kind of trip safely, but it should be enough fun to watch a pre-Covid era improv-esque film on December 10, when Let Them All Talk hits HBO Max.