Lily Kwong Brings a Meditative Vision to the New York Botanical Garden Orchid Show
Using thousands of flowers and traditional Chinese artwork as inspiration, the artist tells a captivating tale of our ancestral connections to the plant world.
---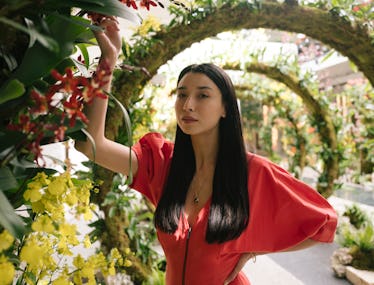 Gesi Schilling
On a jarringly warm and sunny February morning, Lily Kwong guides a small group of journalists through the exhibit she's brought to life as guest designer for the 20th edition of the New York Botanical Garden's Orchid Show. Posing for a few snapshots on request, she is naturally elegant and undeniably striking in a bright red jumpsuit—precisely what a scout thought about 15 years ago after spotting Kwong on the street and launching her modeling career. What started out as a dreamy opportunity to explore the world eventually led her down the path to her current calling as a landscape artist.
The show is a decadent visual feast, with somewhere between 5,500 and 6,500 orchids blanketing mountain forms, winding around trees and lining the water. They come in such a staggering variety that it's hard to believe they're members of the same family; showstoppers such as the magenta-veined Phalaenopsis stand in stark contrast to other featured flowers like the simple ivory Noble Dendrobium, one of the fundamental herbs used in traditional Chinese medicine. It certainly tracks that a show built around the celebration of heritage highlights the plant species' incredible diversity.
Kwong had always found her peace in nature. She was one of those kids who couldn't get enough of the outdoors, even taking the initiative to found a nature club in the first grade. When modeling gave her access to travel, and traveling inspired her to study urban planning, it was a roundabout route back to her childhood love. Her botanical installations have transformed the High Line and lit up Art Basel, and while they're always gorgeous, grandiose spectacles to behold, Kwong's work for the orchid show is a bit more personal than previous projects, as it draws on her ancestral heritage in its design and storytelling.
Kwong recalls that growing up, she'd spend hours staring at the traditional Chinese landscape paintings on scrolls passed down from her grandparents. The artwork adorned the walls of her home and was a formative part of her childhood, as well as the basis for one of the first features of the installation. Fantasizing about the stories of those settings—places she felt connected to but separated from—was the first time she can remember using her imagination. As a second generation immigrant, the culture of her ancestors felt achingly far out of reach; years later, as the first woman (and the first woman of color) to guest design the orchid show, she's built her own world filled with thousands of orchids to honor it. Below, Kwong discusses her past life modeling, finding her way to landscape design, and celebrating the beauty of her Chinese heritage:
How did you find out that you were going to be the first woman to guest design NYBG's Orchid Show?
I started thinking about it because I really admire so many of the guest designers at the Orchid Show. They're these giants in my industry: Daniel Ost, Raymond Jungles, Patrick Blanc. But I realized they all had a very specific profile, which is, you know, older white men. When we were on a tour, I asked, "Am I the first woman to be invited to design the show?" The team paused and thought about it and realized that I was. Then it became really clear what the piece was going to be about. [Being] the first person of color, and definitely the first Chinese person, I wanted to do something that celebrated my heritage. It took shape very quickly once I realized I wanted to just dig into those identity markers that made me unique from the other amazing guest designers who had taken on the show.
The show's subtitle is Natural Heritage. How would you describe the general ethos of it?
It's about our ancestral connections to the plant world. It focuses on my Chinese heritage by looking at it through the lens of traditional Chinese landscape painting, Chinese garden design principles, and philosophy. But it's also an invitation for all of us to explore those different dimensions of our own cultures, because every culture has different practices, attitudes, or rituals around nature in the natural world. It's only the past couple hundred years that we've been in a highly industrialized, technological society. No matter where you're from in the world, people in your bloodline and in your lineage have these profound connections to plant life. I wanted to share mine as a way of inspiring others to look deeper into their own histories.
Can you take us through how you came to be a landscape artist?
I studied urban planning at Columbia and the first job that I got out of school was at an urban design firm that specialized in landscape. As soon as I started working with the horticulture teams, getting out into nurseries and getting my hands on plants, it triggered this deep remembering of my childhood. I'd lived in New York for six years before taking that job, and so I'd gotten really disconnected from how I grew up, which was in the redwood trees in Marin County, in the woods. My whole childhood took place against the backdrop of these ancient, majestic trees. I was always kind of in awe of the natural world. As soon as I reconnected with that part of myself, it became clear that this was my life path.
I'm curious about your time modeling and what led you to pivot from that to your current work.
I guess I sometimes try to hide it a bit because it seems so long ago, but I studied urbanism because of modeling. I'd never really gotten to travel growing up, and so that was a big impetus for modeling. I was suddenly getting to work in Paris and Shanghai and Milan, and so when I got exposed to different cities, I realized how different culture was and how different sense of place was based on the architecture, the design, the access to parks, institutions. I loved that freedom of modeling where you never know where you're going to go next, and it did inform my career path, for sure.
Speaking of modeling and your time in fashion, I loved the red jumpsuit you wore for the preview!
It was very special, I wanted to wear Altuzarra; Joseph Altuzarra is my cousin and those scrolls [which inspired parts of the show's design] are from our shared grandparents. I think it's so beautiful that my Chinese French cousin who grew up in Paris—and I'm Chinese and Irish and grew up in San Francisco—both find ourselves in New York, working in creative fields, exploring a lot of these ideas around identity and nature. His whole recent [FW 23] collection is all around a return to nature. We're from different parts of the world with different mixes on our other half, but are both deeply exploring similar themes and ideas in different mediums.
What was it like walking through this immersive world you created for the first time?
It was a very powerful experience. And it was also very surreal standing there, because I went to New York Botanical Garden first to take classes in their landscape certificate program when I was exploring whether or not I even could start a company and could be in this industry. To then be invited to make our mark on this iconic dome that I, as a New Yorker, have idolized and admired, it just felt like a great privilege. I feel like we said something meaningful, and it just made me want to explore narrative and history and landscape more and more.
Did that meaning resonate more deeply given the anti-Asian violence of these last few years?
Absolutely. [In] my Asian community that I'm a part of, I felt so much fear and anxiety in a way that I've never felt, and I've lived here for 13 years. It was really important to do something completely celebratory and empowering and inclusive. We fear what we don't understand. So I think sharing traditions and practices and beauty from different cultures at scale really helps to weave the tapestry of New York in a more beautiful and harmonious way.
The New York Botanical Garden's The Orchid Show: Natural Heritage is on view from Saturday, February 18, 2023 – Sunday, April 23, 2023.