SAG Awards 2017: Lily Tomlin's Speech Was Full of Wisdom, like "Don't Leave Your House When You're Drunk"
"Listen to your friends. When they stop talking to you and start talking about you, saying things like, 'Did she have a purse?'"
---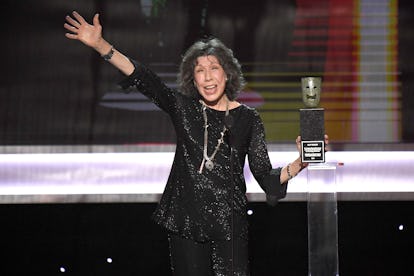 Kevork Djansezian/WireImage/Getty Images
At Sunday night's SAG Awards, Lily Tomlin became the first openly gay actor to take home the Screen Actors Guild Life Achievement Award. It's an accolade that's well deserved: seventy-seven-year-old Tomlin is a Hollywood veteran who's appeared on stages and screens since the 1960s. Naturally, she used her acceptance speech for the award, bestowed upon her by friend, the legend Dolly Parton, to speak directly to today's youth.
It turns out that Tomlin wasn't always such a high achiever. In her speech, she reflected on a time in her youth when she wasn't focused on succeeding in the more traditional sense.
"When I recall my youth, I can't even point to a time where I showed promise to be anything but trouble," Tomlin said. "When I was a senior in high school, my counselor called me into his office to tell me they were thinking of holding back my diploma. I said, 'Gee whiz, Mr. Daniels, why would you do something like that?' Turned out I'd been a student for four years but, I have been absent one. Cumulatively I'd been absent one year. I would literally stay out 12, 13 days in a row if my hair didn't turn out right. Those of you from that era know what I mean because hair was really important."
Things—including her hair—clearly turned out well for Tomlin in the end; she's now starring in the Netflix hit Grace and Frankie with her friend Jane Fonda. And while she's learned a lot about show biz, she's also picked up some very important tips about life along the way.
"Now, after 50 years in the business, I find young actors are asking me for sage advice hoping for nuggets of wisdom," Tomlin said. "Along with telling them to wear sunscreen, I suggest a few other things I think you may find helpful. Don't leave your house when you're drunk. If you're already out, you must learn to tell when you've had too much to drink. Listen to your friends. When they stop talking to you and start talking about you, saying things like, 'Did she have a purse?'"
The actress also revealed that she's looking forward to speaking out on issues including climate change, immigration, the Dakota Access Pipeline, LGBTQ issues, armament—and making a new sign for the next Women's March, of course.
SAG Awards 2017: See What Everyone Wore on the Red Carpet
Sarah Paulson in Vera Wang at the 2017 Academy Awards.

Steve Granitz
Winona Ryder at the 2017 Academy Awards.

Kevin Mazur
Evan Rachel Wood in Altuzarra at the 2017 SAG Awards.

Dimitrios Kambouris
Brie Larson at the 2017 SAG Awards.

Jeff Kravitz
Nicole Kidman in Gucci at the 2017 SAG Awards.

Frazer Harrison
Amy Adams in Brandon Maxwell at the 2017 SAG Awards.

Alberto E. Rodriguez
Emma Stone in Alexander McQueen at the 2017 SAG Awards.

Alberto E. Rodriguez
Salma Hayek in Gucci at the 2017 SAG Awards.

Frazer Harrison
Lily Tomlin at the 2017 SAG Awards.

Frazer Harrison
Natalie Portman in Dior at the 2017 SAG Awards.

Alberto E. Rodriguez
Julia Louis-Dreyfus in Lela Rose at the 2017 SAG Awards.

Steve Granitz
Gina Rodriguez at the 2017 SAG Awards.

Steve Granitz
Taylor Schilling at the 2017 SAG Awards.

Frazer Harrison
Teresa Palmer at the 2017 SAG Awards.

John Shearer
Michelle Williams in Louis Vuitton at the 2017 SAG Awards.

Alberto E. Rodriguez
Octavia Spencer in Tadashi Shoji at the 2017 SAG Awards.

Lester Cohen
Rashida Jones in Vivienne Westwood at the 2017 SAG Awards.

Frazer Harrison
Taraji P. Henson in Reem Acra at the 2017 SAG Awards.

Frazer Harrison
Meryl Streep at the 2017 SAG Awards.

Frazer Harrison
Kirsten Dunst in Dior at the 2017 SAG Awards.

Frazer Harrison
Kerry Washington at the 2017 SAG Awards.

Frazer Harrison
Janelle Monae in Chanel at the 2017 SAG Awards.

Steve Granitz
Bryce Dallas Howard in Dress the Population and Irene Neuwirth at the 2017 SAG Awards.

Steve Granitz
Kate Hudson in Dior at the 2017 SAG Awards.

Frazer Harrison
Sofia Vergara in Zuhair Murad at the 2017 SAG Awards.

Frazer Harrison
Ellie Kemper at the 2017 SAG Awards.

Frazer Harrison
Nathalie Emmanuel in J.Mendel at the 2017 SAG Awards.

Frazer Harrison
Tracee Ellis Ross at the 2017 SAG Awards.

Steve Granitz
Julie Bowen at the 2017 SAG Awards.

Frazer Harrison
Sophie Turner at the 2017 SAG Awards.

Frazer Harrison
Watch a video interview with Jane Fonda: