Singer-Songwriter Lisa Marie Presley Has Died at 54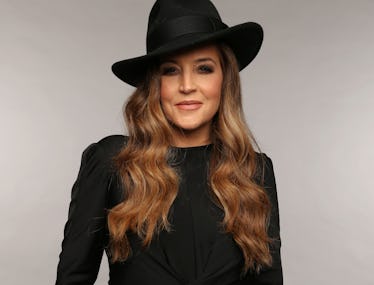 Christopher Polk/Getty Images for Wonderwall
Lisa Marie Presley, singer-songwriter, the only daughter of Elvis Presley, and mother of actress Riley Keough, died on Thursday after being hospitalized following a cardiac arrest. She was 54.
"Priscilla Presley and the Presley family are shocked and devastated by the tragic death of their beloved Lisa Marie," a representative for her mother, Priscilla Presley, said in the statement. "They are profoundly grateful for the support, love and prayers of everyone, and ask for privacy during this very difficult time."
Presley was born on February 1, 1986 in Memphis, Tennessee, nine months to the day following Elvis' wedding to Priscilla. After the separation and later divorce of her parents in 1972, Presley went to live with her mother in Los Angeles, though she would often visit her father at Graceland in Memphis. She was very close to her father, despite him dying when she was just nine. According to the New York Times, he once flew her to Idaho just so she could see snow for the first time. They took Elvis' private jet, "The Lisa Marie."
Upon her father's death in 1977, Priscilla became the joint heir to his estate, along with his father Vernon and grandmother Minnie Mae. Following their deaths in 1979 and 1980, respectively, she became the sole heir to the estate, which she inherited on her 25th birthday in 1993. In 2004, she sold 85% of the estate, including rights to Elvis' image and name, for about $100 million, though she kept Graceland for herself.
Following in her father's legacy, Presley would eventually go into music as well, though she waited until she was 35 to release her first album, To Whom It May Concern. That was followed by Now What in 2005, and Storm & Grace in 2012, often considered her best work. "Presley's first two albums sounded like the work of someone who thought making a record might be a good idea, but Storm & Grace feels like music she genuinely wanted to make, and if Presley's deep, breathy vocal style still doesn't boast much range, she sounds at once relaxed and fully engaged here, comfortable with her instrument in a way she wasn't before," music critic Mark Deming wrote in a review of her final album.
Throughout her career she performed on stage with various other music icons, singing with Pal Benatar as part of a VH1 benefit concert in 2002, and with Debbie Harry, Red Hot Chili Peppers, and a few more rock groups for the Ramones' 30th anniversary concert. Presley also re-released her father's 1969 track "In the Ghetto" in 2007, adding her own vocals to "duet" with Elvis on the song. In 2018, she co-produced Where No One Stands Alone, an album dedicated to her father's love of gospel music.
In the end, though, much of Presley's music career was overshadowed by the heavy influence her father had on the industry, as well as her own personal relationships with many high profile names. In 1988, Presley married musician Danny Keough. They had two kids together, Riley and Benjamin, before divorcing in 1994. Just twenty days later, Presley married Michael Jackson in a union that would become a media sensation, though she filed for divorce after two years, citing "irreconcilable differences." In 2000, she became engaged to musician John Oszajca, but ended things after meeting Nicolas Cage at an event. The two married in August 2002, but by November of that year, Cage had filed for a divorce. In 2006, Presley got married again, this time to her guitarist, music producer, and director, Michael Lockwood. Her ex, Keough served as the best man at the wedding, as the pair reconnected and became close friends following Presley's divorce from Jackson. Presley and Lockwood would go on to have two twin daughters together, Harper and Finley. In 2016, Presley filed for divorce from Lockwood.
In 2020, Presley's son, Benjamin Keough, died by suicide at the age of 27. In September of last year, she wrote an essay in honor of "National Grief Awareness Day" about losing her son. "My and my three daughters' lives as we knew it were completely detonated and destroyed by his death," she said. "We live in this every. Single. Day. Grief is something you will have to carry with you for the rest of your life, in spite of what certain people or our culture wants us to believe. You do not 'get over it,' you do not 'move on,' period."
Presely was last seen publicly on Tuesday at the Golden Globes, supporting Austin Butler who received an award that night for his portrayal of her father in the Baz Luhrman biopic, Elvis. At the event, she told ExtraTV how impressed she was by Butler's performance. "I was mind-blown, truly," she said. "I actually had to take, like, five days to process it because it was so spot on and authentic."
Throughout her life, Presley was also very involved in charity work, acting as a chairperson for The Elvis Presley Charitable Foundation. She also helped raise for Hurricane Katrina Victims and, in 2011, became a patron of the Dream Factory, which grants wishes to terminally ill children. Presley was also involved in the Church of Scientology. She reportedly told Paper magazine in 2003 that the Church "saved her" from drug addiction, but in 2014 she ended her relationship with the organization, saying she'd become "disenchanted" with it years before.
Presley is survived by her three daughters, and her mother Priscilla. She will be remembered for her contribution to music as well as her charity work. See below for the many tributes being paid to the late musician following the news of her death.