Livia Firth Brings Environmental Awareness to Cannes
The eco entrepreneur talks about the impact of fast fashion on the environment at a screening of her new film, True Cost.
---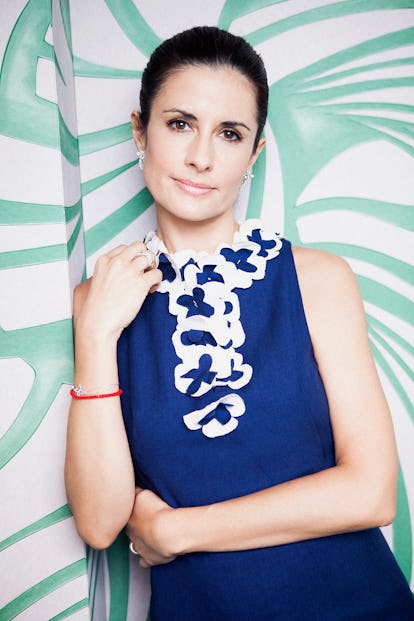 While most go to Cannes to see films and attend parties, Livia Firth was there with a different purpose: to demonstrate the overlooked and highly detrimental impact of the fast fashion industry on the environment. Last week, the eco-entrepreneur hosted a screening of True Cost, a film she executive produced. The documentary was directed by Andrew Morgan, who became involved in the cause after reading about the Rana Plaza factory collapse in Bangladesh. "Andrew never really cared about the fashion industry before," said Firth. "But he said it simply didn't add up that more than one thousand people died in the name of fashion just sewing clothes." Determined to uncover the origin of the tragedy, Morgan traveled to thirteen countries in two years, interviewing everyone from Stella McCartney to environmentalist and Patagonia VP Rick Ridgeway along the way.
With the screening, it was Firth's goal to capture the attention of those who can affect meaningful change, like Harvey Weinstein and Francois Pinault. And she also brought an environmentally conscious angle to a second party on the Riviera this week, Chopard's launch of their first fair-mined jewelry collection, Palme Vert, which was inspired by the iconic Palme d'Or and launched in honor of the award's 60th anniversary. Firth has been involved in the jewelry brand's efforts since she met Chopard's artistic director, Caroline Scheufele, in 2012, and asked where Chopard's gold came from. "She said it came rom the bank, from UBS. Then she said, 'Oh my God, I know what you mean!' The truth is all jewelry brands buy gold from banks without knowing where it comes from." Through Eco-Age her consultancy company, Firth initiated a program that allows the jewelry house to work directly with the mines to ethically source the precious metal. "No other jewelry company does this," says Firth. "I have never been so excited about anything before."
Dressed to Impress at the Cannes Film Festival