All the Gossip, Chatter, and Commentary We Heard at L.A. Art Week
Eavesdropping on (and partying with) the art world glitterati during Frieze and Felix art fairs in Los Angeles.
---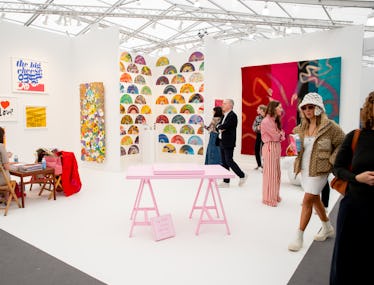 Photo by River Callaway/WWD via Getty Images
On the first day of Los Angeles Art Week, when the Frieze and Felix art fairs and their attendant parties descend upon Los Angeles in February, there was an inordinately fancy event at the Getty Villa, hosted by the Getty, Frieze, and the Loewe Foundation. The Getty Villa—which was modeled after a Roman manor buried by the 79 AD eruption at Mount Vesuvius and initially built because J. Paul Getty couldn't fit his gargantuan art collection all in one spot—is not open at night. So to be there at that time was a rare gift. Many attendees spent their evenings wandering in and out of rooms displaying rare Etruscan artifacts while debating whether Gwyneth Paltrow would show up or not. (She didn't. Her loss.) Ricky Martin waited in line patiently behind my date and I for Champagne. We ate a lot of macarons and stared at Chance the Rapper greeting Owen Wilson, one of the top most attractive men I have ever seen (it's the nose). The party was so beautiful, even jaded art world people gasped and stood in line to take pictures of the museum's glowing reflecting pool, softly lit with moon-like orbs.
Someone once tweeted "LA is not beating the boring charges, I fear," and I think about this every time I go out in Los Angeles. I think during Frieze, it beats the boring charges. There are lots of irritatingly hot people dressed inappropriately for the weather running around in Wet Paint baseball caps, invited nowhere yet showing up everywhere. The houses are big and sexy and they have swimming pools. There are former first daughters at house parties in the Hollywood Hills, celebrities shopping for art in hideous graffiti sweatshirts (sorry, James Franco—please buy a chiller sweater), lost Honda Civics parked crookedly above the Sunset Strip. Frieze was at the Santa Monica airport, and I looked over a woman's shoulder to gape at private jets parked behind the shuttles before realizing I was staring directly at both Miss Tina Knowles and Fran Drescher. To see contemporary art at Felix, visitors go to the golden era Hollywood Roosevelt hotel, where it's rumored that Marilyn Monroe haunts Suite 1200. It was all very glamorous.
Here are some things I overheard while pushing and shoving my way through lines ungracefully (much unlike Ricky Martin. Ricky Martin is amazing).
"He HATES leaving. I love leaving anything." —A beautiful 1990s Latin pop sensation, pointing at his beautiful husband and asserting his desire to depart the spectacular Getty Villa at the Getty x Frieze x Loewe Foundation party.
"You L.A. girls are so conservative with your alcohol. Live a little!" —A willowy New Yorker at the Jeffrey Deitch x Autre Magazine party, where they served neon blue tequila cocktails and an underappreciated DJ with a nest of Robert Smith hair blasted Soft Cell's "Sex Dwarf."
"Today is a day about expressing love. Some people are expressing love with their lovers, and some of us wonder why we don't have that. But we do, because we're connected. And maybe we don't have that person that we think belongs to us. But tonight, dancing, we all felt so close, right?" —Artist Raúl de Nieves's toast at the Wet Paint party at Escuela on Valentine's Day, where columnist Annie Armstrong and Gutes Guterman announced their picks for the "art world's most eligible bachelors." It was a dose of cheer on a tricky day.
"Last year on Valentine's Day, my ex made me dinner, but I had to pay for the groceries. When I confronted him about it, he told me his mother said to never look a gift horse in the mouth." —An artist having a much better Valentine's Day than last year's at the Wet Paint party.
"Oh, I know my Jewish stuff backwards and forwards. Don't think I've never had apples and honey, honey." —A masked alternative country singer listing his honorary Member of the Tribe bonafides by the pool at the Clearing x Matthew Brown party in a sharply modern house in Beachwood Canyon.
"I think there were, like, 50 people there, total. At a stadium." —Artists at the (very fun) Clearing x Matthew Brown party, mocking an ostentatious German artist's fete at SoFi stadium all the way in Inglewood, where the Rams and Chargers play. In the Uber back to my own car, which I lost, I saw Kendall Jenner's friend advertising the event to hundreds of thousands of people on Instagram. Evidently, they didn't want to drive.
"I saw Jared Leto walking around at Frieze and he was pissed about having his photo taken. You'd think he'd like it." —An attendee huddled near the cookie bar at the Gaetano Pesce opening at the Future Perfect, housed in Samuel Goldwyn's 1916 Hollywood mansion.
"I drugged her. That's my drugging victim. Jocelyn, I'm sorry I drugged you." —A prominent, guilty art publicist speaking to and about me post-Pesce opening at the Roosevelt pool. While at the event for the Italian design legend, all of a sudden I felt very, very stoned, which is a normal thing to feel in L.A.—except, as far as I knew, I hadn't consumed anything but half of a can of Liquid Death. I ran around to various friends squawking that I felt so high, and they gaped in disbelief, doubting my sanity. But I, like a woman in a Victorian ghost story, was not crazy—I had accidentally been given a cigarette with some kind of weed thing in it, not tasted it, and smoked the entire thing. The mystery really spiced up my evening.
"For every skater there were, like, three artists. And that's how a party should be." —Guests at the Lomex cabana gallery at Felix, discussing the previous night's Gagosian Party at the Chateau Marmont. The Chateau has been half-open for a while, and I wish it was just regular open again. The last time I went there, Paris Hilton complimented my best friend's 1950s corset and then was aghast that she had bought it at a vintage store.
"So it's like Fashion Week for art?" —A woman at Felix with a simple yet accurate description of how the fairs work.
"Before Trump was elected, I was seated next to him at Cirque du Soleil. I had gotten some popcorn, and he really wanted this popcorn. He kept talking about how good it looked and would not stop commenting on it. At intermission, he went and got himself some popcorn and then he sat down and started eating it while rubbing Melania's leg." —An artist regaling her gallerist with a story about our 45th president.
"Now this is the experience of being an American whore." —An artist quoting Lana del Rey after hearing another artist complain about bitchy collectors at the Lisson Gallery x Chateau Shatto party at Yamashiro, which has a glittering view of Los Angeles and a very long line for valet.
"Oui oui oui. Hon hon hon. Zut alors! Sacre bleu!" —French people, everywhere.