Madonna Calls Out "Ageism and Misogyny" Surrounding Critiques of Her Appearance at the Grammys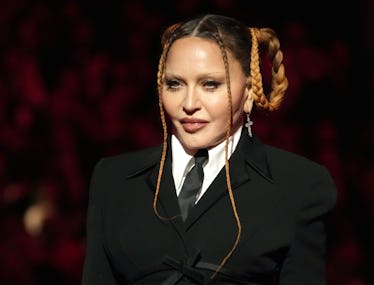 Kevin Mazur/Getty Images for The Recording Academy
Vultures descended mere minutes after Madonna stepped off the Grammys stage on Sunday night, rushing to the Internet to comment of the singer's "new face." While Madonna was at the award show to spread an important message about using music to push boundaries, most remained focused of her rounded cheekbones and plump lips. They took to Twitter and turned her into a meme, they spoke about aging gracefully (they have definitively decided Madonna is not), and they missed the entire point of her speech. Did they expect Madonna not to respond? Well then, they must not know her very well.
On Tuesday, it seems the singer had enough, and she took to Instagram to release a message regarding the conversation surrounding her appearance. Madonna started off by saying what an honor it was to introduce Kim Petras and Sam Smith's "Unholy" performance at the awards, marking the first transwoman performing her song on the Grammy's stage in the show's history.
"Instead of focusing on what I said in my speech, which was about giving thanks for the fearlessness of artists like Sam and Kim, many people chose to only talk about close-up photos of me taken with a long lens camera by a press photographer that would distort anyone's face!!" she said. "Once again I am caught in the glare of ageism and misogyny that permeates the world we live in. A world that refuses to celebrate women past the age of 45 and feels the need to punish her if she continues to be strong willed, hard-working and adventurous." Madonna continued, saying, "I have never apologized for any of the creative choices I have made nor the way that I look or dress and I'm not going to start. I have been degraded by the media since the beginning of my career but I understand that this is all a test and I am happy to do the trailblazing so that all the women behind me can have an easier time in the years to come."
But what are people really mad about. In an op-ed for the New York Times, author Jennifer Weiner makes a good point, saying, "In the wake of the Grammys, people complain she no longer looks like Madonna, but which Madonna comes to mind?" The singer is a chameleon, who has reinvented herself ten times over throughout her decades in the spotlight. "She's been a blonde and a brunette, butch and high femme," Weiner wrote. "She's worn castoffs and couture. She's adopted and abandoned an English accent. She's shown us her roots and her underwear, deliberately putting the hidden parts on display." This is what Madonna does, she has never accepted societal norms, she pushes against them to start conversations, to prove points, and it seems thousands just walked into her latest trap.
Madonna ended her Instagram message with a promise expected of her—to never stop being Madonna. "I look forward to many more years of subversive behavior, pushing boundaries, standing up to the patriarchy, and most of all enjoying my life."