Why Marion Cotillard at Cannes Is the Best Marion Cotillard
A brief history of French actress Marion Cotillard doing the most on the Cannes Film Festival red carpet—and why she's her best self in the south of France.
---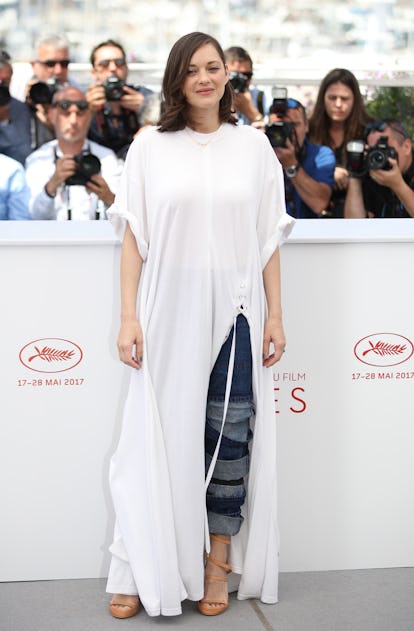 Mike Marsland/Getty Images
Two months ago, Marion Cotillard gave birth to her second child, a son, with her longtime partner, the director Guillaume Canet. The occasion marked just not the expansion of the Cotillard brood, but also the culmination of nine months of out-there, experimental fashion choices ranging from Dior minis (and really, a whole lot of Dior, of all lengths) paired with fishnet tights to striped Rochas sets, a yellow Marques'Almeida hoodie worn as a dress with red boots and a white Area NYC blouson with wide, pirate sleeves. It led us to wonder, incredulously, if she could be pregnant at all, so skilled was the actress in styling her growing bump.
Cotillard was a star of the red carpet at last year's Cannes Film Festival, just before she announced her pregnancy on Instagram, and she's a regular at the festival, where, as far back as 2004, she was awarded the Chopard Trophy for Female Revelation.
But she had been out of the spotlight for a moment following the birth of her son (though her Instagram, long a favorite, is constantly updated with essential tidbits like charts depicting the vegetables in season each month and outtakes from her various projects)—so it came as a welcome development, but little surprise, when she arrived in the south of France for the first day of the festival. She didn't disappoint, either: for a photocall announcing her new film, Ismael's Ghosts, Cotillard wore a loose Y/Project tunic slit up the side, paired with wide-legged, paneled jeans (alternating inside-out and right-side patches down their length) and camel-colored sandals. The festival has barely gotten underway—the opening ceremony is holding forth as I type these words—and yet Cotillard has already set the highest, quirkiest benchmark. No one else needs to bother. (Glamour magazine's French offshoot called the look détonnant—literally, detonating.)
Though her Y/Project look is in keeping with the offbeat style she honed during her pregnancy, it's also of a piece with the playful attitude she's brought to the Cannes carpet through the years, where she has effortlessly cycled between ultra-glamorous and totally irreverent, usually inside of the same day. At a festival where movie stars can wear couture for afternoon outings and flouncy lace Chanel dresses before their films even premiere, Cotillard has instead often opted for jumpsuits, denim, and, last year, a bibbed, tiered-skirt dress with long sleeves, belying the southern French heat, for daytime events. While she favors looks by Dior, for whom she's a brand ambassador and the face of Lady Dior, as well as a front-row regular at the house's shows, she has also been spotted in Delpozo, Filles à Papa, and J.W.Anderson.
When it comes to beauty, Cotillard often opts for dark smoky eyes and hair styles of all variants—ranging from a beehive updo and beachy waves to the rare bleach-blonde 'do. A dark red lip can occasionally appear, particularly paired with her more glamorous red carpet looks. The gold Dior gown she wore at last year's festival for the premiere of From the Land of the Moon met its styling match in a mulberry lip, a sleek updo, and a shimmering nude eye; a strapless black Dior gown she selected for the It's Only the End of the World premiere was paired with kohl-rimmed eyes and a nude lip.
And, sure, Cotillard is something of a style icon beyond the borders of Cannes—but the festival brings her eclectic style into focus, offering an endless number of photo opportunities and different events at which she can showcase her looks. (In addition to the limitless premieres—this year, Cotillard has her own Ismael's Ghosts opening the festival—there's also, for example, the amfAR gala towards the end of the week and several other regular fetes.) The festival matches her iconoclastic red carpet style to an equally cheeky attitude. She's not cool; she transcends cool. "French girl style" or "Parisian chic" have become an easy analogies for the effortless, décontracté look of women like Caroline de Maigret, Aymeline Valade, Lou Doillon and Charlotte Gainsbourg, and Vanessa Paradis—but Cotillard's looks offer something even more, with their disregard for conventional silhouettes and odd pairings that shouldn't, and perhaps don't, work, yet somehow they do.
At this year's Cannes festival, jurors Jessica Chastain and Maren Ade, actresses Charlotte Gainsbourg, Lily-Rose Depp, Elle Fanning, and Naomie Harris, and models like Bella Hadid (who had a red carpet moment of her own at last year's festival that catapulted her into the spotlight), have already made their way onto the red carpet. Cotillard joined them in a lace-up minidress with a long pinstriped overlay, a peculiar silhouette that echoed the Stella McCartney look she wore to premiere Allied late last year. Marion Cotillard is never predictable, always down to experiment—and at Cannes, she's those things above all.
Marion Cotillard Radiates Elegance on the Red Carpet – Like Only a French Actress Can
Marion Cotillard attended the 2007 LA Film Critic's Choice Awards fresh faced with a subtle smoky eye, a berry lip and her hair pulled back in a simple bun.

Getty Images
At 80th Annual Academy Awards in 2008, the French actress took home her first Oscar for her leading role in La Vie En Rose — and wore a shimmery eye and rosy checks for the occasion.

WireImage
With shiny tousled locks and a heavy smoky eye, Cotillard looked sleek and effortless at the premiere if Nine in 2009.

WireImage
Cotillard wore her hair in a playful up do at the 19th Annual BAFTA Los Angeles Britannia Awards in 2010.

FilmMagic
At the premiere of Contagion in 2011, the actress wore her hair up in a French braid.

WireImage
The natural beauty wore her brunette locks loosely pinned back and kept her makeup simple at the De Rouille et D'os photocall during the 65th Annual Cannes Film Festival in 2012.

WireImage
Cotillard shined at the The Immigrant Premiere during the 66th Annual Cannes Film Festival in 2013 with her short locks swept behind, a subtle smokey and a neutral lip.

WireImage for Electrolux
The actress attended the premiere of The Immigrant in 2014 with blunt bangs, a smoky eye and nude pink lip.

WireImage
Staying true to her signature look, Cotillard kept it simple at the Macbeth premiere at the Cannes Film Festival in 2015.

WireImage
Cotillard stunned at the premiere of her newest film Allied in 2016 with swept over locks, a nude smokey eye and a pink lip.

FilmMagic
Cotillard steps out at the Cesar Revelations 2018 Party in Paris with her freshly dyed locks and a bold maroon red lip.

Getty.
Marion Cotillard is fully aware she would make a bad spy, unlike her Allied character: