Natalie Portman & Julianne Moore Clash in May December Trailer
Todd Haynes' buzzy dark comedy tells a tale of obsession loosely based on the Mary Kay Letourneau story.
---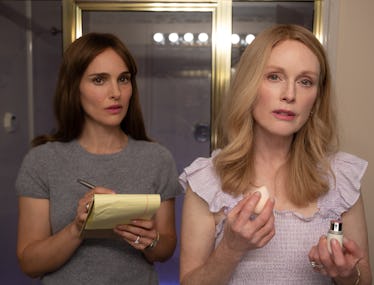 Cr. Francois Duhamel/courtesy of Netflix
Julianne Moore and Natalie Portman face off in the latest teaser for Todd Haynes' upcoming film, May December, the Netflix-acquired Cannes breakout with several meta layers of complexity. The project follows a pair of women (Moore and Portman) whose personal and professional lines begin to blur as they work together on a movie based on a painful, real-life May-December romance.
It's a complicated story, born of a Black List-touted script by Samy Burch that's generated buzz since its Cannes premiere. Here's everything to know about May December:
What is the May December plot?
Per an official synopsis: "20 years after their notorious tabloid romance gripped the nation, Gracie Atherton-Yu (Moore) and her husband Joe (23 years her junior) brace themselves for their twins to graduate from high school. When Hollywood actress Elizabeth Berry (Portman) comes to spend time with the family to better understand Gracie, who she will be playing in a film, family dynamics unravel under the pressure of the outside gaze. Joe, never having processed what happened in his youth, starts to confront the reality of life as an empty-nester at 36."
May December is indeed loosely based on the late Mary Kay Letourneau, the former teacher who made national headlines after she was jailed for sleeping with her 6th-grade student in 1997, whom she later married. In the film's first trailer (below), Moore's Gracie speaks with a lisp—a choice that Haynes says was a direct callout to Letourneau. "Mary Kay Letourneau has this fascinating sort of lazy tongue," he told the Daily Beast. "That's the source of the lisp. So, there were things that were really helpful about the specificity of Mary Kay Letourneau, who was quite a different character than Gracie."
Who is in the May December cast?
As noted, Portman and Moore are the stars of the film, while Riverdale breakout Charles Melton plays Joe. The film is also the latest collaboration between Haynes and Moore, who have previously worked together on Safe, Wonderstruck and Far From Heaven. It's Portman's first time working with Hayes and marks her return to a meaty character role; aside from Thor: Love and Thunder Portman has been relatively quiet on the film front since 2018's Vox Luxe.
May December could also prove to be a breakout moment for 32-year-old Melton, a fan favorite on the recently completed, long-running campy soap Riverdale who has also had spots on series like American Horror Story and Poker Face. The cast is rounded out by Piper Curda, Elizabeth Yu, and Gabriel Chung, who play Moore and Melton's children.
Is there a May December trailer?
The first full trailer for May December dropped September 26. The clip shows Elizabeth (Portman), a Hollywood actress, meeting with Gracie (Moore) and Joe (Melton) at their home, as she prepares to portray Gracie in a film. As she gets to know the infamous couple, she digs deeper into their relationship, asking them to recall when they first met. It's then we learn that when their romance began, Joe was in the seventh grade, and Gracie was his 36-year-old teacher. As the clip continues, Elizabeth's presence starts to rattle the reality that Gracie and Joe have settled into, causing them to rethink their relationship and its origins.
Watch the trailer below:
When is the May December release date?
May December will premiere in select theaters on Friday, November 17 before streaming on Netflix on Friday, December 1.
This article was originally published on