Megan Thee Stallion to Conservatives: Thanks for the Streams
The conservative milieu had to listen to "WAP" before they could respond with so much negativity. Megan Thee Stallion thanks them for the streams.
---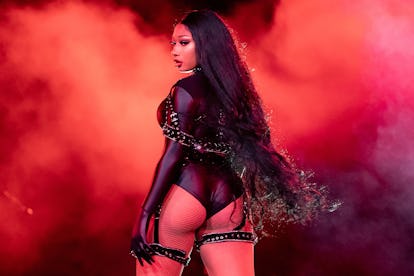 Photo courtesy of Getty Images.
The year has not yet come to a close, but the war on "WAP" can finally be laid to rest.
Megan Thee Stallion, one half of the rappers behind the controversial song of the summer (the other half being, of course, Cardi B), knows that the sexually explicit nature of the song irked some conservatives. Right wing commentators like Ben Shapiro and Candace Owens openly slammed the song's lyrics, suggesting that the "p-word" in question should never be rapped about by anyone, let alone these two women.
Well, from the moment they teased their single with just a glimpse at the cover, we knew whatever Megan Thee Stallion and Cardi B had in store was going to be instantly iconic. And iconic it was—no other music video released this year seems to have sparked the conversation and controversy that "WAP" initiated when the rappers dropped the video on YouTube (the clean version) in August. The song debuted at the top of the Billboard Hot 100 and you'd have to be living under a rock to not have memorized at least some of those lyrics by now.
During an appearance on The Late Show with Stephen Colbert, Megan Thee Stallion spoke to the host about the republican backlash to her song. "I feel like that was a little weird. I know the Republicans have been having a bad year and they probably needed to take their frustration out somewhere," she said. The musician then went on to thank them for their service, because if they hadn't been talking about the song as much as they had, who knows if the song would have received as many streams and downloads as it did. "I want to tell them, 'Thank you for the streams because, without you, I don't know if we would've been here,'" she laughed, and added, "Them people crazy."
In order to criticize the lyrics of the song and its accompanying video, the members of the conservative milieu had to click play, right? Seems like Megan Thee Stallion and Cardi B are the ones with the last laugh here, all the way to the bank.
Related: The Best Beauty Moments in Cardi B and Megan Thee Stallion's "WAP" Video