Meghan Markle Sparkles in Gold At Her First Public Appearance With Harry This Year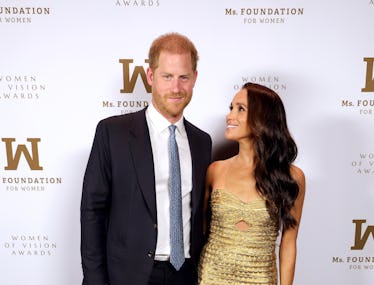 Kevin Mazur/Getty Images Entertainment/Getty Images
Meghan Markle and Prince Harry returned to the red carpet on Tuesday night, stepping out for their first major public appearance of the year together. The Duke and Duchess of Sussex were joined by Meghan's mother, Doria Ragland, as well, for the Ms. Foundation 2023 Women of Vision Awards: Celebrating Generations of Progress & Power, where Meghan was recognized as one of this year's Woman of Vision Award honorees.
For the first time since December 2022, Meghan and Harry walked the step-and-repeat arm in arm, posing for photos with Ragland, as well as Gloria Steinem. For the occasion, Markle wore a gold jacquard dress from Johanna Ortiz featuring a keyhole cutout. Per usual, the Duchess kept the styling very simple, pairing the dress with gold strappy Tom Ford heels and very minimal jewelry. Harry, meanwhile, wore a simple navy suit with a white shirt and blue tie, keeping the focus on his wife, the star of the evening.
During the event itself, Steinem spoke about Meghan, praising the Duchess' "global advocacy to empower and advocate on behalf of women and girls." Meghan then spoke to the guests, recalling her childhood when she would come home after school and read Ms. "Having these pages in our home, it signaled to me that there was just so much more than the dolled-up covers and the images that you would see on the grocery store covers," she said. Meghan went on to encourage others to be "the visionary of your own life," as she spoke about the importance of becoming an advocate.
"It's just never too late to start," she said. "You can charter a path in which what you repeat in your daily acts of service, in kindness, in advocacy, in grace and in fairness, that those become the very things that are recognized by the next wave of women, both young and old, who will also choose this moment to join the movement and make our vision for an equitable world reality."