Mia Goth Is Not Your Average Scream Queen
The Pearl star on the highs and lows of acting, and how she's learned to love horror.
Interview by Lynn Hirschberg
Photographs by Jamie Hawkesworth
---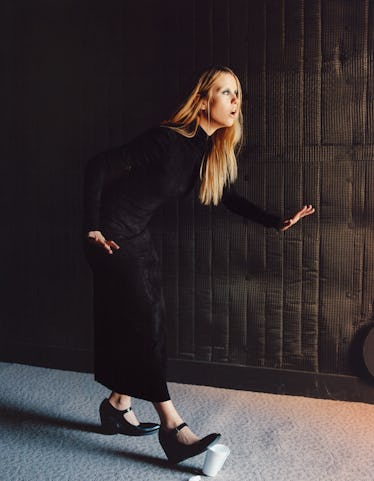 Mia Goth wears a Ferragamo dress; Prada shoes.
At the start of 2022, Ti West's film X received accolades as one of the best new-wave horror films of the year. So when news broke that Pearl, the prequel to the A24 slasher film would be released just a few months later, fans were thrilled. Cowritten by and starring Mia Goth, Pearl not only met the expectations of its predecessor but allowed the British actress to showcase her full acting abilities. Her shrill screams paired with her naturally high-pitched voice—not to mention a several minutes long monologue—made her a viral phenomenon while securing her spot among the ranks of this generation's top scream queens (despite the fact that she actually doesn't care for horror movies that much).
Are you a fan of horror films? Pearl is extremely scary.
It's not particularly a genre that I've gravitated toward in my life. I've done quite a few horror movies, and that really wasn't the plan, necessarily. But I find that I've been given opportunities within this genre to explore interesting characters.
Are you good at screaming?
I think I am actually. I have such a naturally high pitched voice. I find it's quite nice to be able to become unhinged like that.
When you were growing up, who was your cinematic crush?
My mum would always have the latest magazines, and I remember Ben Affleck being on a cover. I was 7 or 8, and I couldn't take my eyes off it. I was looking and dreaming.
What was your best birthday?
I was filming High Life with Claire Denis, and it was my last day of shooting, which happened to be my birthday. It was also the day where my character broke into the spaceship, became spaghetti-ized, then exploded and became a part of the universe. That was a pretty cool day.
Did you always want to be an actress?
Yes and no. I grew up with my grandma for a while in Brazil, and she's an actress there. And I saw firsthand the highs are really high, but then also the lows can be really, really low. And I saw her struggle, and I think that really stuck with me, you know, for life really. With everything I try to do in my life, I'm just trying to feel safe at all times, and being an actor, it always feels like such a fluke. You just feel like it's always just going to be taken from you at any minute. Whenever I finish a job, I'm certain I'm never gonna work again.
Hair for portfolio by Anthony Turner at Streeters; makeup for portfolio by Lucia Pica for Byredo at Art Partner. Senior style editor Allia Alliata di Montereale; senior fashion market editor Jenna Wojciechowski. Manicure for portfolio by Michelle Saunders. Set Design by Gille Mills at 11th House.
Produced by Connect the Dots; executive producer: Wes Olson; producer: Zack Higginbottom; production manager: Nicole Morra; photo assistants: Cecilia Byrne, Jack Buster, David Gurzhiev; retouching: Simon Thistle; fashion assistants: Julia McClatchy, Tori López, Jacqueline Chen, India Reed, Nycole Sariol, Derek Ezra Brown, Karla Garcia, Rosa Schorr; production assistants: Khari Cousins, Tchad Cousins, Kelsey Swope Romero, Mateo Calvo, Juan Calvo, Rayon Pollard, Gina York, Peter Ditzler, Nico Robledo; hair assistants: John Allan, Dylan Michael, Ramdasha Bikceem, Malika Palmer; makeup assistants: Kate O'Reilly, Lilly Pollan, Bailee Wolfson; manicure assistants: Pilar Lafargue and Victoria Valenzuela, Jolene Brodeur; set assistants: Cory Bailey, Dirk Knibbe, Joel Garcia, Matt Day; tailors: Irina Tshartaryan, Ripsime Vartanyan at Susie's Custom Designs, Inc.