Steven Spielberg Reunites Michelle Williams and Paul Dano in 'The Fabelmans Redux'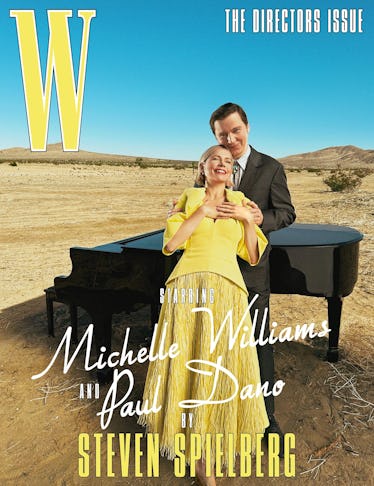 Williams wears a Bottega Veneta dress, earrings, and shoes. Dano wears a Brunello Cucinelli jacket, shirt, and pants; Vicki Turbeville bolo tie; John Lobb shoes. Directed & photographed by Steven Spielberg. Director of photography: Janusz Kaminski. Production design by Rick Carter. Styled by Mark Bridges and written by Lynn Hirschberg.
When Steven Spielberg was a child growing up in Arizona, his father, who was an electrical engineer, came home from work with a small transistor. "This," his father said to Steven, "is the future." Spielberg looked at the transistor and then quickly swallowed it. "I swallowed the future!" Spielberg told me, sounding gleeful. We were in his Southwestern-style, haciendalike offices on the Universal Studios lot in Burbank on a chilly winter day. He was wearing a brown sweater under a leather flight jacket, corduroy pants, and sneakers. Although he is 76, Spielberg has the infectious bounce and enthusiasm of a happily engaged teenager. He is the most important filmmaker in the world, having directed so many classic movies that it's easy to forget some: Among others, there is Jaws, E.T., Raiders of the Lost Ark, Schindler's List, Saving Private Ryan, Jurassic Park, The Color Purple, Lincoln, and, most recently, The Fabelmans, which was nominated for seven Academy Awards, including Best Director.
Despite all his accomplishments and accolades, Spielberg is not lost in an air of greatness. "I probably swallowed the transistor to get a laugh," he said, fully in sync with his younger self. "But beneath the laugh, there was probably a desire to get some control over my dad." Spielberg paused. "And maybe some control over the future!"
The scene of little Steven swallowing the transistor does not appear in The Fabelmans, but it could: The film is the story of his early life as an aspiring filmmaker and his relationship with his parents. A few days before our conversation, he was on set for W in the desert in Lancaster, an hour and a half outside of Los Angeles. His family was there too—in spirit, anyway. For The Fabelmans, Spielberg cast Michelle Williams as his mother, Paul Dano as his father, Seth Rogen as his father's best friend—who eventually becomes his stepfather—Julia Butters and Keeley Karsten as his younger sisters, and Gabriel LaBelle as his younger self. In the film, the names have been changed, but the story remains the same. And the story is very personal.
Spielberg had planned those desert scenes as a kind of reunion: The film family was dressed as versions of their movie alter egos. "Mamaleh," Spielberg said in Yiddish to Williams when she arrived. He hugged her. Dano was walking up behind her, wearing the square horn-rimmed glasses that he has in the film. He and Williams embraced. Spielberg explained that the first shot would be of the entire family trying to push their stuck car to a family picnic. "In some ways," Spielberg said later, "this would be the perfect version of my family, working together toward a common goal."
Lynn Hirschberg: How did you conceive The Fabelmans?
Steven Spielberg: I didn't know if Covid was going to be an extinction-level event. I wasn't sure whether the film Contagion was, in fact, art becoming life. I got extremely worried as the death toll rose daily and as my family [Spielberg has seven children and is married to the actor Kate Capshaw] came home to live in their old rooms. I was happy they were safe and protected, but I wasn't sure that the world would find a vaccine. I started to think, If I had a chance to make only one more movie, what would that be? And the answer came as easy as taking the next breath: It would be the story of how my mom and dad got divorced, and my role in that. Just like that.
LH: Did the lockdown affect your filmmaking?
SS: I was so nervous. I had no daily routine, as I usually do, so I would drive to normalize what was no longer normal. I drove to Universal, which was closed, and I'd say, Oh good, it's still there. I went to all the places where I had lived: my college apartment, my old house in Laurel Canyon. I was already fishing in the past. The Fabelmans came out of those drives. I started writing with Tony Kushner [the award-winning playwright of Angels in America and Spielberg's frequent collaborator]. We'd been talking about my life in dribs and drabs. We wrote the script in eight weeks, working only three days a week, three hours a day, over Zoom.
LH: What was it like to see your cast as your family?
SS: It was cathartic. We re-created the house I grew up in from blueprints and photographs, and we matched it exactly. I stepped into my childhood home! I wanted to ask everyone to leave me alone in the house, but I didn't do that. I wanted to have a good cry, but I didn't want to cry in front of my entire crew and cast on the first day of interior shooting. Instead, I turned around, and there was Paul looking like my dad and Michelle looking like my mom, and I just broke down. Paul and Michelle came over and hugged me, and I will never forget that moment: The family was forged in those few seconds.
Filmmaking has been the key to Spielberg's entire worldview. He thinks cinematically. "I've always believed that the camera is a window into the world," he told me as we stood next to his longtime cinematographer, Janusz Kaminski, in the desert. "The camera is the way I can work out my problems. It's also a way I can work out your problems, without even knowing you have a problem that needs to be worked out!"
Kaminski laughed. He handed Spielberg a cigar, which Spielberg likes to hold as a worry stick to calm his nerves (he stopped smoking cigars back in 2000). The two have been working together since Schindler's List, the 1993 film for which both won Academy Awards. They have a deep, familial bond. Spielberg has always watched up to five movies a week and many television shows, and he first noticed Kaminski's work on a TV movie directed by Diane Keaton. "Steven is open and generous and always supportive of other filmmakers," the director Paul Thomas Anderson told me. "He is still a fan, and it makes the rest of us feel seen by the Master." Spielberg attended a preview screening of Hard 8, Anderson's first feature, and immediately sent Anderson a handwritten congratulatory note. Greta Gerwig told me a similar story after the release of Lady Bird, her solo directorial debut; there are dozens of such anecdotes.
Spielberg set up the second shot for the W story: A grand piano was placed in the desert, and Williams appeared in a beautiful Bottega Veneta yellow gown. "I love this dress," Spielberg exclaimed. He positioned her at the keyboard, quietly arranging her fringed skirt on the shiny black piano bench. A small crew was raking the desert to achieve smooth, carpetlike sand. The sun was perfect. Spielberg snapped the photo on his iPhone as Williams remained in character, swaying slowly to music that only she could hear.
Spielberg then added Dano to the scene. Williams sat on the piano, taking off her gold shoes while Dano played. Even though they divorced, Spielberg's parents remained close until the end of their lives. (His mother died in 2017, at 97, and his father died of natural causes at 103, in 2020.) Throughout Spielberg's youth, his father was hesitant about his son's burgeoning movie career, but Spielberg's mother supported him from the moment he created his first films, when he was a teenager.
SS: I was never looking for a safe life. And I don't think my mom was looking for a safe life. My mom took tremendous chances with her heart and the hearts of the people she cared about most, her family. And I took great chances too.
LH: Your first job was directing Joan Crawford in an episode of Night Gallery, and you put the camera in the floor!
SS: I didn't care about getting another job. I knew I would eventually work again, but I didn't work for a year because of my clever camerawork on that show. I did jump cuts, shots through the chandelier, all kinds of great shots. I didn't care if it cost me work; I just wanted to do what I thought was right for that show.
LH: And then, after a few critical successes, you made Jaws, when you were 26.
SS: I never would have guessed that so many people would have gone to see Jaws. In my mind, the shark looked dumb. When I went to the first preview, in Dallas, and people were screaming and popcorn was flying at the screen, my first feeling was—Oh my god! I didn't think any of this was going to work. The truth is, you never ever know.
Back in the desert, Spielberg assembled the family by a classic '60s television console. LaBelle and Dano were separated from Williams and Rogen; but Spielberg, using his cinematic expertise and the reflection on the TV screen, was able to capture everyone in the camera, without any photographic additions. It clearly made him happy. "I love this shot," he said. "It's pure. We're so used to things being tricked out."
"When I was younger, I would actually listen to my camera," Spielberg told me later. "I would wind it and listen to it at night. I would open up the camera and smell the emulsion. I used to love that odor—it was the smell of the business that the film did for me."
LH: Do you fall in love with certain shots?
SS: There's a scene in The Fabelmans where young Sammy projects his film on his palms. There's nothing more intimate than running something on your hands. When I was a kid, I'd push the camera right up to the wall and lie on my stomach to study the image. It was so clear when I was that close. During Fabelmans, I had to retain my objectivity, and that was difficult. Subjectivity is a filmmaker's greatest enemy, and I always try and stay in the mind of the audience, or the characters—but never too far away from either. That takes some distance, and with this film, there were some scenes where I was reliving trauma—an instant replay of something that happened when I was 16 years old. Often it would take me five minutes or so to collect myself. I'd tap Janusz on the shoulder, and he'd know that I'd need a moment to compose myself.
Michelle Williams was summoned to a Zoom call with Spielberg during the Covid lockdown. "He asked me to play his beloved mother," she said. "I'll never forget that moment." Williams and Spielberg now have a unique bond, forged through his vivid memories and Williams's enthusiasm for his mother's story. In another vignette for W, the family was united over a picnic. "This is the fantasy idea of The Fabelmans," Spielberg explained. "The entire family together, including people who would separate us." It looked beautiful. If anyone can create a perfect world out of emotional chaos, it's Spielberg.
"I really believe," he said, "that when the sky falls, it doesn't have to be the end of the world. It can be the beginning of a whole new world. A lot of ideas happen when the sky falls. In fact, I always hope it falls on my head."
LH: Would you ever make a sequel to The Fabelmans?
SS: I never say never, but I don't know what to do next. I was so emotionally invested in The Fabelmans, I left a vast body of water between myself and the next project. I didn't plan ahead at all. I haven't found my passion. And I can't work without passion. I won't.
As the W shoot wrapped up, Dano was throwing a baseball with LaBelle. It was an odd moment, because it had no reference point in The Fabelmans. Or maybe it did: A father and son playing catch has a certain simplicity—it's an easy kindness that evokes the happiness of childhood. Spielberg watched them toss the ball back and forth. "I just love this," he said finally. "I'm having a great day. I'll be sad when it's over."
Producer to Steven Spielberg: Kristie Macosko Krieger. Assistant to Steven Spielberg: Brittani Lindman. Assistant to Kristie Macosko Krieger: Emma Molz. Senior Style Editor: Allia Alliata di Montereale. Senior Fashion Market Editor: Jenna Wojciechowski. Hair by Edward Lampley for Oribe at CLM; makeup by Kuma for Surratt Beauty at Streeters; manicure by Rachel Messick at Celestine Agency. Michelle Williams's hair by Chris McMillan at Solo Artists; makeup by Angela Levin for Chanel Beauty at Tracey Mattingly. Set design by Gille Mills at 11th House.
Produced by Hudson Hill Production; executive producer: Wei-Li Wang; producers: Hayley Stephon, Anna Blundell; key grip: Miguel Benavides; best boy grip: Johnny Ziello; grip: Jason Younger; gaffer: Brian Bartolini; best boy electric: Jordan Lapsansky; set lighting technician: Lou Ramos; digital imaging technician: Joshua Gollish; director production assistant: Garrison Brewer; stake bed driver: Spencer Samson; fashion assistants: India Reed, Karla Garcia, Chris Chidi, Jacqueline Chen; production assistants: Meredith Brezovsky, Gigi Rosenfield, Christian Paritee, Alan Bell, Nico Marti, Mike Lai, Josh Crane, Terrell Carr, Keon Morgan, Jay Hercules; location manager: Beau Bright; retouching: Dtouch London; hair assistants: Maliyah Puerto, Carter Thomas; makeup assistant: Bex Marie; set design assistants: Sala Johnson, Nick Buzzerio, Kevin Carneiro, Matt Day; tailors: Irina Tshartaryan, Alvard Bazikyan at Susie's Custom Designs, Inc.