Michelle Williams Plays the Cool, Complicated Mom
Interview by Lynn Hirschberg
Photographs by Jamie Hawkesworth
---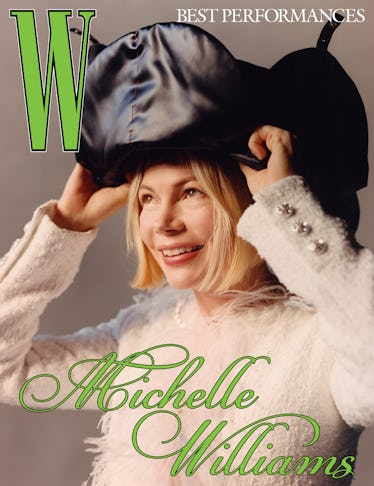 Michelle Williams wears a Chanel jacket; Maison Margiela Artisanal by John Galliano hat; Messika Paris necklace.
Steven Spielberg has asked Hollywood's biggest talents to play Presidents, pirates, spies and Dinosaur hunters, but he's only asked one to play a character inspired by his one mother. In The Fabelmans, Spielberg's semi-autobiographical coming-of-age film, Michelle Williams plays Mitzi, the family's piano-playing, monkey-owning matriarch based on Spielberg's own. It's a performance that's won Williams rave reviews and a Golden Globe nod since the film's premiere at the Toronto International Film Festival back in September, and could very likely net the actress her fifth Oscar nomination.
How did the part of Mitzi Fabelman come to you?
I got a text saying that Steven Spielberg wanted to get on a Zoom with me. It so shocked me. I couldn't speak, and I just sort of showed the phone to my husband [director Thomas Kail] so that he could confirm that it said what I thought I had read. Then we jumped, and we cried, and we laughed, and we wondered, and then we Zoomed.
In The Fabelmans, you are, essentially, playing Steven Spielberg's mother.
He didn't really say that outright [at the beginning]. So I asked him, 'For clarity's sake, if I'm understanding correctly, you are asking me to play your beloved mother?' And he said, 'Oh yeah.' One of the things that I loved most was that they gave me a track of Steven's mother laughing through the years. When she laughed, she collapsed into people. Before every take, I would go back to her laugh track. And then I'd have this euphoria running through my body.
She had a pet monkey, which you also have in the film.
Crystal! What a scene partner! The room was sort of hushed and I was led in to meet Crystal. I asked her trainer, 'Is there anything she can't do?' And he said, 'There's nothing this monkey can't do.' She picks stuff out of your ears and hair, which is a little embarrassing. And she taught my baby how to give a high five! She also recognized that Steven was in charge. She knows who's the boss.
Do you miss playing that character?
When we finished our last scene, I wept. I have never cried that hard about a role. It unsettled people. They kept asking if I was okay.
Have you ever had your "I've made it" moment?
Honestly, every time I come back to Los Angeles. I live in New York, so I'm just a visitor here. I spent a lot of time here as a very young woman. I would drive around in my car to one, two, or three auditions a day. I heard 'no' over and over and over and over again. It was such a lonely, empty time for me. Every time I come here now, I'm here for work. I am just hit by how fortunate I am, and how much distance I've crossed.
Hair by Anthony Turner at Streeters; makeup by Angela Levin for Chanel at Tracey Mattingly. Senior style editor Allia Alliata di Montereale; senior fashion market editor Jenna Wojciechowski.
Produced by Connect the Dots; executive producer: Wes Olson; producer: Zack Higginbottom; production manager: Nicole Morra; photo assistants: Cecilia Byrne, Jack Buster, David Gurzhiev; retouching: Simon Thistle; fashion assistants: Julia McClatchy, Tori López, Jacqueline Chen, India Reed, Nycole Sariol, Derek Ezra Brown, Karla Garcia, Rosa Schorr; production assistants: Khari Cousins, Tchad Cousins, Kelsey Swope Romero, Mateo Calvo, Juan Calvo, Rayon Pollard, Gina York, Peter Ditzler, Nico Robledo; hair assistants: John Allan, Dylan Michael, Ramdasha Bikceem, Malika Palmer; makeup assistants: Kate O'Reilly, Lilly Pollan, Bailee Wolfson; manicure assistants: Pilar Lafargue and Victoria Valenzuela, Jolene Brodeur; set assistants: Cory Bailey, Dirk Knibbe, Joel Garcia, Matt Day; tailors: Irina Tshartaryan, Ripsime Vartanyan at Susie's Custom Designs, Inc.