Miley Cyrus Shows Off Two Looks, One Boyfriend in One Night as She Celebrates Her Album Launch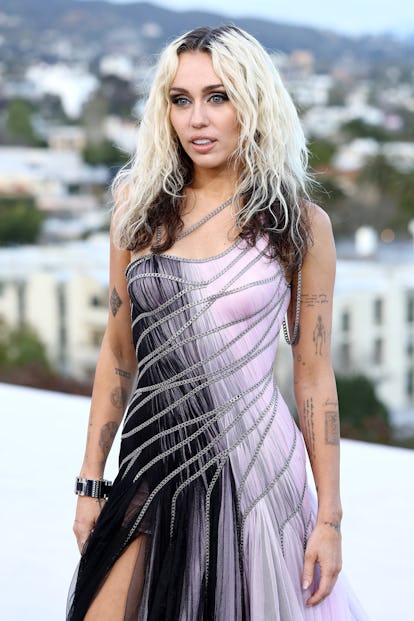 Arturo Holmes/Getty Images
Miley Cyrus had quite the evening on Thursday night ahead of the release of her eighth studio album, Endless Summer Vacation. There was a runway show to attend, a party in her honor, a boyfriend to tote around. Of course, she managed to tackle it all with ease, as well as with style.
The evening began at the Versace fall/winter 2023 fashion show which, lucky for Cyrus, took place in her backyard of Los Angeles for a change. This allowed the singer the chance to attend the show during what had to be a busy night. Despite wearing a just-debuted Atelier Versace dress featuring black and pink tulle and a bodice decorated with crystals, Cyrus opted to skip the red carpet, and head right to her seat to enjoy the show atop West Hollywood's Pacific Design Center. While there, she caught up with family friend Lil Nas X, as well as Elton John, but when they presentation was over, Cyrus was off, en route to her next event of the night.
Next up was an album release party, hosted by Gucci at their Osteria with chef Massimo Bottura in Beverly Hills. The singer was joined at the event by Baz Luhrmann, Daisy Edgar Jones, Adam DiMarco, and more stars. Cyrus pulled a quick change before arriving at the restaurant, trading out her Versace for a black sequined Gucci mini dress with a green faux fur coat. The singer also carried a silver version of the reissued 2003 horsebit clutch, which played a large role in the brand's latest collection.
Cyrus' boyfriend, Maxx Morando, joined her throughout the night, at both the Versace show and Gucci party. The pair have been dating since late 2021, but continue to keep a low profile, rarely walking the red carpet together, and keeping their relationship very much off-line. Morando, though, can always be seen in the background, supporting Cyrus, which is exactly what he was doing on Thursday night. The 24-year-old, who is also a musician, dressed simply for each separate occasion, swapping a black velvet Versace suit for a blue velvet Gucci, seemingly sticking with the same white t-shirt and sneakers as a base.
Likely, Cyrus partied into the evening, possibly staying up to check out the album's reviews as they rolled in on Friday morning. So far, they're shaping up to be pretty positive, with Variety calling Endless Summer Vacation, "one of her most enjoyable albums." Cyrus has been reinventing herself from album to album from her days as Hannah Montana to Can't Be Tamed to Bangerz. This one, though, doesn't attempt to usher in a new era, but seemingly represents an amalgamation of everything she's been through. "There are moments of perfect, on-trend radio pop blended with country, psychedelic rock, and Eighties synths," Rolling Stone wrote. "The final result is a powerful artistic statement, focused and clear-eyed as Cyrus seems to have found herself in her thirties." If the success of "Flowers" is any indication, the tracks of Endless Summer Vacation will be everywhere in no time, ready to usher us through spring and into actual summer vacation.