Miley Cyrus is a West Coast Patrick Bateman in Her New 'Flowers' Music Video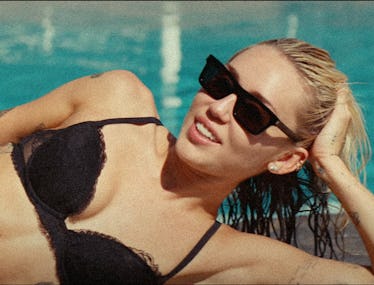 YouTube/Miley Cyrus
Where to begin with Miley Cyrus' latest single, "Flowers"? It's an anthem of self love, of course, but also of her love of swimming, as the accompanying music video—which also dropped on Thursday—features the singer's third foray into water in recent years. It's a bit of a jab at her ex, Liam Hemsworth, but also an ode to a sort of modern, West Coast Patrick Bateman. It's a Saint Laurent-fueled entrance into her new era.
We meet Cyrus on a bridge in Los Angeles, in a shot shared as a teaser image for the song and music video. Cyrus wears a golden Yves Saint Laurent fall/winter 1991 dress, a hooded number draped over her, while still leaving her midriff exposed. In case the timing of the song's release didn't give away who the track is about (January 13th, Hemsworth's birthday), its lyrics did. "Built a home and watched it burn," Cyrus sings at the end of the first verse, seeming to directly reference the 2018 Woolsey fire, which destroyed the Malibu house she shared with Hemsworth.
From there, the track takes a familiar turn. "Flowers" reportedly samples Bruno Mars' "When I Was Your man" and many of the lyrics mirror that of Mars' 2012 song. Fans of the singer have claimed that Hemsworth once dedicated Mars' song to Cyrus, making its use that much more of a dig at the Australian actor.
Eventually, Cyrus reaches a house, which is when she ditches her golden gown and reveals black lace bra and underwear underneath. She immediately dives in a pool plucked from a David Hockney painting, returning to her aquatic roots established in her music videos for "Slide Away" and "We Can't Stop." After her dip, it's time for a work out session. Suddenly, Cyrus is the star in a gender-swapped American Psycho, recreating her own version of the film's iconic morning prep scene.
It's fitting, then, that Cyrus' next outfit change features an '80s style oversized suit, courtesy of Saint Laurent's fall/winter 2022 collection. In what is arguably the best scene of the video, Cyrus breaks out dancing to her chorus in a stark, modern room overlooking the pool and Los Angeles. And what is that in the corner? Ludwig Mies van der Rohe's Barcelona chair, seen also in Bateman's similarly cold and modern Upper West Side apartment.
The video ends with Cyrus dancing on the roof of the home, and while the sun has set on Los Angeles and the singer's solo party, the new era of Miley has clearly just begun.