The Musicians Using Fashion as a Platform for Radical Self-Expression
Established icons like Róisín Murphy, cult stars like Planningtorock, and up-and-comers like Oracle Sisters open up about sound, style, and creative revelations.
---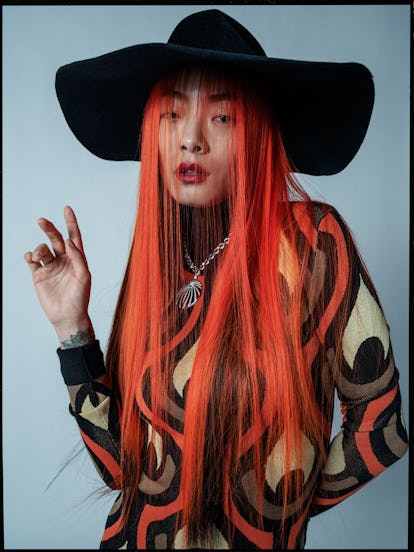 RINA SAWAYAMA
You released a debut EP back in 2017 addressing issues of family, race, and identity. Your debut full-length album, Sawayama, out this year, reprises those themes. How do you identify yourself?
I am a queer recording artist based in London and born in Japan. I moved to England when I was five and have lived here ever since. I make alternative pop music.
How did you experience gay culture in London?
Growing up, my queer friends were gay men, and the confidence I got from gay men really helped me. I've always wanted to explore the idea that confidence is gendered.
What's the difference between fashion and costume?
When you go down the costume route in pop music, you always end up in the same structured leotard look because it accentuates the female form!
What first got you interested in fashion?
The "Bad Romance" and "Telephone" videos by Lady Gaga and Nicola Formichetti. I remember my mind was blown by all the work they did together. I didn't know who Alexander McQueen was until I saw that video. It really captured this incredible intersection between fashion and music. Fashion changes faster than music, so it can help keep music fresh!
Who is your style icon?
Lady Gaga really opened my eyes to queer issues in the United States. She has been a very strong advocate, and I feel her references are very underground New York—both gritty and super high fashion.
COMPUTER MAGIC
Danz
You have been making music for 10 years under different aliases, and your next album, The Absurdity of Human Existence, will be released under a new moniker, Danz CM. But who exactly is Computer Magic, and why the choice of this particular moniker?
I just started making music for fun, and I wanted it to be a mystery and not use my own name. I was watching the movie This Is Spinal Tap, and there's this scene where the characters are playing a video game and one of them says, "Quite exciting, this computer magic!" I thought, Oh, that sounds like a good name! I just stuck with that, as I never expected anybody to ever like my music.
Do you like dressing up?
I'm a really shy person, so being exaggerated with costumes and outfits helps me pretend to be a character and makes performing easier for me. The crazier the outfits, the better I can hide in them!
Did you hang out in nightclubs when you were a teenager?
I had a music blog when I was growing up. When I turned 18 and first moved to New York, I was DJing a lot, and somehow I finagled my way into some clubs. They would happily sneak me in, although I wasn't even old enough to drink. I'd be playing on the Lower East Side, and I remember that sometimes the cops would come and the owner would be like, "All right, Danzy!"—that was my nickname—"Duck down behind the DJ booth!"
What do you do when you're not recording or performing?
I have a Twitch channel where I play Magic: The Gathering. I started doing it for fun, but I thought that wasn't very productive, so I thought I'd stream myself.
CHRISTINE AND THE QUEENS
Héloïse Letissier
Because of your theatrical background, you have always focused on the visual and dramatic aspects of your performance. Why the fangs?
I recently released an EP with six new songs called La Vita Nuova, accompanied by a short film in which I play a vampire. At the beginning I'm bitten, and at the end I bite. I loved this very extravagant character who is reborn and mutates to become someone different after a deep experience of pain.
How would you describe yourself at this point in your life?
I feel like a weird, vulnerable clown.
Who were your earliest influences?
I was obsessed with Gene Kelly. He had a real physicality that was quite earthy.
Do you have a recurring dream?
I do have one. It's almost a bit too meta for the sake of this interview. I'm eating with my family, and there is a phone call and I answer it, and it's my own voice saying my real name three times—Héloïse, Héloïse, Héloïse—and then hangs up. I don't know what it really means, if it's a warning or a reminder. Freud would be very interested.
Who is the literary character with whom you feel the closest affinity?
In Jean Genet's Notre-Dame-des-Fleurs, there is this woman called Divine. If only I could spend my whole life with Divine! She is one of the most moving, flamboyant characters ever created: a creature of the night, passionately in love with men who just torture her, but also the queen of this whole nocturnal scene. She broke my heart and inspired me at the same time.
What is your dream concert stage?
I'm like a gargoyle, so I'd choose Notre-Dame de Paris, particularly right now, because it's really wounded.
GORILLAZ
(From left) Damon Albarn and Jamie Hewlett
You started Gorillaz as a virtual band in 1998. Since then, you've released six studio albums with an ever-changing and -evolving roster of diverse musical artists who perform alongside those infamous animated renegades 2D, Murdoc Niccals, Noodle, and Russel Hobbs. You're launching a new project this year, Song Machine. How do you feel about the state of the music business these days?
The mold has been old for about 10 years. The British are famous for being innovative and original and coming up with new stuff, but there seems to be a bit of a drought lately. We are kind of rehashing everything that has been done again and again, aren't we?
Is there always something apocryphal in your work?
Damon: We started the countdown to the end of the world with Demon Days, in 2005, and then Plastic Beach was another reference to the end of the world. When we put out Plastic Beach, there wasn't a Greta Thunberg or anyone like her. No one was really interested in that sort of thing.
How would you describe the new Gorillaz project?
Jamie: The idea is that we will deliver a new Gorillaz tune once a month, because that's more reflective of the pace that we actually work at. Otherwise, you have to wait six months to release a record, and by the time you do, you have moved on. We're ahead by a couple of months, but we might hit a patch where suddenly we have no ideas, and that risk element makes the project exciting.
How do you think people should experience your music?
Damon: I like the idea of a series, so you have to wait a week or a month for the next episode. When you get a series on Netflix and you binge it in two nights, you don't really remember what you watched!
Who are your favorite animators?
Jamie: It's always going to be Chuck Jones, and Studio Ghibli is fantastic. We don't really like Disney and don't follow DreamWorks. You are never, ever going to beat drawn animation.
A band motto?
Damon: Making it up as we go along.
LIELA MOSS
As the lead singer of the British rock band the Duke Spirit, and now a solo artist in your own right, we're used to seeing you thrashing about onstage in goth black leather. So how would you describe your look in Tim Walker's portrait?
A failed Dolly Parton who ended up baking muffins laced with magic mushrooms.
How do you normally dress?
I like to feel like my shoulders and my arms will cast a great shadow on the pavement when the sun shines, projecting power and flexibility.
Do you enjoy the photographic process?
There are tiny moments of forgiveness and encouragement that make it feel collaborative, but it's more a kind of interrogation of the body, a bit like in a yoga pose, where you are trying to think about the very ends of your fingertips while also considering big muscles and breath and everything else.
Where would your fantasy performance stage be?
It would be great to play deep inside a mountain, deep down in some geological fantasyland of sparkling quartz and stalagmites and stalactites. I would imagine myself playing closer to the center of the earth, to Mother Nature's core.
Who is your style icon?
Patti Smith in those Mapplethorpe pictures. It was always about black and white; it was a minimalism that was so stark and easy and casual.
KELSEY LU
You released your album Blood last year, and have been hailed as one of your generation's most accomplished musicians. But your videos, particularly "Due West" and "I'm Not in Love," suggest that you're an artist for whom visual presentation is of paramount importance.
In my music there are many layers, and while I'm expressing those musical components, style becomes a way of complementing what you're hearing.
How do you experience live performances?
You have to go in with an open mind. Performing in so many different spaces and places around the world is a reminder that everyone is there to release something, and that we are all there for the same purpose. When I step onstage, there is also a release of the unknown for me. No matter how aware I am, I know that I am also channeling something from somewhere else that kind of just speaks for itself.
Where would you like to perform in the future?
I am focusing on the now, but I would love to perform on another planet in another dimension—and maybe I already am!
Whose style inspires you?
I love Alice Coltrane for her natural way of being, but honestly, my biggest inspirations come from nature. Birds have the fanciest, most iconic looks of all time.
THESE NEW PURITANS
(From left) George and Jack Barnett
When did you first decide you wanted to be in a band?
George: I used to draw bands when I was little. I remember drawing one with the Statue of Liberty playing bass and a demonic character playing drums. Maybe that was us!
As twins, do you share the same musical influences?
George: When we were really young, our mum had a tape called The Sound of the '70s. We also loved Sparks; they were brothers too.
How did you come up with your band's name?
Jack: It's almost designed to have to be repeated three or four times until people understand it. In Japan and France, we have to say it literally seven or eight times because it's such a mouthful!
Describe your music.
Jack: Beautiful extremes. Very loud rhythms that can be harsh or brutal in some ways, then moments of real stillness that feel classical and lush.
You've worked with Hedi Slimane, providing music for his 2007 Dior runway show, and you continue to have a close relationship with him. What about him inspires you?
George: We appreciate the singular vision that he carries through in his work. He's not a dilettante, and he's always got this one thing that he's going to pursue with relentlessness.
Who is your style icon?
George: The Pope.
MARIANNE FAITHFULL
Over a long career stretching from your first hit, "As Tears Go By," in 1964, to last year's Negative Capability album, you've been shot by some of the greatest photographers of our time, including David Bailey, Helmut Newton, Terence Donovan, and Steven Meisel. Do you enjoy being photographed?
It was one of the parts of being a little pop singer when I was young that I really did enjoy. I enjoyed being pretty. I think I was a shocking little narcissist, actually! Unbelievable!
As you were growing up, who inspired you in terms of style?
My mother. She didn't have much left after the war, but she did have a suit by Schiaparelli. It was coral and black silk, and she had a whole parure to match: earrings, necklace, brooch, and little half-moons for her hair, all made of wild coral. The next person I got to know who was really stylish was Anita Pallenberg.
Where have you always dreamed of performing?
I would have loved to perform in William Shakespeare's company, in front of Queen Elizabeth I.
A feature film based on your life will go into production this year. What do you think of that?
I never thought it would be made, you know; so many times, people came close. Some good directors would buy the rights, but not for very long, because the scripts they presented were so ghastly and sensationalist and trashy that I would take the rights back! Over my dead body, I said to myself.
Any advice for the actress who will play you?
She just has to be a good actress, and Lucy Boynton is a good actress… I've checked!
PLANNINGTOROCK
Jam Rostron
Is fashion important to you as a genderqueer performer?
It's a big part of communicating my queerness and my identity as a musician onstage. Fashion is a really important language.
You recently collaborated with Chanel on the music for their ready-to-wear show. How did that come about?
Michel Gaubert, Chanel's musical director, has used my music in different ways, and has been very supportive. We met in Berlin last year. We had, like, 10 days to turn it around, so it was very spontaneous, but so much fun!
Did you see the show?
No, but we were messaging while it was happening. So I felt like I was there, watching it live, and I have to say, I cried a bit.
Is there a story behind your name?
I came up with it when I was about 16, because I was quietly making a lot of music on my own, and nobody knew of me, so I thought what I was doing was planning to rock!
You are originally from the U.K. but live in Berlin. What took you there?
It was a happy accident. I went there to do an art project back in the day. It was going to be for six months, and I've been there 20 years. Berlin was where I could really test-drive my music and performance. The club life is very important, and the queer scene is really big there, so I felt really lucky and nurtured. It's still like that. It changes, but it's always very relevant.
Do you have a dream venue to play?
The Royal Albert Hall. I just think that's such an iconic venue, and my Mum and sister would love that.
Who are your style icons?
I really loved Leigh Bowery and Boy George. They were pioneers of queerness in mainstream culture and were so audacious, which I think is one of the most incredible qualities any artist can have.
BOBBY GILLESPIE
You started out as the drummer in the cult British post-punk duo the Jesus and Mary Chain, but truly became a star in the 1990s band Primal Scream. Hits like "Movin' on Up" and "Come Together" defined a generation. How would you describe your most memorable Primal Scream gig?
Back in the day, around about the time of the album Screamadelica, we would book venues like the Brixton Academy or the Empire Ballroom Leicester Square from 9 p.m. 'til six in the morning, and Primal Scream would play with no support bands aside from three or four of the best DJs on the scene, like Andrew Weatherall, the Orb, or Paul Oakenfold. Everybody would be on ecstasy! I knew that we were representative of the audience. There was this cultural energy. We were all together, and we were all one, and it felt like there was some kind of shift in youth culture, and we were part of that shift. This was our time. It was the beginning of the '90s, our version of the '60s—a contemporary, drug-fueled counterculture.
How important are clothes for you?
If you don't have armor that you feel comfortable in, you can't go to battle.
What was the first movie that really made an impression on you?
When I was 14, an English teacher showed us If…, by Lindsay Anderson, and that really spoke to me. It's British, it's about class, and there's a revolution in a school. I saw it just before punk hit, and I could relate to the character of Mick Travis.
Who is the literary figure with whom you have the most affinity?
Jean Genet. He was the ultimate outsider rebel artist.
Who is your style icon?
Johnny Thunders. He was a small guy, and like the Rolling Stones, he could get away with wearing both women's and men's clothes. He had this kind of androgynous look that wasn't overtly feminine, but at the same time he might wear a super-short jacket, like a '50s or early-'60s sharkskin or tonic suit, but underneath he'd have a lace blouse with a little bow-tie thing and a pair of Westwood boots. He had a natural sense of style.
THE BLAZE
(From left) Jonathan and Guillaume Alric
You have had enormous success in your home country, France, and in the rest of Europe with your debut album, Dancehall. However, we hardly ever see photographs of the two of you. Why is that?
Guillaume: As a general rule, we are not really comfortable showing our faces, and that's why we don't often appear in photographs. In our live act, we are always slightly hidden from the audience, because we try to put our music first. We are just an envelope—our faces are of no interest!
What is it about the marriage of music and dance that is so essential to the emotional charge of videos like "Territory" and "Virile"?
Jonathan: Dance is a language of the body. What interests us is that everybody has their own way of moving, something that is very personal. When you see someone dance, when someone really lets themself go, dance can also bring a sense of freedom and a notion of folly. We like to have people dance in our videos because dancing releases deep-rooted feelings in every human being.
What's the perfect setting for a gig by the Blaze?
Guillaume: The first thing that comes to mind is playing just after Jimi Hendrix at Woodstock: eyes closed, dancing, and letting your mind travel!
How do you define sensuality?
Guillaume: Sensuality is about skin, two bodies caressing. It's about gentleness, reassurance, but with a very delicate dash of foolishness. It's something very, very light.
PAUL SIMONON
Did you first become interested in clothes when you were playing bass for the Clash at the beginning of London's punk explosion in 1976?
I grew up on London's Portobello Market, and basically all the clothes that I was given were secondhand, from the market. In the beginning of the Clash, when there wasn't really any money to buy glamorous togs, you had to make do with what was there. Everybody was wearing flares, but in the secondhand stores they only had straight-legged trousers. So flicking paint on them was like making do with what you had. What's that saying about the mother of invention?
You are also an accomplished painter. How do music and painting relate, if at all?
Only in terms of sensibility. In a music situation you are collaborating with other people, but with painting you are collaborating with your mind when it goes into a Zen state. You go into another mental zone, and after an hour you realize, Wow! How did that happen?
Who do you think has style?
I'm quite into the Napoleonic period, which in some ways, I would say, is the height of men's fashion. The hussars! They all looked pretty glamorous, but I suppose they had to because they wanted the other people to join their army. If everyone is walking around in rags, and then suddenly you're being offered this uniform with epaulets and a sort of a cardigan hanging over the edge and whatever, it's going to look pretty glamorous in comparison!
Is there a painter who has great style?
Gauguin had quite a good look. There's that film Lust for Life, where he arrives in red Zouave trousers with a fisherman's jacket and a beret. And Aubrey Beardsley used to wear a pale gray suit with yellow gloves and a pink rose.
ORACLE SISTERS
(From left) Lewis Lazar, Christopher Willatt, Julia Johansen
Can you tell us about the origins of your band's name?
Christopher: We wanted a name that you could put onto a patch on the back of a leather jacket and ride off into the sunset.
How do you collaborate creatively?
Lewis: Chris and I have been writing songs together since we were like 18. We can sit in front of each other, and something is bound to come out after an hour. Julia has a natural intuition for melody, a natural touch on the drums, and a sense of harmony.
Who are your style icons?
Julia: The Beatles. There was something really sharp about the four of them together, but they all had their own individual sense of style. We also love Serge Gainsbourg and Marianne Faithfull, and the way the Clash dressed as a band.
If you could play anywhere, where would it be?
Lewis: In a Gauguin painting, with waterfalls and color everywhere. That would be our ideal musical world.
JARVIS COCKER
You're known all over the world as the frontman for the '90s Brit-pop band Pulp, with iconic songs like "Common People" and "Disco 2000." But your friends know that, aside from singing, you have always loved to dance.
When I was 17, I started going to this really bad nightclub in Sheffield, where I grew up, twice a week because it was the only place to hang out with other people who were into slightly alternative things. When you first step onto a dance floor, you think, What am I gonna do? Everybody is going to look at me if I start moving. But then at some point in the evening, you lose your self-consciousness, and then it's really lovely to feel you are reacting to music in an instinctive way.
Who is your favorite poet?
Richard Brautigan is one of my favorite writers. I recently got a collection of his poetry called Loading Mercury With a Pitchfork, which is a good image to start off with.
With which literary character do you have the most affinity?
There's a passage in The Heart Is a Lonely Hunter where Carson McCullers writes about Mick Kelly, a woman who amuses herself at night by wandering the streets. She likes to sit below a neighbor's window and listen to the radio. One day, Beethoven's Symphony No. 3 comes on, and the way Carson McCullers describes the effect of the music on her is for me the best bit of writing about music ever. I identify with the way that music can transport you out of your immediate surroundings and really conjure images in your mind.
Do you have a recurring dream?
I dream quite often about giant insects. I've had a dream about woodlice that are about the size of a football, and another one where all the panels in the interior of my car crumbled away, and there were all these insects behind them. I'm sure this symbolizes some kind of decay behind the facade of normality.
Whose style do you admire?
I've always thought actors in horror films look good, like Peter Cushing and Christopher Lee, but not when they were playing Dracula; when they were wearing normal kinds of clothes.
What makes you happy these days?
My girlfriend. And making stuff. The first evidence that humans were around is markings on a wall by somebody trying to create something, to make some decoration, something to communicate a feeling. I do think, generally, for us as a species, creativity is really important.
ROÍSÍN MURPHY
You've been at the forefront of underground dance music for over 20 years—both as the singer in the trip-hop duo Moloko and as a solo artist—and you've always had an enviable degree of creative control over your work. But you also have an enduring reputation as a fashion diva! Do you still like dressing up?
I'm an exhibitionist by nature. From a very young age, I used to show off. I used to dress up in a Chinese dressing gown as a child and sit in the window of my bedroom with naked dolls all around me like cherubs, and wave at the cars going by!
Do you like being photographed?
I direct all my videos. I creative-direct everything. So sometimes when I don't know people and they don't realize how strongly I feel about things, that can be difficult!
Are you still inspired by the underground?
I'm an underground queen—that's what they call me!
Who is your style icon?
[The Italian singer] Mina is top of the tree. Have you ever seen those adverts she did for Barilla pasta in the late '60s? The outfits, the camerawork, the sense of the performance, of her silhouette. There are certain performers who only need to move their arm, and the whole atmosphere changes.
What is the most magical venue in which you've ever performed?
I was the first musician to play Shakespeare's Globe Theater, and it was the most beautiful place in the world. Everyone is on the stage with you, and it's open, and it's all wood. The feeling there is something truly special.