How Industry Led Myha'la Herrold to True Love
The breakout star of the acclaimed HBO series and her boyfriend Armando Rivera discuss their unlikely meet-cute.
Photographs by Frederike Helwig
---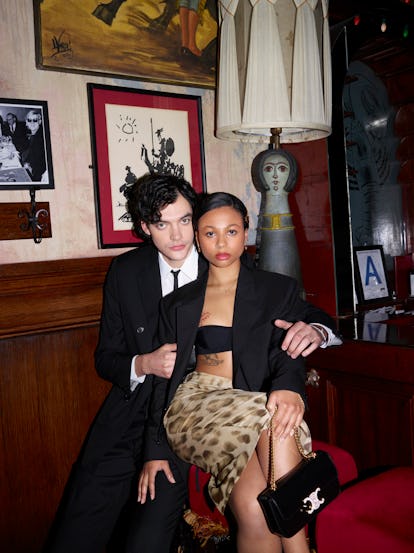 Myha'la Herrold and Armando Rivera wear Celine clothing and accessories throughout.
In November 2020, Myha'la Herrold found herself in a unique position. HBO had just released the first season of its acclaimed series Industry, in which Herrold stars as the striving financial analyst Harper Stern. Almost immediately, the workplace drama found a fan base among a labor force still in lockdown amid the pandemic. Suddenly, the actress, now 26, was being flooded with Instagram followers and messages from fans. Among them was Armando Rivera, then a Bay Area college student, who messaged Herrold as well as Industry's creators Mickey Down and Konrad Kay. "I sent them a DM saying, 'The show is fantastic, I love it. Best of luck in the new year,'" Rivera, 24, recalls. To his surprise they all responded.
The communication would have ended at that but then in December, as part of his final exam for a journalism course, Rivera was tasked with interviewing a celebrity. When his first choice, Stephen Colbert, fell through he decided to send Herrold video messages asking if she might participate. She said yes and the resulting Zoom interview would become a first date of sorts.
Since then, Herrold has starred in 2022's Gen Z slasher-comedy Bodies Bodies Bodies and returned for Industry's second season. Its third season is set to begin production this spring. Later this year she can be seen playing Mahershala Ali's daughter in Netflix's adaptation of Rumaan Alam's dystopian novel Leave The World Behind. The film stars Ethan Hawke and Julia Roberts as a couple whose vacation is disrupted by the owners of the house they've rented after a mysterious event cripples New York City. For his part, Rivera, a 6'5" former captain of an NCAA Division 2 men's soccer team, is also starting to get his feet wet in acting and recently wrapped his first indie feature, Any Day Now, in which the he plays a rocker named Danny (hence the mullet).
Here, the couple discusses falling in love via FaceTime and the fast casual restaurant that's become their neutral ground for resolving conflicts:
Myha'la, what compelled you to respond specifically to Armando on Instagram?
MH: I was alone in the pandemic. The show had dropped and I was still alone. I was getting some messages, so I was like, "Let me just say thank you and be nice." I tried to weed out the ones that I thought were going to end up being creepy and invasive. His was one I responded to. I just said, "Thank you." The next morning, I woke up to this string of video messages, and I thought, 'Damn it, I knew it was going to be creepy.' But I went back to his profile and I was like, "Oh, maybe he's cute. He seems relatively harmless."
So you agreed to take the call.
MH: I thought, it'll be five, ten minutes, whatever. And immediately was like, "Whoa, you're so hot and nice!" We talked much longer than we expected.
AR: I was only going to ask a couple questions, and then we talked for 40 minutes. After I ended the recording, she was asking me questions about myself. I was like, "Is she [interested]...Nah." I thought she was just being nice.
MH: The first message I sent him after the interview was, "Did you get an A on your project?" We just kept finding reasons to talk. After three weeks of messaging each other every day on Instagram, he finally asked for my phone number, and we started doing little FaceTime dates.
When did you finally meet in person?
He was at school in San Francisco, and I'm from San Jose, which is just a 50-minute drive. I was visiting my mother in January of 2021, and I said, "Hey, I'm going to be in town. Do you want to meet in real life?" He said, "Sure." It was still very deep COVID, so when I got there, I was testing every day and the test results weren't getting back [in time]. I was like, "Fuck it, I'm just going to go and hope for the best." And I drove to his apartment.
Were you nervous?
All my friends were like, "Are you insane? Meeting a complete stranger alone, what are you doing?" But I was like, "I got vibes, it's going to be fine." We saw each other and we gave each other a hug and said hi. There was all this anticipation but it felt really natural and normal.
How did you navigate the COVID concern?
I was like, "Well, we can't really touch. My mom is high risk. Let me just be responsible." I brought hand sanitizer, so we sanitized and then held hands. It was pretty otherworldly. I like to describe it as when avatars in the Avatar movies touch their braids. We were inseparable from then on.
When did you decide to live together?
MH: I went to shoot season two of Industry. He came to visit me a couple of times. The second time he stayed for almost two months. He became fully integrated into that family that I have over there. And then at the top of 2022, I was like, "We've lived together in different places a handful of times. Do you want to move in with me?" The day after his last in-person class, he packed all of his stuff and came to New York and we've lived here together for a year and change now.
What are some of your local haunts?
MH: We're serious homebodies. He has two cats, so it's a full house here all the time. I love to cook and hang out. Most of our favorite spots are food. We love to go to the movies and Delarocco's, which is a Brooklyn Heights place.
AR: We go to Bareburger a lot.
MH: We always end up at Bareburger when we have some serious shit to talk about, or work through. We somehow always end up there.
AR: There was a period where the three times in a row that we went, we had a very serious conversation. Some real ground was moved there. Tears were shed at this freaking Bareburger. And then we walked out of there like, "Ha!" With a whole new outlook on life.
What was the issue?
MH: It was when he first moved in. We're obsessed with each other but living with anyone is never easy. There was a pretty serious transitional period for both of us. I'd never lived with a partner before. He's never lived with a partner before.
AR: I had just moved across the country. She was working and I was just there in the apartment like, "What am I doing?" But she talked me off the ledge.
MH: We're all about communicating. I think a lot of people would argue that we talk too much. But my philosophy is you just have to keep talking. That's what I live by. I've always been a super lone wolf and imagined that I would be by myself. But even in the times when things have been difficult, the thing that's been pretty life changing for me is that when I don't feel good, I would rather be with him, even if he's the one that I'm mad at.
Myha'la, based on the first images of Leave the World Behind, it looks like the film might be a bit different from the book. What can you tell us about your character?
I'm not really supposed to talk about it. But what I can say is it was a joy to work with the people I got to work with. To observe them every day and their experience, their talent, their craft, their art. It was the first time I'd been on a set as big as that. Watching Julia work was such a gift and I want to be just like her.
You're going to be filming season 3 of Industry soon. Any idea what's in store for Harper?
I actually don't even know, but I always want Harper to win.
Makeup by Shaina Ehrlich; Hair by Nigella Miller; Manicure by Nori; Tailoring by Isa Kriegeskotte. Special thanks to Metrograph, Hotel Chelsea, and El Quijote.