Meet Myha'la Herrold, Underdog on HBO's Industry
Meet Myha'la Herrold, the underdog with something to prove on Industry, the HBO workplace ensemble drama that feels like a crossover between Skins and Girls.
---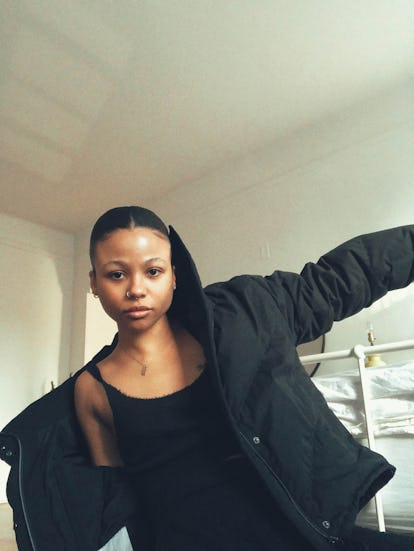 Self-portrait courtesy of Myha'la Herrold.
Industry, HBO's newest ensemble drama, follows a crew of recent university grads aiming to be high-level traders in a London investment bank, but one of the new recruits stands out: the series protagonist, Harper Stern.
Harper is an entry-level finance candidate with something to hide; her legitimacy as a contender for a permanent position at the bank is called into question in the first episode, and hints about her family are made throughout, too. But her status as an underdog—and as one of the only state school Americans in a cutthroat British cohort consisting of Oxbridge types—is appealing and relatable.
Most of the drama takes place amongst the frenetic energy of the trading floor, where they pick up phones, whisper numbers back and forth to their superiors in worried tones, hang up the phones, and dial them right back again to close a deal. To the untrained ear (which, to be fair, is probably most of us) a lot of the conversations had on the floor might sound like gibberish. Not that it really matters—thanks to Myha'la Herrold's sharp and thoughtful portrayal of a budding banker, it's quite clear when a multi-million-dollar transaction is a good one or a bad one. "The finance bit and the bank is really just the stage upon which we are meeting a bunch of young people, a bunch of graduates who are being thrust into the adult world and then being told to fight for their position to stay," the actress who plays Harper said. "I'd never known a drama that centered around finance from the perspective of young people or from the perspective of anyone who's not the top of the pack: the CEO, a man, probably white, comes from money. This story being told in that world from a perspective that I could relate to—humble beginnings, biracial woman, American—I was like, yeah, I totally get this."
Many will probably compare Mickey Down and Konrad Kay's Industry to Succession or Billions, but it's really more like Skins, if it was a drug-fueled workplace drama (and there is a former Skins star in the cast: Freya Mavor, who played Mini McGuinness in the third generation of the show) with a pilot directed by Lena Dunham. And before Dunham's involvement has you comparing the show to Girls, you should know that the real meat of what Industry has in common with Dunham's breakout series is that it focuses on a group of twenty-somethings caught in that uncomfortable liminal space between university and true adulthood. That's part of what drew Herrold to the role of Harper in the first place. "I graduated from college and went to New York and was like, okay, I have to claw myself from the bottom up, with everyone expecting me to behave like I've been doing this forever," she said. "That shit is hard. And nobody really talks about that transitional place. There's lots of stuff about people in high school or college and then adults, but what happens to the middle?"
Herrold, who is 24, said that she and Harper, who is supposed to be a year younger, have just a couple things in common. "Maybe I'm a bit like Harper, I don't really go out," she joked—though in real life, she is perhaps more bubbly than her fictional counterpart.
On Industry, the mostly confusing nature of dating app culture and stranger in a strange land loneliness are teased out through the character of Harper. "The app business resonated with me," Herrold admitted. "Harper has a line where she says, 'Oh, the apps make me hate myself. Every time I go on I've matched with some Chad or a dude at a wedding who likes biracial girls,' which is my exact experience. Every time I download the app and get a match, I immediately delete it and don't touch my phone for hours because it makes me feel gross and weird, so I kind of loved that we sort of feel the same way," she laughed.
Herrold got her start in community theater in San Jose, California when she was six years old. "My mom loves to say that I came out of the womb singing, which is a strange image," she joked. She then went to Carnegie Mellon and studied musical theater, and assumed she would be on stage after she graduated. "I always thought actually, and everyone else thought, 'You're going to go do Broadway. You're going to do plays, you're going to sing.' So doing TV, I was not expecting this to happen really," Herrold said. "It was a nice little surprise and definitely a huge learning curve."
"I definitely felt a massive culture shock," Herrold said of moving to London last year to film Industry. "Harper's experience with that and mine were completely aligned and we sort of became more and more comfortable as the series went on alongside each other. It was actually my first time ever out of the U.S. when I went to go do that show," she explained.
Luckily, she and the cast clicked almost instantly. "I felt very close to my cast. Sometimes I felt a little different, or sometimes I felt like left out because I didn't understand jokes or like the slang or the pop culture references. But they really took me in—I kind of forced them to cause I was like, I need friends! I'm alone and I can't go home!" she said with a laugh. "But we all got on so quick, so hard, so fast. These are going to be people who are at my wedding. I have a deep love and respect for all of them, for what we've built together. The youngest in the cast, we were all sort of new to this scale of production, so we definitely held each other's hands and hyped each other up. We're experiencing this new, big thing and big responsibility—all together."
Related: Matilda De Angelis Was Fearless About The Undoing's Risqué Scenes