The Best Twitter Reactions to Nancy Pelosi Ripping Up Trump's Speech
"Me ripping up the study guide after I fail the test."
---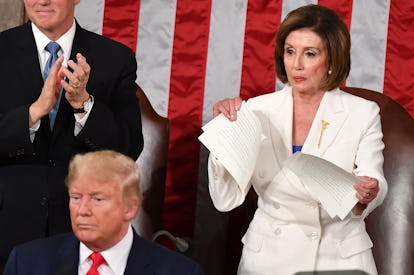 Even before Donald Trump commenced his State of the Union on Tuesday night, the atmosphere was tense (and strikingly partisan), starting with the president turning his back on speaker Nancy Pelosi when she extended her hand to shake his. From there, Pelosi proceeded to omit the customary language of it being a "high privilege and distinct honor" from her introduction of the president, and unabashedly flipped through the stack of papers Trump had handed her before snubbing her handshake throughout the speech. Occasionally, she applauded and joined in the standing ovations, though only between moves like mouthing the words "not true."
By the time Trump concluded what was essentially a 70-minute long MAGA rally, Pelosi had clearly had enough. Rather than join in on the applause, the speaker ripped her copy of the speech in half and threw it onto the desk in front of her. It was "the courteous thing to do, considering the alternatives," she later told reporters. (Elaborating in a statement later that night, she denounced the speech as a "manifesto of mistruths.")
And so, for the second State of the Union in a row, Pelosi went viral. The response on social media was both instant and explosive, from calls for Pelosi to resign to former speaker Newt Gingrich's strange assertion that Pelosi "isn't clever or cute." Hashtags like #PettyPelosi, #PelosiMeltdown, #NancytheRipper, and #PelosiTantrum started trending, and have continued to into Wednesday afternoon. Some hailed Pelosi as a "hero" and a "queen," and some recirculated a GIF of that time Trump mocked a disabled reporter among those who claimed they were insulted. Meanwhile, Trump busied himself retweeting critics denouncing Pelosi as, for example, "a bitter drama queen pitching a little hissy fit."
And then, of course, there were the good ole fashioned memes:
Trump supporters, of course, weren't having it, but a number of his critics also stopped short of piling praise on Pelosi. The move may have been cathartic, but it hardly effected real change in the way that a number of the "alternatives" could have. After all, it was just last year that Pelosi uninvited Trump to the State of the Union—and that was before the president was impeached.
Before long, the White House's official Twitter account had likened Pelosi's move to ripping up "one of our last surviving Tuskegee Airmen," several "mourning families," and other subjects Trump touched on his speech. "That's her legacy," the tweet concluded. Maybe—or maybe it's just a meme.
Related: The Best Memes of Nancy Pelosi's Reactions to the 2019 State of the Union