Narcos: Mexico's Teresa Ruiz on What It's Like to Play a Cocaine Kingpin
Narcos: Mexico's Teresa Ruiz talks playing Isabella Bautista, the character based on the real-life drug kingpin, Sandra Ávila Beltrán.
---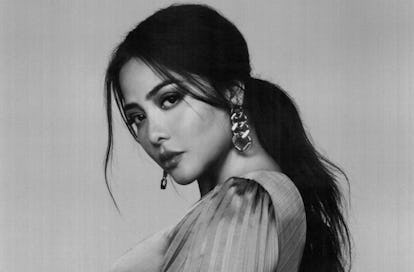 Photo courtesy of Bret Lemke
Narcos, the Netflix series that chronicled the escapades of Colombian drug kingpin Pablo Escobar, garnered a cult following of fanboys obsessed with the true story about the DEA's attempt to shut down the distribution of cocaine through the Cali Cartel.
In its spin-off, Narcos: Mexico, viewers are given insight into the story of the first Mexican drug cartel, created by Miguel Ángel Félix Gallardo (also known as "El Padrino," and played on the series by Diego Luna), and undercover DEA agent Kiki Camarena (played by Michael Peña). But the origins of what we now call "The War on Drugs" were not solely constructed by men. Season two of Narcos: Mexico brings Isabella Bautista, a character modeled after the infamous cartel leader Sandra Ávila Beltrán, aka Queen of the Pacific.
Before Beltrán, Mexican cartels were primarily distributing marijuana throughout North America, but she introduced cocaine from Colombia in the 1980s, which had obvious lasting effects on the dynamics of the cartels and the DEA. She evaded arrest for her crimes until 2007, and was released from prison in 2015.
Despite the fact that other cartel leaders in Narcos: Mexico are based on real people, the series fictionalizes Beltrán as a woman named Isabella Bautista, and the actress who plays her, Teresa Ruiz, says she always knew a character like hers would enter the fold.
Ruiz, who has been acting since she was a 13-year-old living in Los Angeles, is primarily known for her roles in Mexican independent cinema. But she says she was always a fan of Narcos because of its showcase of Latin and Hispanic talent, many of whom Ruiz had known or worked with on other projects in the past. "I was following it and I would watch it because I felt it was really responsible with the way that it dealt with the War on Drugs," Ruiz explained. "It's not a sensationalist show but it's really about accountability of both countries."
She was already familiar with Beltrán's involvement in the Mexican drug cartels. "Somebody had told me they were going to take it to Mexico and I just knew that this character was going to come up because I knew there was a woman in the '80s who had done this and her story had always intrigued me," Ruiz said.
And even though she was initially offered the chance to audition for a different role, the actress waited until the writers introduced a character based on the Queen of the Pacific. In the beginning, the character was written as Sandra Beltrán, but on her first day of work, the writers and director decided to fictionalize the historic figure. "I basically prepped to play that real person, just like Diego Luna is playing the real Miguel Ángel Félix Gallardo and Tenoch [Huerta Mejía] is playing the real Rafael Caro Quintero," Ruiz said.
However, Ruiz never met the real Queen of the Pacific. "The cast, we didn't want to meet the real people, or even family members," Ruiz explained. "Even if they reached out, we didn't want to meet any of them. Especially because after we did all the research we began to create from the script," she said. Eventually, the actress left all of her research behind to create Isabella.
"Isabella is a woman who kind of walks on a tightrope," Ruiz said. "She walks on that tightrope because in the Narcos society that she was born in, it reflects all of the cultural things that society imposes. Like, the men are the ones that are on top, women are there to be married and have children. This was supposed to be her future," she explained, "But she was a woman who decided to go outside of that."
Season two of Narcos: Mexico follows the rise of Isabella and the development of her own cartel that rivals that of the dangerous men in power she once worked with herself. She becomes a kingpin—or a queenpin, if you will. "In the '80s, the way she looked, she was very sensual and fashion was a part of who she was. She was flamboyant and unapologetic," Ruiz said. "To unite all of those elements, and to have a woman that at the same time is on a quest for power, that was difficult. That was challenging to be powerful without losing the sensuality or the charm. Or be strong without losing the flirtation, you know?"
Like Sandra Beltrán, Isabella does what she has to do to stack her money, which sometimes meant resorting to violence. (And fans of Narcos know the show pulls no punches when it comes to depicting violent acts on screen).
"When I did the research for that time period," Ruiz said, "A lot of the newspaper articles that I found said things like, 'There's no way a woman could have done this. There's no way a female could have fought against this drug cartel. There's no way the male leaders of a cartel would have allowed a woman to grow to this height.' And I thought, this is so interesting how a female not only gets backlash when she does incredible, great things, but even when she does criminal things, not even there does she get credit," she laughed. "It's like, really? Not even the bad stuff can we get credit for? Whether you do good or do bad, you'll never measure up."
It was a challenge for Ruiz to portray Isabella as someone who rises up in the ranks alongside the men who, while still criminals, are often regarded in popular culture as powerful or laudable. "I'm not saying these were the motivations of Sandra Ávila Beltrán, I'm just saying the motivations of Isabella, are to look for a place for herself in society to be financially independent, to be socially independent, to have a voice and to have a place, a seat at the table," Ruiz said. "That's her motivation and I think that's why a lot of people identify with her, despite this character being a criminal or a bad character. Especially women, we can relate to wanting to have a seat at the table and a lot of the time it's not even to be more powerful than the men, it's not even to be powerful, it's just to feel that we're not going to be undermined, that our ideas are not going to be taken for granted, that we won't be sexually harassed," she went on. "A lot of the power struggle that we're dealing with today, a lot of it has to do with feeling safe in the work environment and being able to work. Again, I'm not saying this is Sandra's motivation, but it's just the core struggle of the character I created."
Now that she's wrapped the second season of a hardcore show like Narcos: Mexico, Ruiz admitted she's ready to take on some lighter fare. "I grew up doing a lot of very heavily social films and now the TV series, so I think I'd like to do something a bit lighter," Ruiz laughed. "I think I want to do something about family or love or romance. That's something that is beginning to interest me now, which, before, it wasn't so interesting to me. Now I'm beginning to search for more stories about love, family, romance, just life itself."
Related: The Crown Will End Early, Bypassing Any Meghan Markle Drama